"Avengers: Endgame" Gets a New Wave of Funko Pop Figures
Avengers: Endgame was a cinematic landmark! It builds a world and Marvel built a universe inside the comfort of a movie theater. Being a huge fan of Funko, and the Marvel Cinematic Universe, collecting Funko Pops Marvel is my main collection. I mean it could be called an obsession but that is just the collecting lifestyle and I need to own all the Marvel Movie Pops. This newest wave will be no different! We are getting 7 new Avengers: Endgame figures including someone's fans have been waiting for. First, we are getting Captain America with Mjolnir in action. This one is a lot better than the Marvel Collector Corp Exclusive, and I'm his writ surprised it isn't exclusive. Gamer Korg and Farmer Thanos are also getting pop figures too. Next is Captain Marvel showing off her new Avengers: Endgame costume and giving off some cosmic power. This is one I have been waiting to get! I loved her outfit and hairstyle in the final battle and I'm hoping the cosmic energy glows. Then we will be seeing Iron Spider with the nano gauntlet and his instant kill mode activated. The last two Avengers: Endgame Funko Pops absolutely fan favorites, we will be getting Fat Thor and Hulk with tacos! Fat Thor has been one I know a lot of people have been waiting for. Slice of Pizza in his hand and his gut is ready to go. All of these will be added to my collection and would be great for any fans Funko collection too!
All of these Avengers: Endgame Funko Pops are currently set up to be common releases and are currently available for preorder here. The release date is scheduled for December 2019.
"Whatever it takes."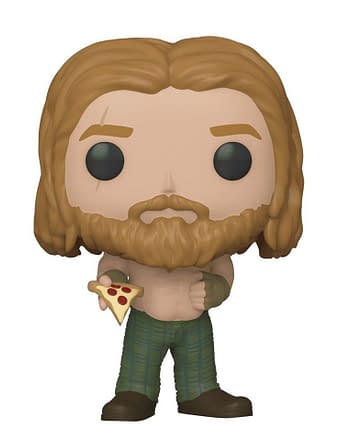 Coming Soon: Pop! Marvel— Avengers Endgame
Celebrate your favorite Super Heroes and Super-Villains from Marvel Studios' Avengers: Endgame with Pop! Captain America holding a broken shield and Mjolnir, Pop! Iron Spider with the nano gauntlet, Pop! Hulk with a taco, Pop! Gamer Korg, Pop! Casual Thanos with the gauntlet, Pop! Thor with pizza and Pop! Captain Marvel with new hair.