WWE Hall of Famer The Ultimate Warrior 1/4 Scale Statue Coming in 2019
WWE fans and collectors young and old can now spend a huge amount of money honoring one of the most polarizing Superstars of all-time. The new 1/4 scale Ultimate Warrior statue from PCS Collectibles will ship in late 2019, and comes in at a staggering 25"tall. This thing is ultra-detailed, in his iconic trunks and featuring his signature face paint. WWE fans of course have loved the Warrior since the 80's, where he took the wrestling world by storm, and through all the ups and downs of his career, fans never lost their love for the man, right up until his death in 2014.
Check out pics and details below. This statue will run you $550, and preorders open through Sideshow Collectibles this Thursday, August 30th.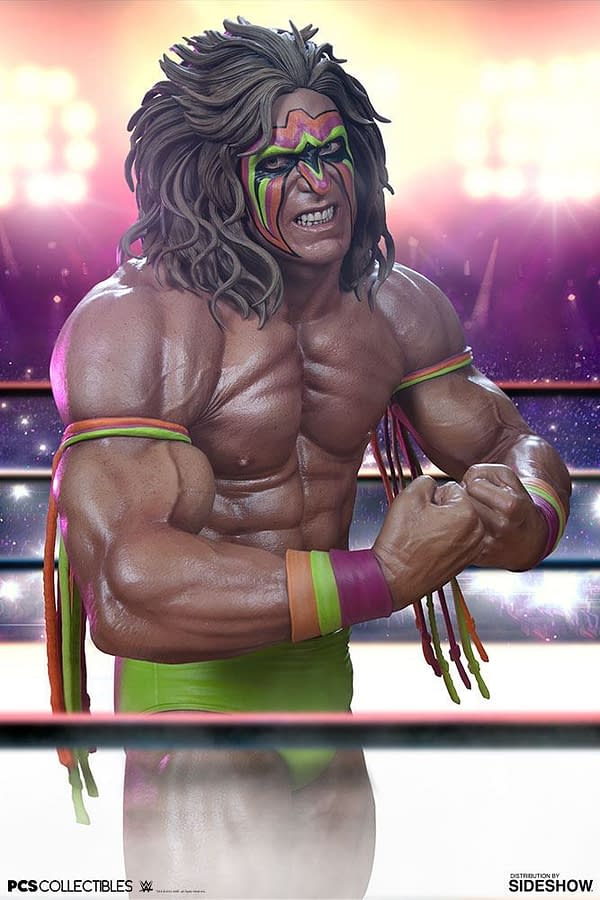 Sideshow and PCS Collectibles are proud to present the Ultimate Warrior Statue, ready to shake the ropes and enter the ring in your collection.

Standing 25" tall, the 1:4 scale Ultimate Warrior Statue captures the action and larger-than-life attitude of the iconic WWE wrestler. He stands on a black podium base emblazoned with his colorful mask logo, with industrial-stylized silver flooring. This detailed polystone statue has been carefully sculpted to showcase the Warrior's immense physique, flexing his muscles and showing off his intimidating presence both in and out of the ring.

Known for his vibrant colors and unstoppable energy, the Ultimate Warrior Statue embodies the strength and true spirit of the wrestling superstar. His portrait is detailed with his signature wild hair and bright face paint in orange, pink, green, and black. The Ultimate Warrior is costumed in color-matching tassels, wristbands, and knee pads, as well as green trunks and white fringed boots all sculpted with realistic, fabric-like textures.

Take your collection ringside and make the Ultimate Warrior 1:4 Statue from PCS the new champion among your WWE collectibles.

Includes:

Fully Sculpted Polystone Figure
Pedestal Base with Ultimate Warrior Logo
Certificate of Authenticity

Edition Size: TBD
Aprx Dimensions: 25″ (64cm) H x 10″ (25cm) W x 10″ (25cm) D
Art Director : Bryon Webster
Sculpture : Hosein Diba
Paints : Nathan Eakins