Posted in: Collectibles, Prime 1 Studio | Tagged: Batman, dc, dc comics, justice league, statue
---
Batman Goes Tactical in a New Prime 1 Studio Statue 
Batman from Batman V Superman: Dawn of Justice and Justice League is my favorite cinematic Batman. He changes the mythos that we usually see the Dark Knight in and he gave it a little darker grittier aspect. Prime 1 Studio is showing off one of Batman's Batsuits, the Tactical version in their newest statue. The statue is made with close attention to detail from the movie as well as crafted with high-quality materials. The statue showcases Batman with his goggles on and with a grappling hook in hand. There are two versions of this statue a standard and deluxe will be available. The deluxe on the other hand comes with an extra Batman head and interchangeable arms. This statue would be a great addition to any bat cave or fans of Ben Affleck's Batman.
Justice League Tactical Suit Batman 1/3 Scale Statue Deluxe and Standard from Prime 1 Studio are set for release between October 2020 to January 2021. The standard Batman statue is priced at $999 and preorders are live for him here. The deluxe is priced at $1099 and that one is only limited to 350 pieces, preorders for him are located here. If you purchase him online, the Prime 1 Store come with a exclusive gun add-on. Payment plans are available with Prime 1 Studio so take advantage if you need to.
"We have to be ready. You, me, the others. There's an attack coming from far away."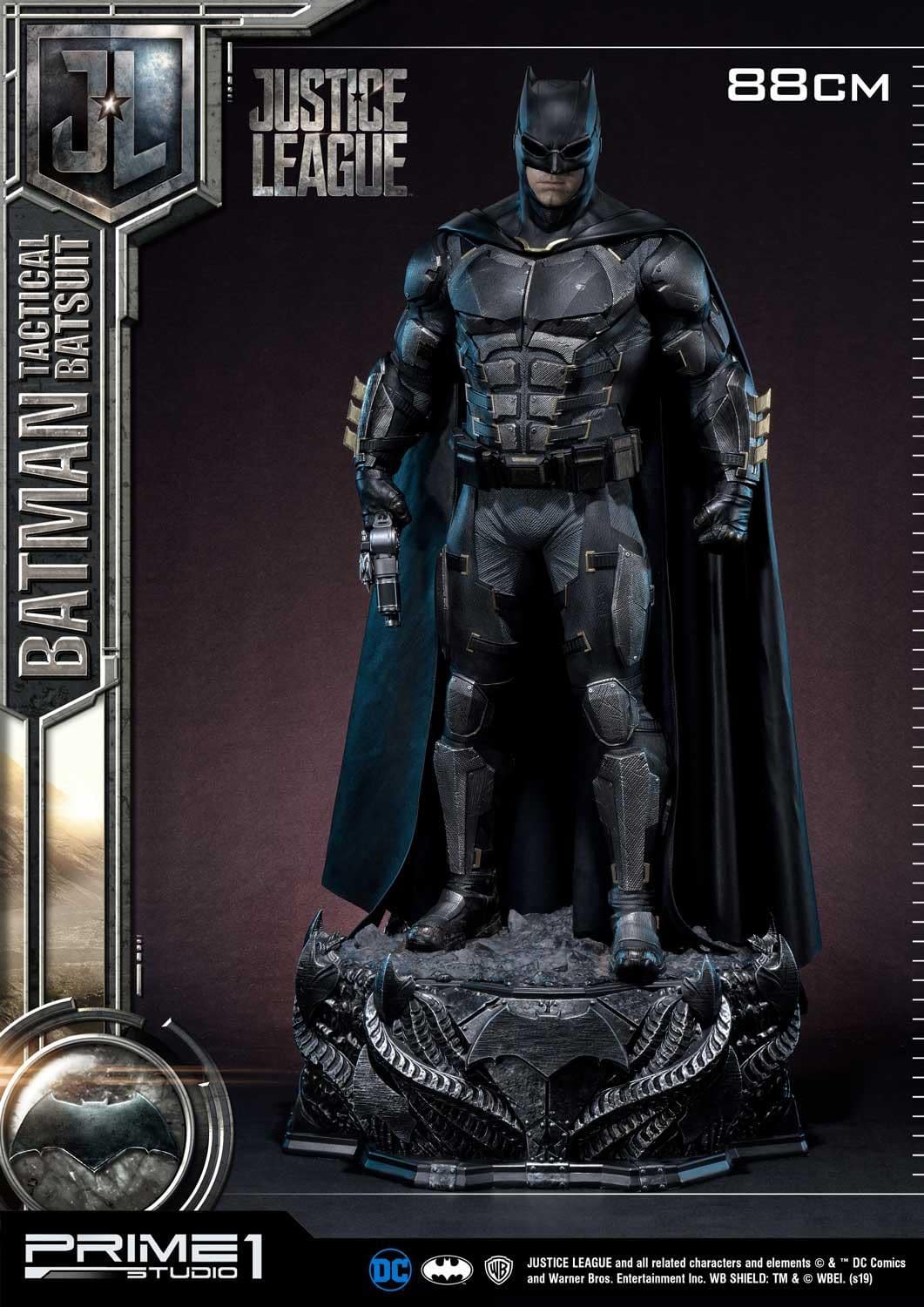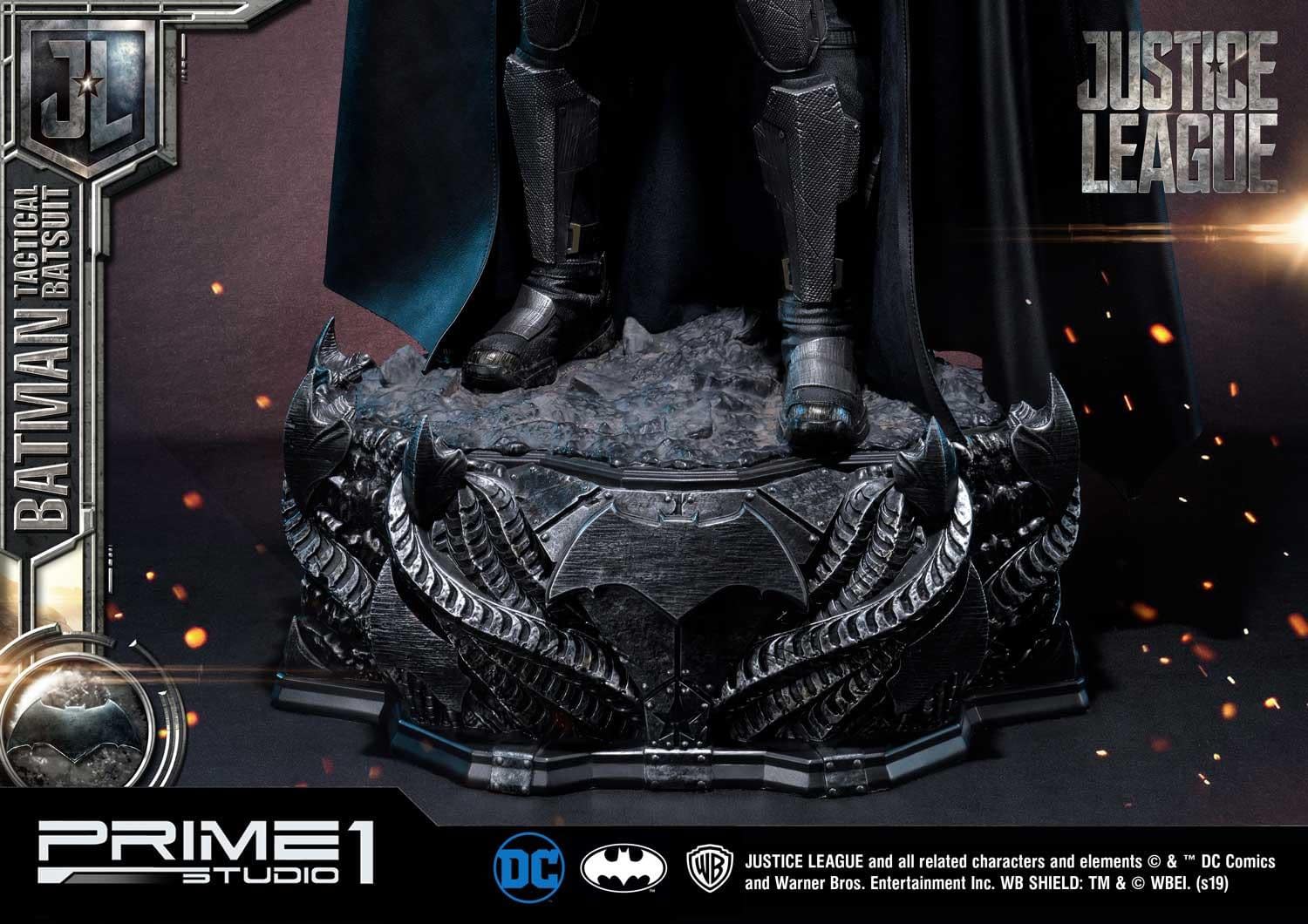 Museum Masterline Justice League (Film) Batman Tactical Batsuit Standard & Deluxe Version
"I'm real when it's useful."
Prime 1 Studio is proud to present MMJL-07DX: Batman Tactical Batsuit Deluxe Version from Justice League Film.
Bruce Wayne is the billionaire owner and CEO of Wayne Enterprises, and a costumed vigilante operating in Gotham City, New Jersey known as the Batman. Fueled by his restored faith in humanity and inspired by Superman's selfless act, Bruce Wayne enlists the help of his newfound ally, Diana Prince, to face an even greater enemy. Together, Batman and Wonder Woman work quickly to find and recruit a team of metahumans to stand against this newly awakened threat. But despite the formation of this unprecedented league of heroes: Batman, Wonder Woman, Aquaman, Cyborg, and The Flash, it may already be too late to save the planet from an assault of catastrophic proportions.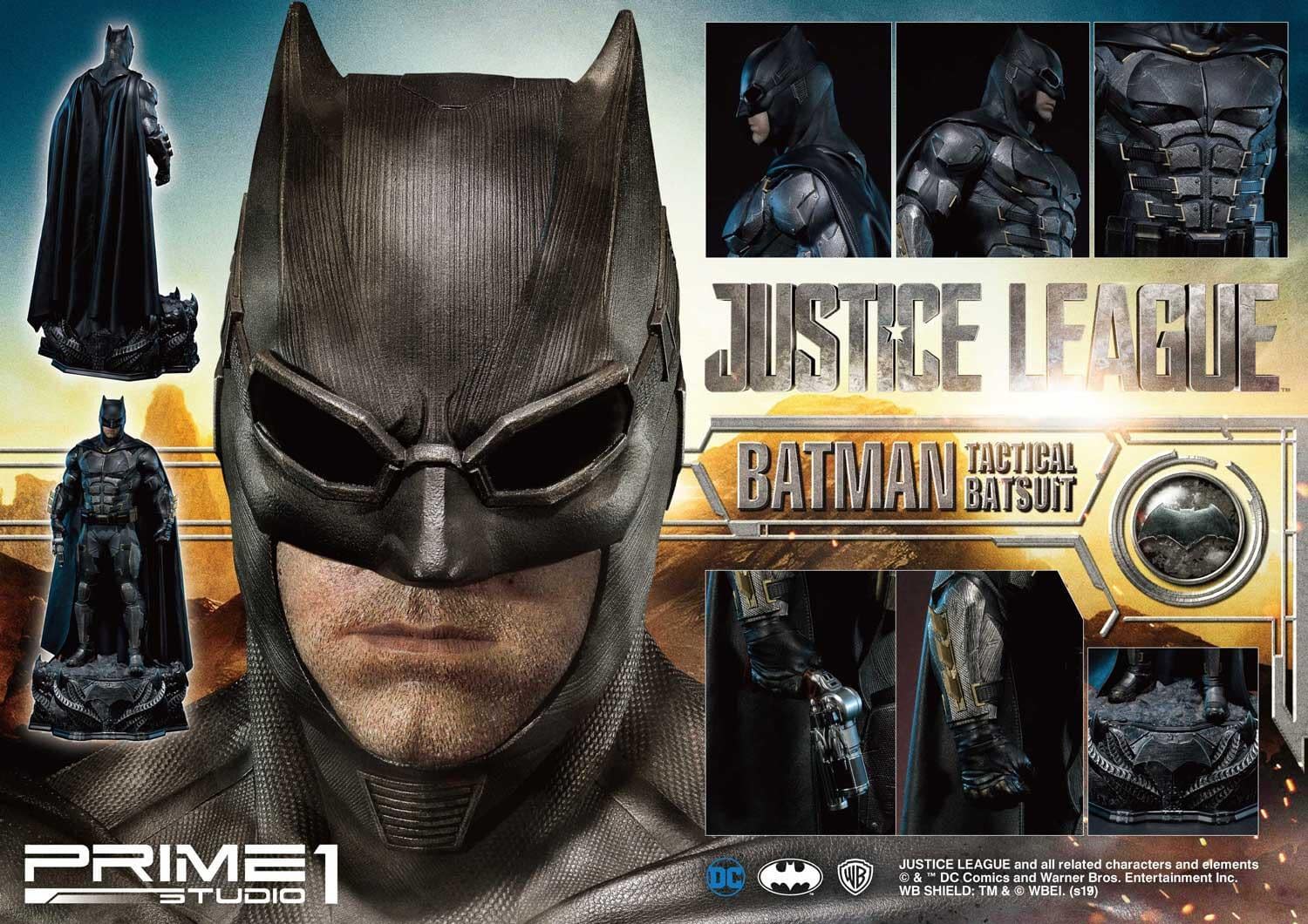 Batman wears the Tactical Batsuit in order to face a very powerful enemy. It is an upgraded version of the regular Batsuit. It has goggles to help him pilot his vehicle, and light armor to help him endure the hits while still being able to move and throw quick punches. The suit is made with attention to details and crafted of high-quality materials to meet the demands of every customer.
This Deluxe version comes with many switchable parts such as right-hands, portraits, and an additional right and left arm. Do not miss the chance to add this must-have 35 inches tall Batman in his Tactical Batsuit to complete your Justice League Film collection!
Specifications:
– Statue Size approximately 35 inches tall [H:88cm W:42.7cm D:33.7cm]
– One (1) designed a themed base
– Two (2) interchangeable right-hand holding the Grapple Gun, Gripped Hand
– Two (2) interchangeable right arm (DX Version)
– Two (2) interchangeable left arm (DX Version)
– Two (2) swappable Portrait with the Goggle On and Off (DX Version)
– One (1) interchangeable right-hand holding a Grenade Launcher (Prime1 Shop Bonus Item) (DX Version)
---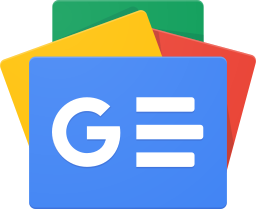 Stay up-to-date and support the site by following Bleeding Cool on Google News today!