Batman Hasn't Retired yet in the New Mezco One:12 Figure
Batman: Supreme Knight deals with an older Bruce Wayne and a Batman on his final years of fighting crime in Gotham City. While I could go into more about Batman and the 80 years, this figure is too badass and we need to get right into it! This figure is a Batman fans dream, it comes with three different heads and nine different interchangeable hands! One of the coolest features here is there are magnets on the neck, this will allow you to swap between two separate capes, one leather, and one cloth. Now the suit is badass itself, you can tell the older feel to the costume as Batman has slowly modified it over the year on each scenario. Honestly, this is most likely Batman's best suit, defensive, breathable and stock loaded with bat gear! You get ten small batarangs, a batarang bundle, large batarang, dual-blade folding karambit, and a handheld "equalizer" cannon. But that's not even it all Batman: Supreme Knight gets a grappling gun with grappling hooks that actually inserts into the gun, open grappling hook, open grappling hook with posing cord and lastly a closed grappling hook. He also comes with a base and an adjustable display post. This is one of the coolest figures to come out recently and I would love to get my hands on one. DC fans jump on this Batman figure before it sells out.
Batman: Supreme Knight Mezco One:12 Figure is priced at $85 and it is so worth it! He is set to ship between February – April 2020 and preorders are live and located here.
Join the Dark Knight fight crime in Gotham below:
Mezco's One:12 Batman trilogy concludes with Batman: Supreme Knight. This is Batman towards the final years of his campaign against the underworld of Gotham City.
Supreme Knight depicts an older Bruce Wayne who has learned his way and honed his skills. Now at the twilight of his war on crime, he uses his skill and tech to maintain his edge.
Supreme Knight's Bat-Suit provides additional armored protection enhancements to compensate for the wear and tear that his years of crime-fighting have taken on him. A magnet in his collar allows him to switch between two leather-like capes – one with an integrated posing wire and one that drapes freely. He employs an upgraded, more aggressive arsenal including a dual-blade karambit that folds, a multifunctional, non-lethal "Equalizer" cannon, and more.
The combination of the enhanced Bat-Suit along with the upgrades to his arsenal keep Supreme Knight the most feared amongst the Gotham City underworld as he continues to wage his one-man war.
THE ONE:12 COLLECTIVE BATMAN SUPREME KNIGHT FIGURE FEATURES:
One:12 Collective body with over 30 points of articulation
Three (3) head portraits
Hand painted authentic detailing
Approximately 17cm tall
Nine (9) interchangeable hands
One (1) pair of fists (L & R)
One (1) pair of cannon holding hand (L & R)
One (1) large batarang holding hands (L)
One (1) grappling gun holding hand (R)
One (1) pair of batarang holding hands (L & R)
One (1) pair of posing hands (L & R)
One (1) dual-blade karambit holding hand (R)
COSTUME:
Cowled head
3D chest insignia
Two (2) interchangeable leather-like capes
Fitted suit with body armor detail
Wrist gauntlets
SAP gloves
Utility belt with grappling gun holster
Knee armor
Shin armor
Tactical boots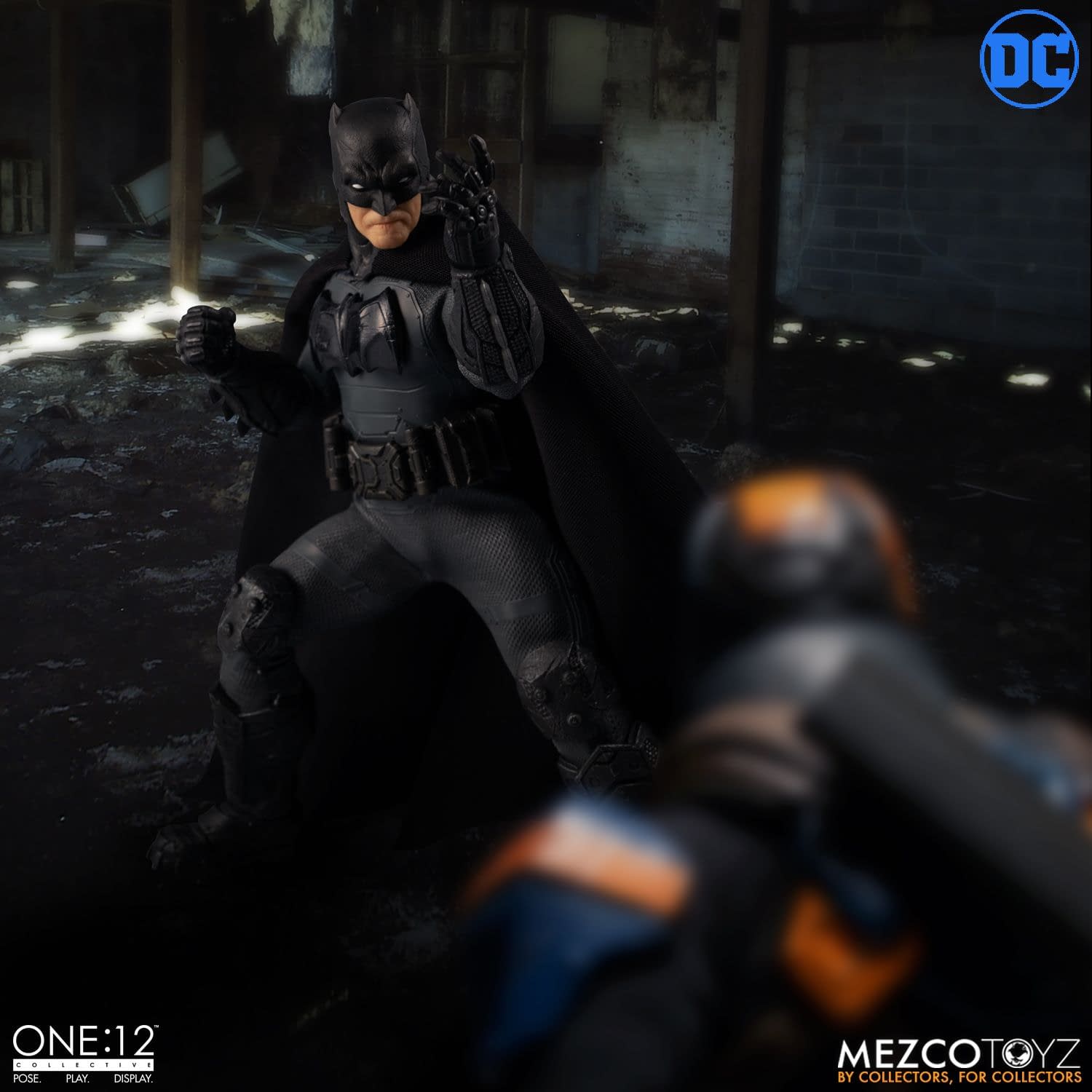 ACCESSORIES:
Ten (10) small batarangs
One (1) batarang bundle
One (1) large batarang
One (1) dual-blade folding karambit
One (1) handheld "equalizer" cannon
One (1) grappling gun
Three (3) grappling hooks (inserts into gun)
One (1) open grappling hook
One (1) open grappling hook with posing cord
One (1) closed grappling hook
One (1) One:12 Collective display base with logo
One (1) One:12 Collective adjustable display post