Batman is one of those characters that is so popular he will constantly have new collectibles. With comics and movies still coming out, there are always new renditions of Batman to capture. It looks like Sideshow Collectibles is back with a new statue featuring the caped crusader once again. This time he is perched on top of a gargoyle overlooking Gotham. The statue is 22 inches tall while Batman is shown is his classic blue and gray costume. The statue is highly detailed and nicely sculpted with no fabric elements incorporated. There are a couple of interchangeable pieces included for the left hand with one being closed fist and the other holding a grappling hook. With Sideshow Collectibles they are offering a collectors edition that will include a secondary head sculpt with an angry expression.
The statue nicely designed and has in a more unique pose. The shading on this piece is filled with shadows with the added dark textures on the chest and cape. Batman with his yellow belt and chest logo really stands out here which is a nice look. Sideshow Collectibles put a lot of effort into this statue and would look perfect in any collectors batcave. The DC Comics Premium Format Batman Statue is set to release between January and March 2021. The standard edition is priced at $600 while the Sideshow Exclusive is priced at $620. Pre-orders are already live and you can find both located here.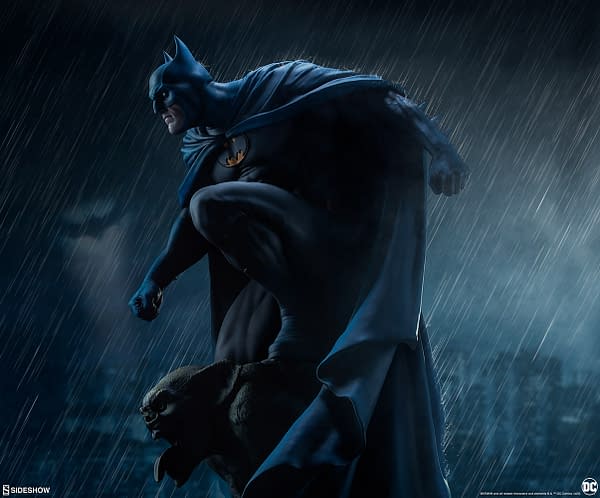 "I made a promise on the grave of my parents that I would rid this city of the evil that took their lives." "Sideshow presents the Batman Premium Format™ Figure, waiting in the shadows to join your DC Comics collectibles. The Batman Premium Format™ Figure measures 22.5" tall, cloaked against the dark skies of Gotham City as he joins the lurking gargoyles that watch the streets below. Crouched in wait, Batman observes from the perfect vantage point to get the drop on his foes and dish out his signature brand of justice."
"The Batman Premium Format™ Figure features a fully sculpted blue and grey costume, from the top of his stoic cowled portrait to the bottom of his dramatic, swooping cape. Immensely detailed in dark blues and blacks, Batman's cape takes on a life of its own as it melds Bruce Wayne with the gothic architecture of his crime-ridden city. His costume features yellow accents on the utility belt and his iconic bat-symbol completing the grim appearance of the legendary Caped Crusader. The Batman Premium Format™ Figure also comes with a swap-out left hand, giving you the choice to display him with closed fists or clutching a grappling rope. The Exclusive Edition of the Batman Premium Format™ Figure includes an additional grimacing portrait that features shorter ears on the cowl. Make criminals cower in fright with this exclusive swap-out display option for the Dark Knight."
Enjoyed this article? Share it!