BB-8, Kylo Ren and Rey are all making their rounds around the collectible's circuit. With the Star Wars saga ending in December with Star Wars: The Rise of Skywalker it is no surprise. The Star Wars saga has been beloved by many fans over the decades and it will be a shame to see it go. But until then we get blessed with a massive amount of collectibles. Kotobukiya has just announced three new ARTFX+ statues. First, we are getting BB-8 and D-O, with both droids come on the same base. It looks like BB-8 comes with extra attachments, as you can remove one of the orange circles on his body as well as give him thumbs up. D-O is a plain stationary position on a crate. Next, we are getting Supreme Leader Kylo Ren. He is posing an action stance hand out as if he was doing a force push. He does have a cloak on and it has a blowing effect. A neat little effect with a lightsaber showing off the instability. Kylo Ren's mask is also updated Star Wars: The Rise of Skywalker film with the scarring repairs. And of course, you can't have Star Wars: The Rise of Skywalker statues without the leading lady, Rey. I am slightly confused about her posed position. She is turning around with lightsaber in hand but her details on this statue are honestly astounding. The base shows off a sand detail, possibly based off of Jakku? Even if the position of Rey is slightly off this would be an amazing statue to own for any Rey fans.
BB-8, Kylo Ren, and Rey Kotobukiya ARTFX+ Star Wars: The Rise of Skywalker statues are all up and available for pre-order. D-O and BB-8 statue is set for release November 2019 and is priced at $109.99 it is available for pre-order here. Kylo Ren is set for release March 2020 and it's priced at $119.99 in his pre-order link is located here. Rey is set for a February 2020 release and she is priced at $170.99 for the pre-order link is here. With a price like that, I wonder if we'll be seeing more statue pieces for this character.
Star Wars: The Rise of Skywalker releases in theaters on December 20, 2019.
D-O & BB-8 join Kotobukiya's Star Wars ARTFX+ series from the latest work "Star Wars / Rise of Skywalker"!
BB-8 can be replaced with a torch, and the side panel can be opened and closed.
The detailed reproduction of the internal mechanism is unique to the 1/7 large size.
Available – November 2019 
Kylo Ren from the Star Wars / Rise of Skywalker joins the Kotobukiya ARTFX + series!
Detail expressions such as repaired masks and cloaks are also shown in detail.
Available – March 2020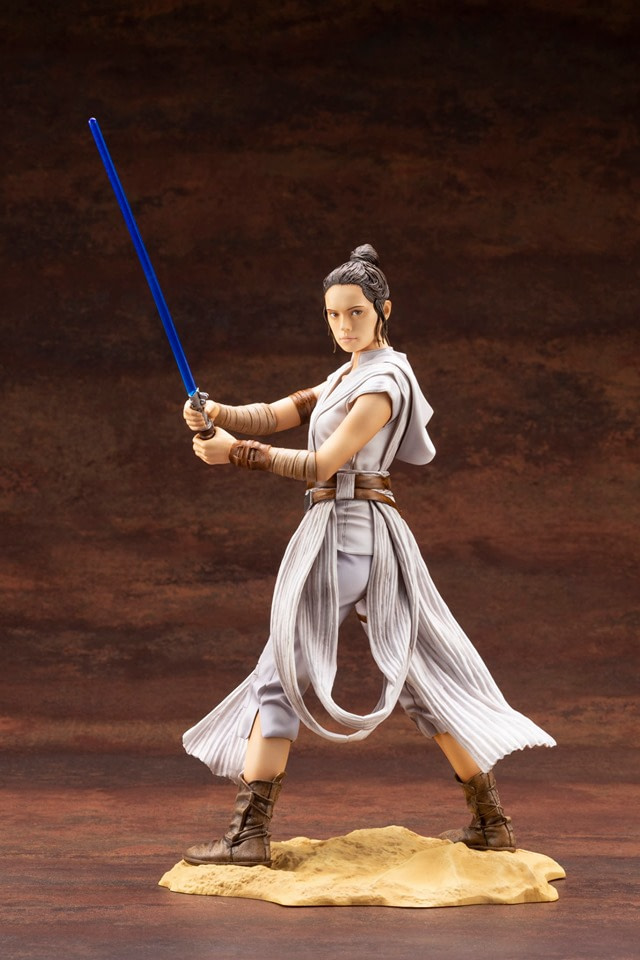 Kotobukiya's Star Wars figure ARTFX+ series,
"Star Wars / Rise of Skywalker", adds a new heroine, Rey in 1/7 scale!
Add Rey's brave figure wearing new costumes to the collection!
Available – February 2020