Captain Marvel is finally making her debut as the next Avengers: Endgame statue coming from Iron Studios. A lot of Avengers have received amazing statues and this one does right by Brie Larson's character. First off the statue actually looks like her and that is a must have to make a great statue. One of my biggest collectible pet peeves is when a figure doesn't even attend to look like teh character hey are supposed to be based on. The colors of her costume and the detail are superb in this statue. She is posed flying up with cosmic energy coming off of her. They did add purple to the cosmic powers and I quite like that extra "heat" to it. The base is made up of just her cosmic energy and it is a simple yet nicely done base for this style of statue. This a great statue for any Captain Marvel or Avengers: Endgame fans collection.
The Iron Studios Avengers: Endgame Captian Marvel Art Scale 1/10 Scale Statue is priced at $129.99. She is heading our way between October and December 2020 and pre-orders are already live and located here. Payment plans are available with Iron Studios so take advantage of them if you need it. Don't forget to check out some of the other great Iron Studios statues come soon too like all the members of The Black Order and Captian America.
"Because before, you didn't have me."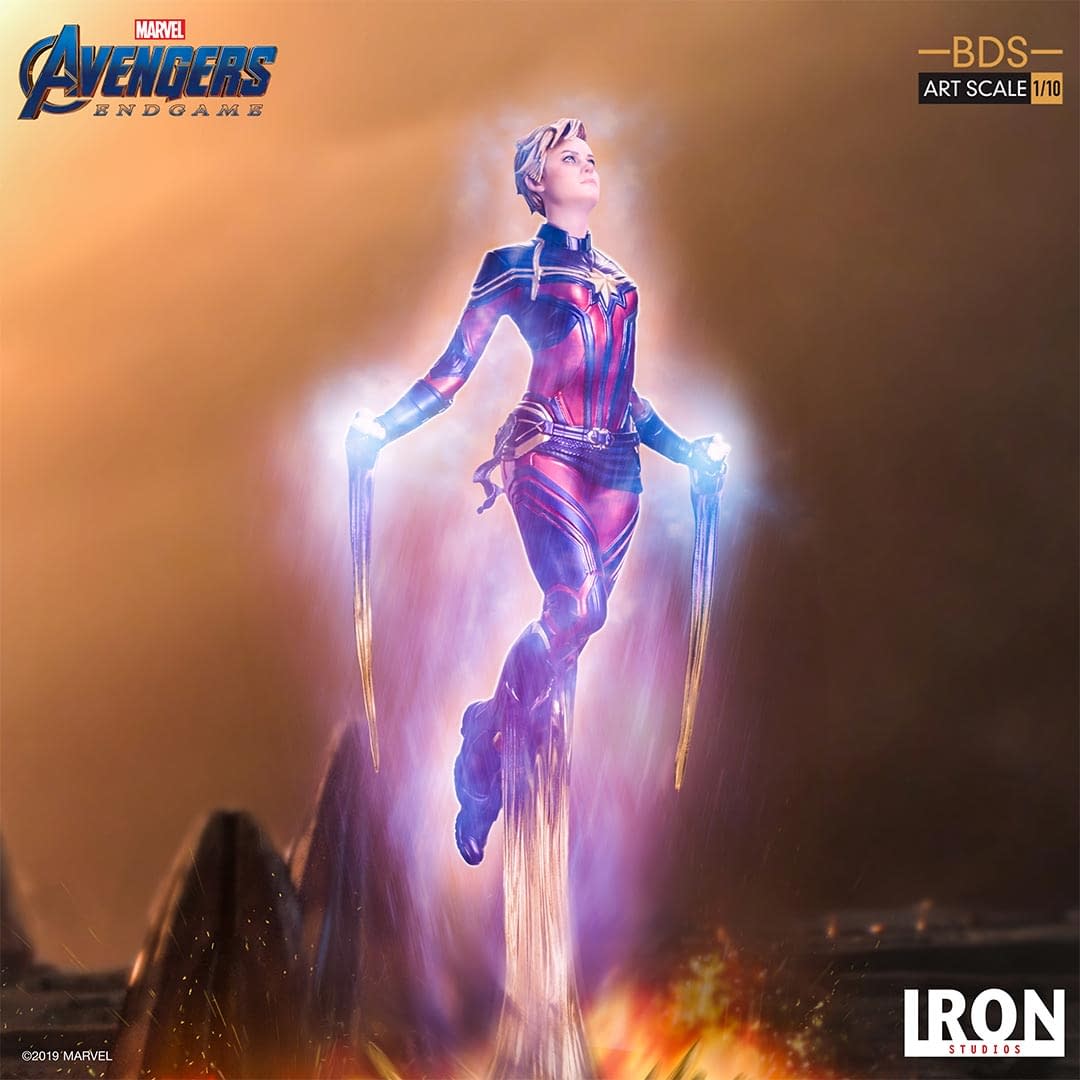 Captain Marvel BDS Art Scale 1/10 – Avengers: Endgame
DESCRIPTION
License: Avengers: Endgame
Scale: Art Scale 1/10
Features:
– Limited Edition Captain Marvel Statue 
– Based on original movie references
– Made in polystone
– Hand painted
– This statue is part of a battle diorama based on the Avengers: Endgame movie
Captain Marvel dimensions: 10.2 in (H) x 5.1 in (W) x 4.3 in (L)
Product Weight: 0.5 lbs
Release schedule: Fourth quarter of 2020
*This item will be shipped from our warehouse in Los Angeles – California