Classic Battlestar Galactica to Join Eaglemoss's Fleet of High-Grade Collectibles
Both versions of the Battlestar Galactica, the original 1978 as well as the re-imagined 2003 are easily among the most recognizable spacecraft designs in cinematic (and television) history. The Big G has her place alongside the Millennium Falcon and the Enterprise. Now Eaglemoss has announced that the original design from the '78 series will be available as a 10.5" long, die-cast collectible.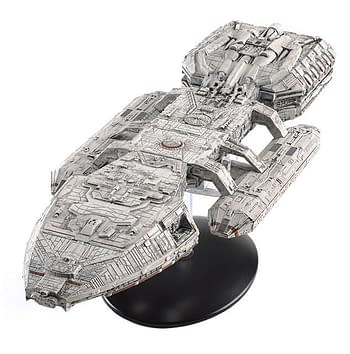 It's available now for pre-order from their website, and as their highly desired ship editions tend to run in and out of stock, it'll be likely that they'll be sold out before the shipping window actually hits, then we'll have to wait for the next fabrication run.
Along with the ship, buyers will receive a collector's magazine which details the ship, its features and background.
[gm album=14]
The re-imagined 2003 series Galactica has been released previously, but is currently out of stock. To get a sense as to the level of detail on their models you can check out the walk around video of that model below:
The addition of the '78 Galactica makes the seventh ship to join their Battlestar Galactica fleet. From the original series there is also a Cylon Baseship, and a Viper mk I. From the re-imagined series alongside that incarnation of the Galactica are Vipers mk II and VII. There had been some limited-edition runs of the Viper mark IIs done up with Apollo and Starbuck's tail numbers and pilot callsigns, both of which run on eBay generally in the multi-hundreds range.
For those interested in getting a number of their BSG fleet ships can sign up for a recurring subscription, where members get the first ship – a Viper mk VII for $29.95 (50% off the regular price), then every two months will have another ship sent to them for $54.95. You can check out their subscription series offer by clicking here.
The rest of their BSG lineup can be seen below:
[gm album=15]
The 1978 Galactica can be ordered by clicking here, and will begin shipping in April.