Fools! Your puny collections are no match for the likes of Darkseid. This DC Comics villain is a god, one the will reign supreme over the likes of anyone that challenges his might. This time it is Tweeterhead's turn to give us a new Darkseid statue that is extremely limited edition. That's right this statue will have only 250 pieces made so you better act fast. He comes in at 21 inches tall and will feature two editions, the standard gives us the New God that gives us his shoulder and a head sculpt of him showing his teeth. The Tweeterhead exclusive, however, features a removable shoulder armor and includes two head pieces. This statue is pretty cheap for the edition size as it clocks in at $399.99. Pre-orders are not live just yet but you can stay up to date here. 
All kneel before Darkseid.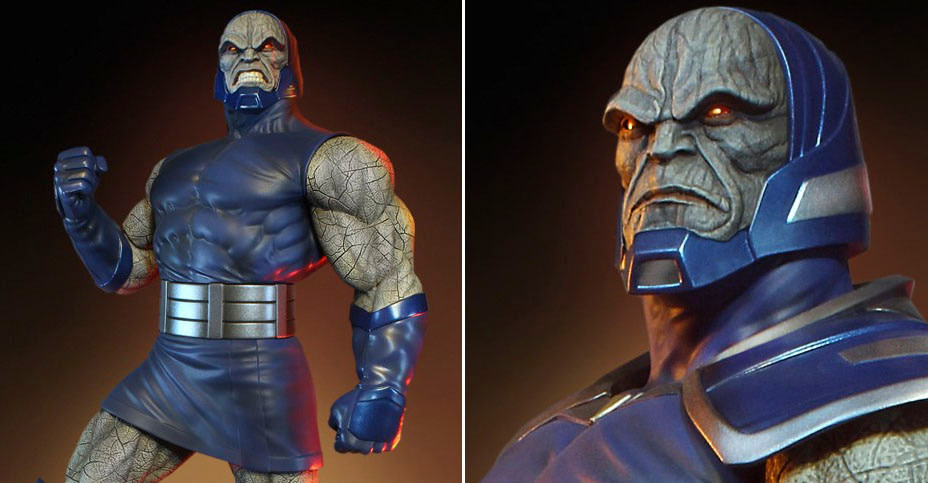 DC Comics – Darkseid 1/6 Scale Statue from Tweeterhead
Here he is!!! It's been a while since our last pre-order and this is a great way to start the new year! Our Super Powers Darkseid Maquette goes on pre-sale this Thursday, Jan 30th. He is a whopping 21 inches tall and is the beginning of our NEW GODS subset of Maquettes. He is limited to only 250 EX pieces.
The Tweeterhead Exclusive will include two portraits and the removable Shoulder armor. The regular edition will include the shoulder armor and ONLY the portrait showing the teeth.
Darkseid will retail for $399.99. The most expensive piece we will be doing in our Super Powers Collection…but he is a mass of a Maquette, so I know you will understand why when you get him.
Darkseid was sculpted by the amazing Paul Harding, Mold and Cast by Mike Allen and paint and photography by David Fisher.