Ahead of this weekend's New York Toy Fair, DC Collectibles have revealed a new line of figures based on the popular Lucha Libre from of wrestling.¡Lucha Explosiva! figures will be coming out later this year, featuring popular DC Comics characters reimagined as Luchadore wrestlers with entirely new backstories. The first six figures will be Batman, Superman, Bane, Deathstroke, Wonder Woman, Cheetah, and Metallo II. These will be on display this weekend at New York Toy Fair. DC Collectibles executive creative director Jim Fletcher had this to say about the launch of the new line: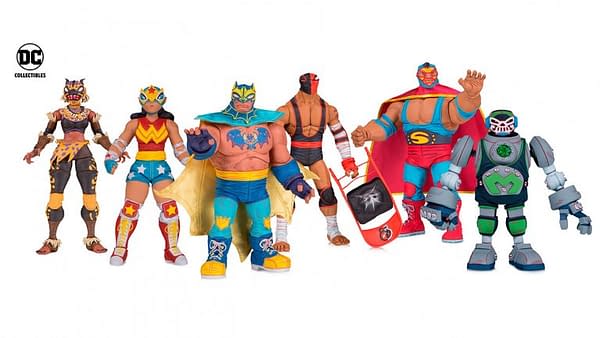 "DC Collectibles is always striving to bring fans imaginative new ways to extend and celebrate DC's most iconic characters. DC ¡Lucha Explosiva! is a passion project for us. We're all huge fans of Lucha Libre, and merging Mexican Luchadores with superheroes seemed like a perfect fit. Besides obvious similarities like masks, capes and secret identities, we also think there is a huge crossover between fan bases. With ¡Lucha Explosiva!, DC Prime and other new items debuting this year, DC Collectibles has something special for everyone — for both longtime collectors and new fans alike."
Look for the line to launch this summer.
First seen on The Hollywood Reporter
Enjoyed this article? Share it!