Doctor Strange Casts a Spell With New Statue From Sideshow Collectibles
Doctor Strange is ready to come out of his Marvel Comic and onto your shelves with his new Sideshow Collectibles statue. We got to see a small glance of this statue before but now gets a full look at his release. He stands roughly 23" high, features a cloth cape, and highly detailed. The fabric cape is a surprise and I am glad they went for it, as his cape is a huge part of his appearance. He does not come with any additional parts which is sad but Doctor Strange still packs a punch with any extras. I am also glad Sideshow Collectibles is bringing the comic book character alive stead of the usual Marvel Cinematic Universe version. Any comic book fan can appreciate the time and effort they put into this and how it would be a great feature in their collection.
The Marvel Comics Doctor Strange Maquette is set to release between September and November 2020. He will be priced at $675 and pre-orders are already live and can be found here. Payment plans will be offered so take advantage if you need to.
Abra Kadabra!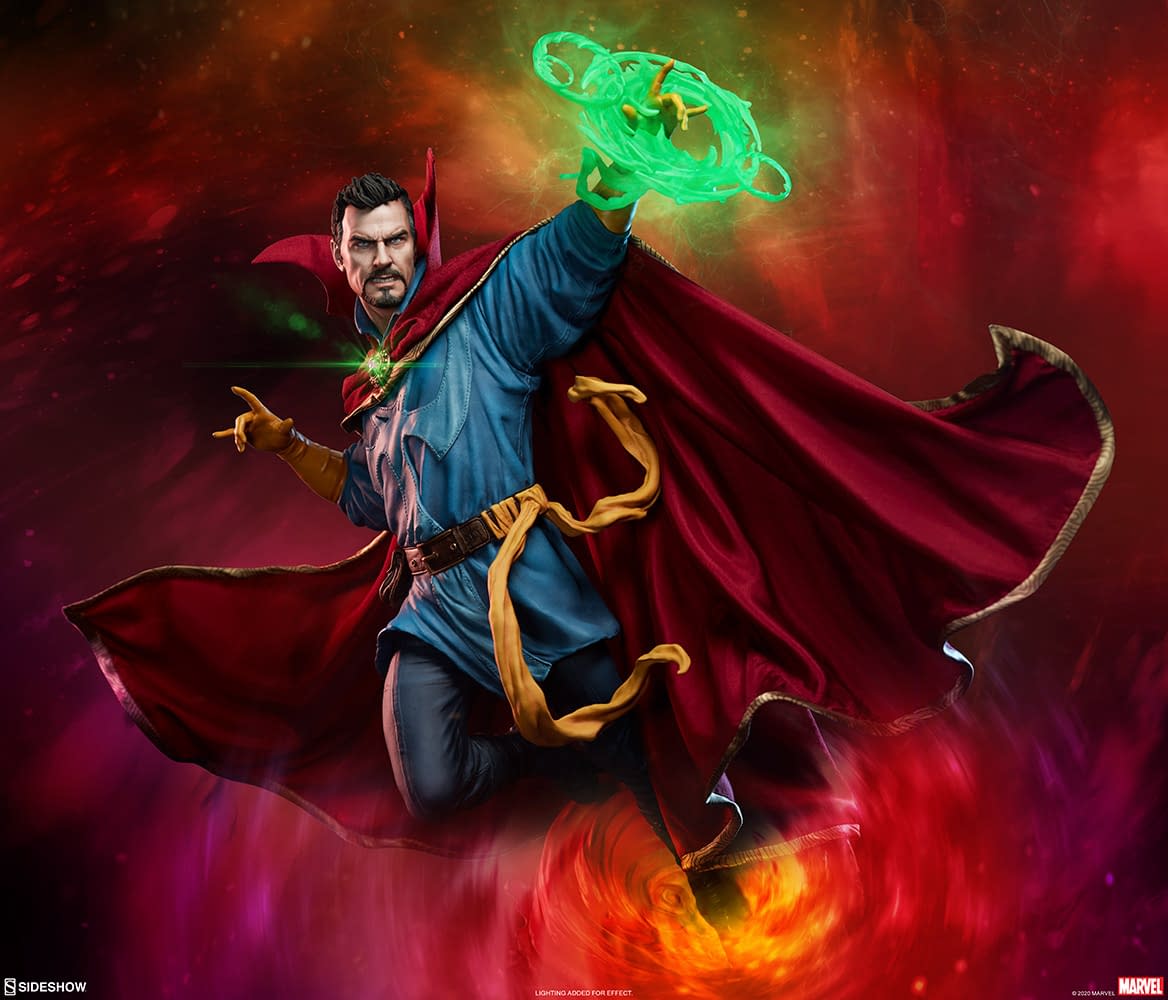 Doctor Strange Maquette by Sideshow Collectibles
ABOUT THIS MAQUETTE
"Impossible? I've learned never to use that word in my line of work."
By the flames of the Faltine! Sideshow presents the Doctor Strange Maquette, magically materializing in your Marvel collection.
The Doctor Strange Maquette measures 23" tall, levitating above a swirling vortex of mystical energy while casting a powerful spell from his fingertips. Wielding artifacts of great power, the renowned Sorcerer Supreme is sworn to protect his dimension from dark forces beyond the confines of reality.
Inspired by his classic comic book appearance, the polyresin Doctor Strange Maquette features a sculpted blue and yellow costume and a full fabric Cloak of Levitation. This luxurious red fabric cloak is lined with gold-colored trim, has a stylized high collar, and features internal wiring for posing, measuring 26" wide at its fullest extension. Stephen Strange's blue garments, brown belt, and yellow gloves and sash are all sculpted with detailed fabric-like movement and realistic stitching details. At the center of his chest lies the Eye of Agamotto, an ancient amulet of wisdom that empowers and protects this mystical defender of humanity.
Summon the Master of the Mystic Arts to your sanctum of Marvel collectibles and bring home the Doctor Strange Maquette today!
Artists
Kucharek Brothers (Sculpt) (Design)
The Sideshow Design and Development Team (Design) (Development)
The Sideshow Mold and Cast Team (Mold and Cast)
Kat Sapene (Paint)
Tim Hanson (Costume Fabrication)
Esther Skandunas (Costume Fabrication)