Funko SDCC 2020 Reveals: San Diego Comic Con Toucan
Even though San Diego Comic Con has been canceled their exclusives are still scheduled to roll out. SDCC is just one of many conventions that have been canceled due to world events. However, it is nice to know that companies are still dishing out their exclusives to get us through these troubled times. One company everyone has been waiting for is Funko and it looks like today is the day we have all been waiting for with SDCC 2020 reveals! Starting us off first is the San Diego Comic Con Toucan Mascot. There will be three of these birds heading to collectors in July and one of them is limited to only 1000 pieces. The first one up is our Toucan friend standing heroically with the SDCC logo on his chest. We will then be getting two special astronaut Toucans with the red one being limited to 1,000 pieces and will only be available through the Comic-Con Museum.
Funko has announced that they will also be doing another Virtual Con for San Diego Comic Con just like they did for Emerald City Comic Con and WonderCon. It will be interesting to see what they have planned for us and what this new virtual con with entail. No specific information on release date or price has been given for him but we will get more information as the reveals continue. Most of these upcoming releases will be shared exclusives whether through retailers or teh Funko Shop. Make sure you stay tuned here at Bleeding Cool for more SDCC 2020 Funko Pop reveals as they come.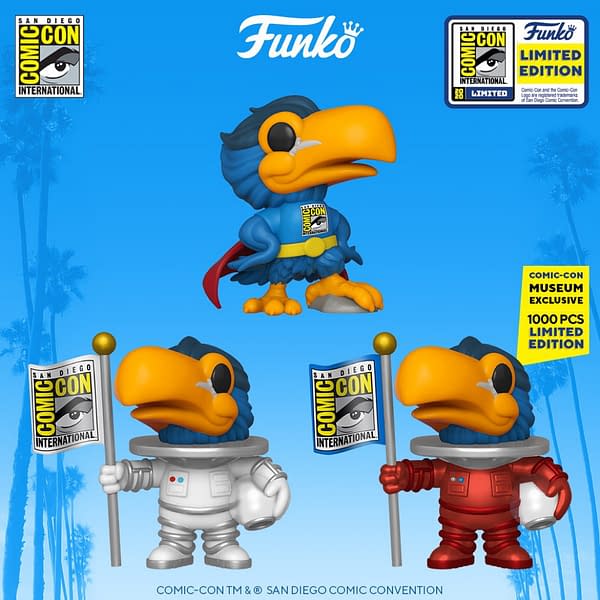 "Funko SDCC 2020 Reveals: SDCC Toucan. 1,000pc Red Astronaut will be distributed exclusively through Comic-Con Museum. Sign-up or upgrade to a Tier 4 or Tier 5 Charter Membership to get one. Visit comic-con.org Comic-con.org for more information."