Funko Previews Exclusive Thanos "Snap" Pop Coming in December?
Funko has a new Previews Exclusive Pop coming in December, and Marvel fans will be hitting comic shops in droves to get it. Looks like it will be a MCU version of Thanos performing his infamous "Snap" from Avengers: Infinity War. The Pop will be a deluxe 6 inch Pop as well. While there is no image to go off of, there are for sure clues that this will be happening. At the Diamond Retailers Summit in Las Vegas, Funko products were shown, along with a teaser of Mad Titan himself snapping his fingers. No figure was shown, but implied for sure.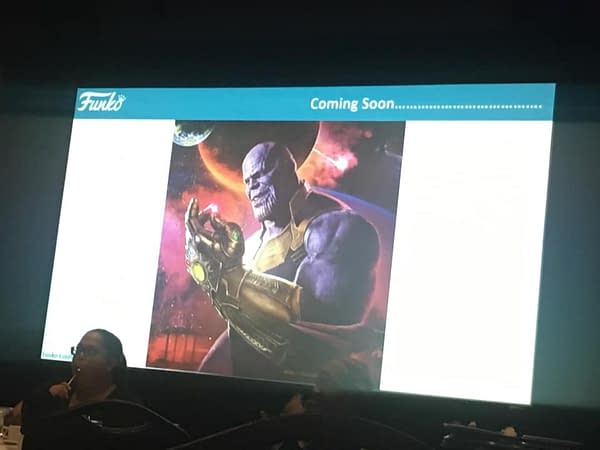 Just today, in a now taken down link, Previews world put up a product page and product code for "POP Marvel Heroes Thanos Snap 6IN PX Deluxe Vinyl Figure" (MAY198251). As said, this page was taken down quite hastily, as it was not supposed to be live yet, since this hasn't been announced formally. Previews World routinely posts leaks on their page, mostly around when the new catalog is about to hit comic stores and solicitations start to come out from it. Look for this Pop to be announced in the coming days, and when it is, we will be sure to bring it to you, pics and all.