Funko continues to increase the size of its Funko Pops yet again. First, it was the 6 inch Pop which is still pretty popular depending on what character is released. We then got to see 10 inches figures which have been highly overplayed but depending on the character can still be pretty valuable. Now Funko is increasing the size yet again with another addition to their 18 inch Funko Pop line. This will mark the fourth figure to come out with Batman being released as the first. We then got a 1966 Batman Funko Shop exclusive with a magical release for the most recent, Harry Potter. This time we are diving into the Marvel Universe with an 18 inch Baby Dancing Groot. Groot is one of the more popular characters from the Marvel Cinematic Universe top line with +30 figures so far and now collectors can add another to the massive potted collection. Baby Groot is in his potted plant form and will have the words "I Am Groot" displayed at the bottom on its base. As this is an 18 Inch Funko Pop, it is nicely detailed with his wood deco and perfect for any Guardians of the Galaxy fan.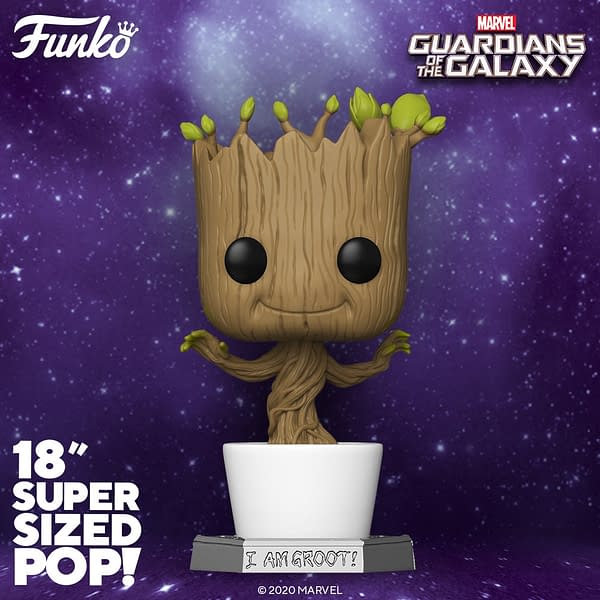 Being a completionist for the Marvel Cinematic Universe Funko Pop line this is a must have figure for myself. I didn't think I would ever have to dip my toe into the 18 inch Pop world but fate has intervened. Funko could have done a different design or bigger character instead of an enlarged baby Groot but it is still a nice release. I will be excited to finally see him displayed in my collection among the other Groots of my collection. I am not sure how many 18 inch Funko Pops we will be seeing in the future but hopefully, it's less than more. The Guardians of the Galaxy Dancing Baby Groot 18 inch Funko Pop is priced at $99.99. He is expected to dance his way into your collection in September 2020 and you can find pre-orders are already live and located here. What Funko Pops would you like to see get turned into an 18 inch figure next?
Enjoyed this article? Share it!