Gender Swapped Batman Rises From the Ocean with Prime 1 Studio
A lot of Dark Nights: Metal Batman collectible are coming out lately and I can not complain. While the series kind of went off the rails it did bring us the Batman Who Laughs and a new universe. The Dark Multiverse showed us a new variety of Batman worlds and a whole line of evil Batmen characters. One of my favorites was The Drowned also know as Bryce Wayne of Earth -11. She was the Batman of that Earth until her over Sylvester Kyle was killed and she took revenge on the superheroes of that world. The interesting part of that world was all the characters were gender swapped and it was interesting to see their other counterparts.
Prime 1 Studio is bringing The Drowned alive with there newest Dark Nights: Metal statue. This highly detailed statue shows Bryce Wayne after she killed all of the lands superheroes and won the war against Aquawoman and the Atlanteans. She genetically modified her body to cope with the newly flooded world after the war. This beautiful statue shows the perfect amount of compelling and dynamic feel a statue needs. The base with octopus tentacles coming up and Batman with her triton in the center of it is badass. There is an exclusive version of the statue that gives you an interchangeable head and a secondary triton for additional posing.
The Drowned Batman Dark Nights: Metal Statue is set to release between March and June 2021. The standard version is priced at $1,049 and pre-order links are located here. The exclusive version with the additional pieces is priced at $1,099 and pre-orders are located here. I hope we can see more of Barbatos Dark Knights from Prime 1 Studio in the future.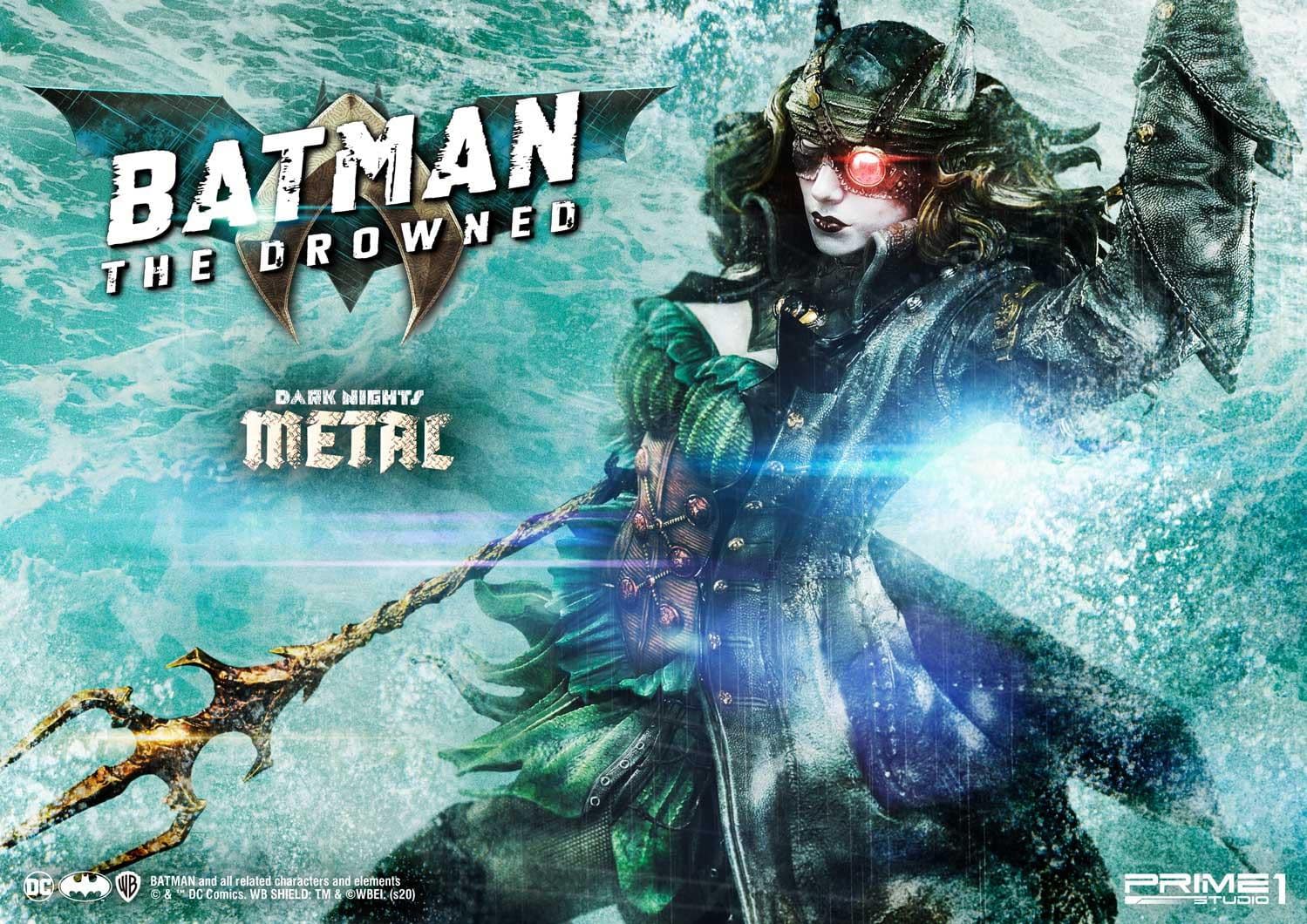 Museum Masterline Dark Nights: Metal (Comics) The Drowned Statues
"My amnesty begins here. I light my signal. My light… to show this world my intent… I'm going to drown it all. This whole world. Trust me on that." — Batwoman: The Drowned
Prime 1 Studio is proud to present the MMDCMT-03DX: The Drowned Deluxe version from The Dark Nights: Metal.
The story involves Batman discovering a dark multiverse that exists beneath the core DC multiverse. Eventually, he discovers seven evil versions of himself, called the Dark Knights, from the dark multiverse that are led by the dark god known as Barbatos. The Drowned is one of the Dark Knights members.
It is a beautifully crafted statue with exceptional attention to detail.
The Deluxe Version includes one additional Alternate Portrait and one additional interchangeable right arm with trident up.
The Drowned Statue stands approximately 35 inches tall and it is a must have for all DC Comics Dark Nights: Metal fans! A great piece to add in your collection with two other pieces from the same series.
Specifications:
– Statue Size approx. 35 inches tall with trident down [H:88.9cm W:46.7cm D:46.1cm]
– Statue Size approx. 38 inches tall with trident up [H:95.7cm W:37.9cm D:37.3cm]
– One (1) specially designed base
– Two (2) interchangeable Portraits – Deluxe Version
– Two (2) interchangeable Right Arm Parts (Trident down, Trident up) – Deluxe Version