Harley Quinn from Birds of Prey Arrives as New Hot Toys Figure 
Finally, we will be able to see the next film in the DCEU as Birds of Prey arrives. Nothing better to s=celebrate the launch of the film than with a new figure from Hot Toys. This time it is one of Harley Quinn outfits from the upcoming movie. Harley Quinn comes seven interchangeable hands, a new head sculpt, and her mallet. I do hope we will see another head when she gets closer to launch, the smiling one is nice but I would like to see some more emotion to her. Besides that, this is still an amazing figure that any Harley Quinn fan should own.
The Birds of Prey Harley Quinn Hot Toys figure does not have a price or release date just yet. You will be able to find them located here when she does finally go live.
Let's get into some trouble.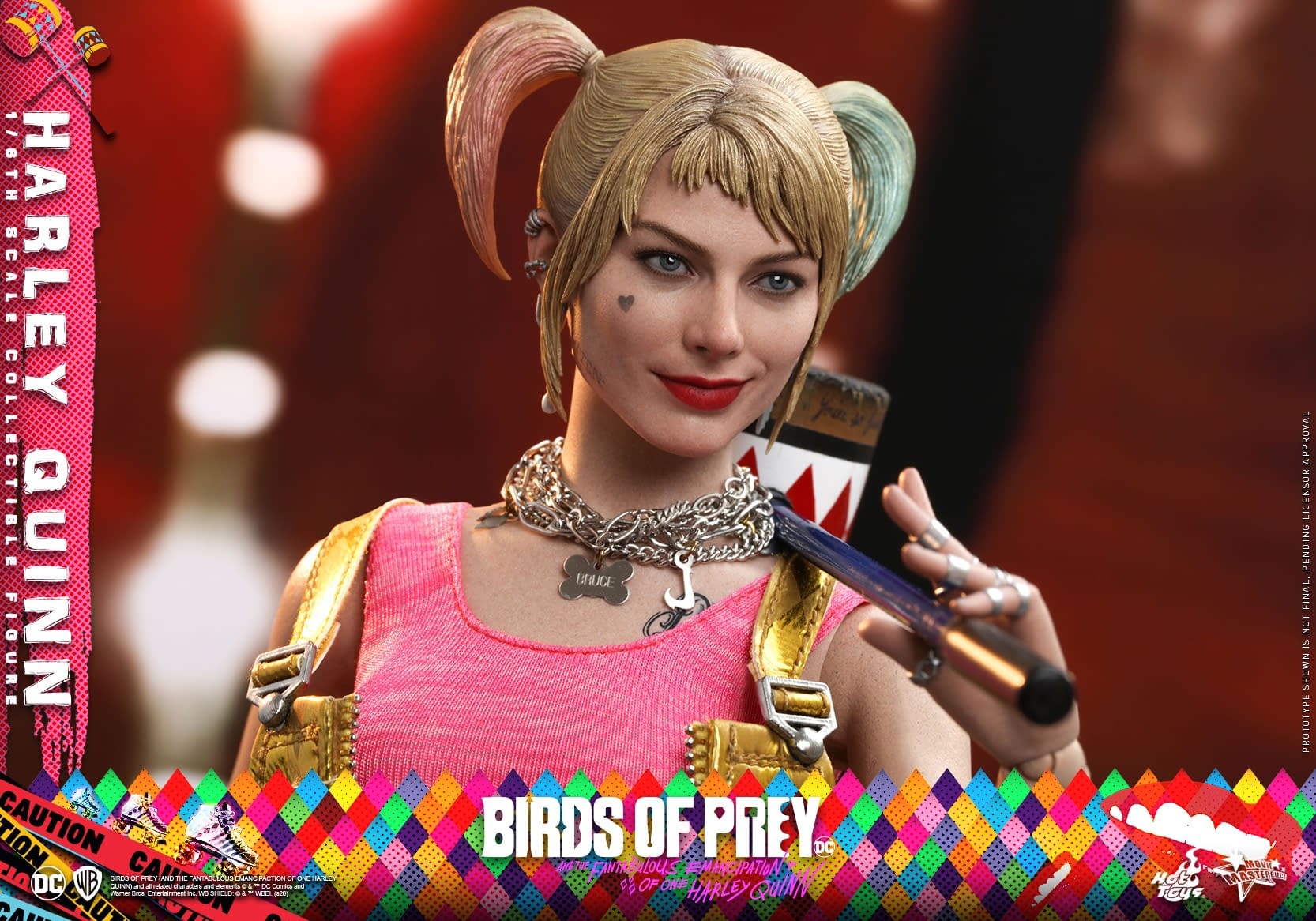 Birds of Prey- Harley Quinn 1/6th Scale Collectible Figure
"Get ready, ladies." – Harley Quinn
The villainous Harley Quinn will return to Gotham City in no time. She has been emancipated from her former beau, Mistah J, and has broken away from the Suicide Squad. Now she's gathering a group of women vigilantes as her own girl gang to face off again the other super villains out there!
Waited with great anticipation for the official release of Birds of Prey, Hot Toys is thrilled today to unmask the new 1/6th scale Harley Quinn collectible figure from the latest DC Extended Universe blockbuster! Meet the gang leader, behind Birds of Prey (and the Fantabulous Emancipation of One Harley Quinn), and go inside the mind of an unhinged antihero who's breaking all the rules.
Beautifully crafted based on the screen appearance of Margot Robbie as Harley Quinn in Birds of Prey, the movie-accurate collectible figure features a newly developed head and hair sculpture with incredible workmanship, a sophisticatedly tailored golden overall outfit as seen in the first trailer of the film, a pair of interchangeable roller shoes, Harley's iconic mallet, a chain necklaces, a figure stand with specially designed graphic cards and character backdrop.
Channel your inner Harley Quinn with this latest figure capturing her brilliant look in Birds of Prey!
Specifications:
– Product CodeMMS565
– Product NameHarley Quinn
– HeightApproximately 29 cm tall
– Points of Articulations26
– Special FeaturesShort-length curly blonde, pink and light blue hair sculpture with movable pigtails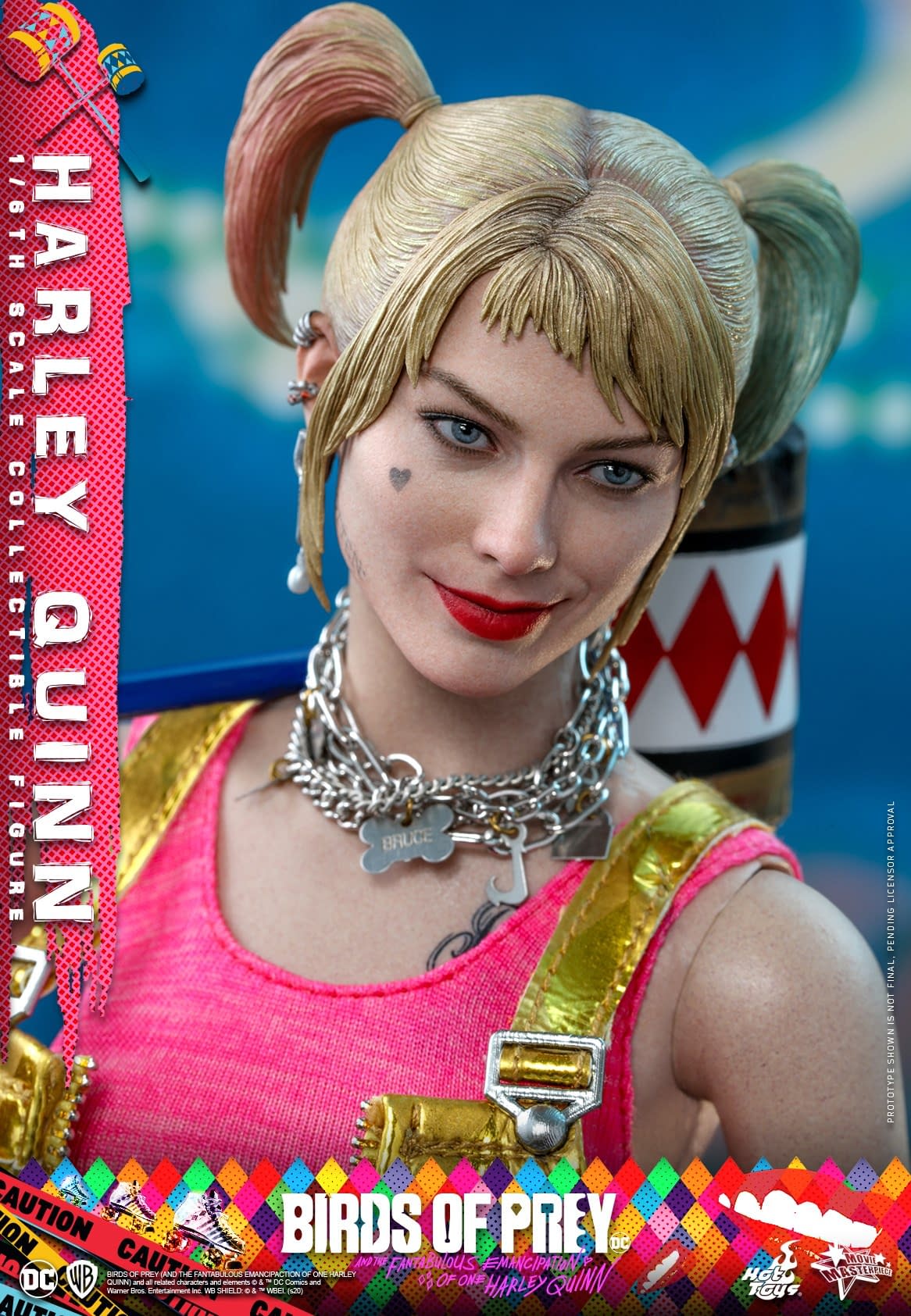 The 1/6th scale Harley Quinn Collectible Figure's special features:
– Newly sculpted head sculpt with authentic and detailed likeness of Margot Robbie as Harley Quinn in Birds of Prey
– Movie-accurate facial expression with detailed make-up, skin texture and tattoos
– Short-length curly blonde, pink and light blue hair sculpture with movable pigtails
– Newly developed body with over 26 points of articulations
– Approximately 29 cm tall
– Seven (7) pieces of interchangeable hands including:
• One (1) pair of relaxed hands
• One (1) pair of gesture hands
• Three (3) pieces of accessories holding hands
– Each piece of head sculpt is specially hand-painted
Costume :
– One (1) gold colored diamond pattern overall
– One (1) hot pink colored vest with buckle
– One (1) pair of gold colored heeled boots
– One (1) pair of interchangeable metallic pink and blue colored double roller-skates (rotatable)
Weapon:
– One (1) Harley Quinn's mallet
Accessories:
– One (1) silver colored metal necklace chain
– Figure stand with character nameplate, specially designed Birds of Prey themed graphic card and character backdrop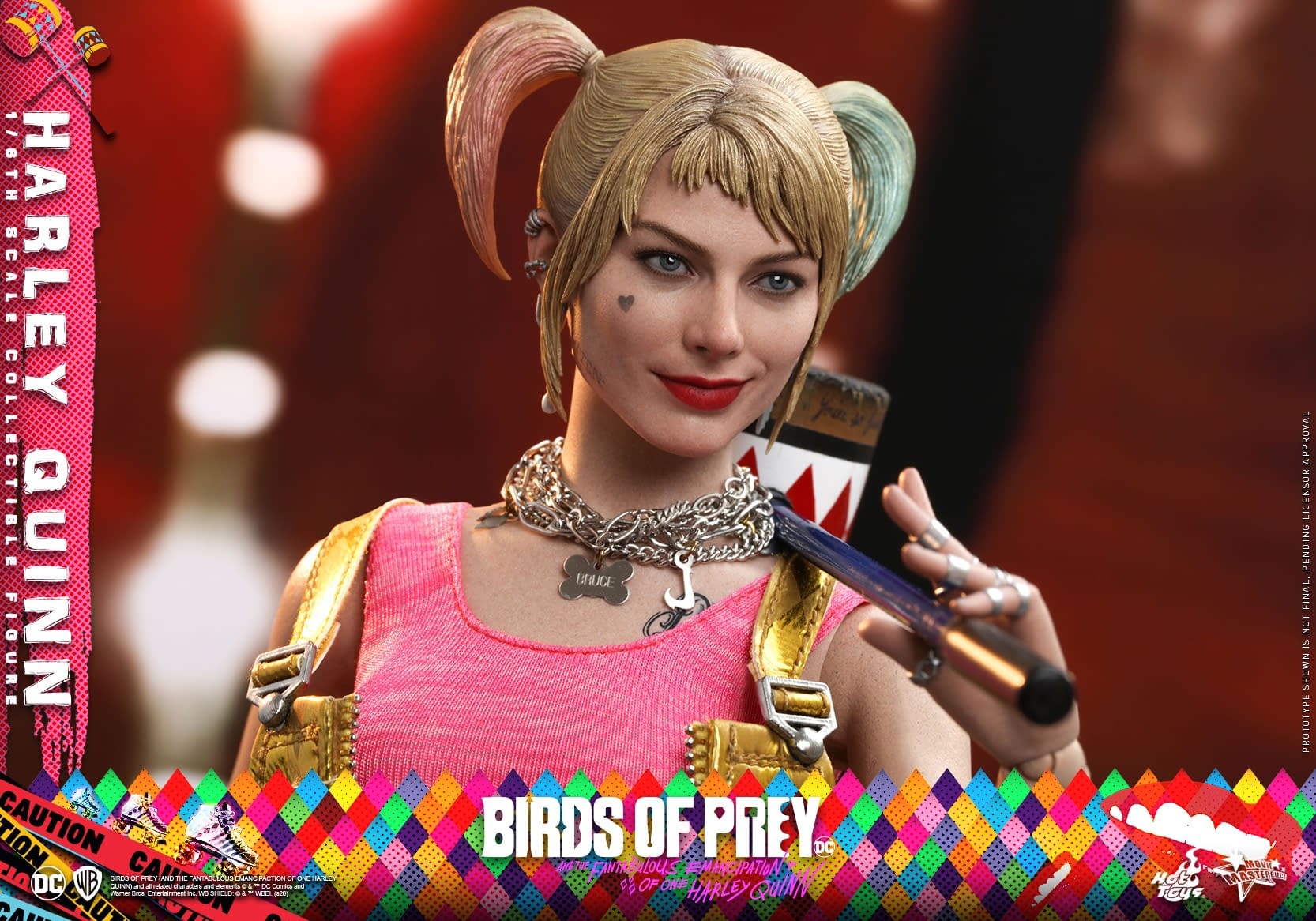 Artists:
– Head Sculpted by Yulli
– Head Painted by E-Lee & JC.Hong
– Head Art Directed by JC.Hong