Man, the preparations for Free Comic Book Day come around earlier every year, don't they? We're still 6 months out but merchandise being sold on that day exclusive to comic book stores (i.e. not free) has just been announced
It begins with an Exclusive John Constantine POP! from Funko and Symbiote Spider-Man Statue from Diamond Select Toys Lead Free Comic Book Day 2019 Merchandise Selection (UPDATE: And now we know what it looks like)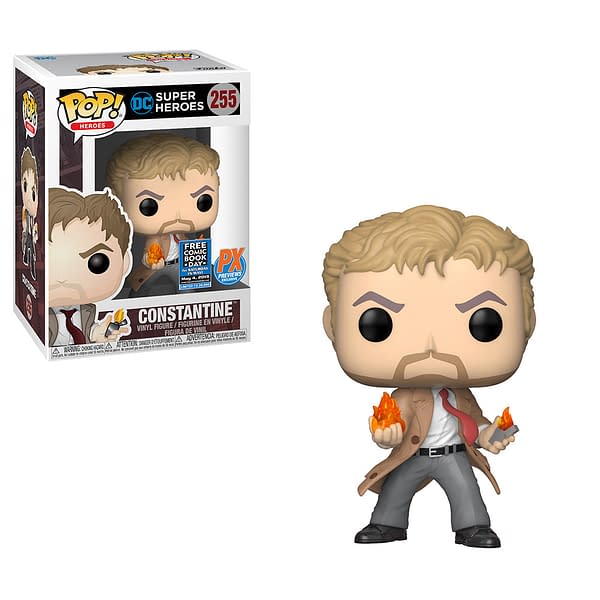 The PREVIEWS Exclusive (PX) POP! DC Heroes: John Constantine Vinyl Figure (NOV180015; SPR $11.99) may look scruffy in his rumpled trench coat, with his rumpled hair and sour attitude, but don't be fooled… John Constantine is one of the most accomplished magicians in the DC Universe! In May, Constantine joins Funko's POP! figure line with a PX just in time for Free Comic Book Day! Standing 3 3/4" tall with the urban, stylized design that has made Funko's figures so popular, the POP! John Constantine Figure is essential for collectors who love the darker side of the DC Universe!
Then Diamond Select Toys adds a new figure to its Marvel Gallery line as Spider-Man celebrates Free Comic Book Day with the black costume variant.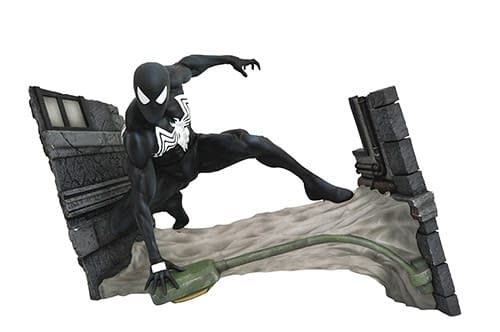 Symbiote Spider-Man PVC Statue (NOV180013; SRP $45.00)! Spider-Man lives up to his namesake, crouched on a web slung across an alleyway, portraying the hero in his element. Measuring approximately 7" high by 11" wide, this detailed sculpt by Alterton is based on a design by Caesar, and comes packaged in a full-color window box.
Then there's a Superman and Wonder Woman set from the world of Mark Millar and Dave Johnson's Red Son.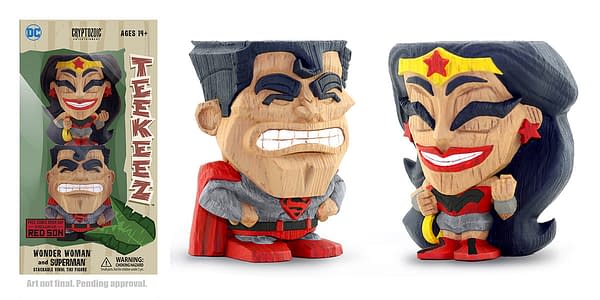 Cryptozoic Entertainment celebrates the story with a PREVIEWS Exclusive Teekeez: Red Son Superman & Wonder Woman Vinyl Figure 2-Pack (NOV180014; SRP $19.99)! These vinyl figures have a distinctive wood-carved aesthetic, inspired by tropical tiki designs, and stand 2 3/8" tall.
And then there's Iron Man HeroClix.
PX Iron Man HeroClix: Free Comic Book Day Figure from Wizkids/NECA has an enhanced paint job and effects and will include an exclusive HeroClix figure and card in a polybag with hangtag. The PX Marvel Dice Masters Promo Starter Pack includes Marvel Dice Masters: Uncanny X-Men Dice-Building Game Starter Set and Marvel Dice Masters: Avengers – Age of Ultron Starter Set.
And some pins too…
WizKids/NECA! have also paired up with Marvel and DC to offer fans a selection of PREVIEWS Exclusive metal pins. The DC Comics: Batman Metal Pin (item code; SRP) replicates the hilarious Rainbow Batman cover of Detective Comics #241! The Marvel Comics Metal Pins (item code; SRP) offer fans a selection between an Avengers pin or an X-Men pin, perfect to spice up their favorite jacket or backpack!
Free Comic Book Day is on Saturday, May 4th, 2019 f
Enjoyed this article? Share it!