LEGO and Star Wars are celebrating 20 years of bricks based on the most epic saga in the galaxy. Throughout the year, there will be all kinds of new and re-released product, including these first five sets. LEGO and Star Wars at this point are synonymous with each other, and I could not be more excited to see what else they have planned. Check out the five sets and details below!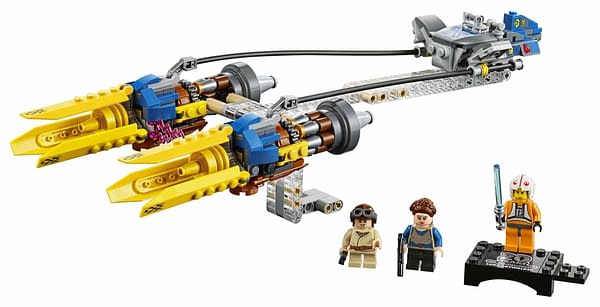 75258 – Anakin's PodracerTM-20th Anniversary Edition

279 pieces | Age 7+
29.99 (USD) | 39.99 (CAD)
75262 – Imperial DropshipTM-20th Anniversary Edition

125 pieces | Age 6+
19.99 (USD) | 24.99 (CAD)

75259 – SnowspeederTM-20th Anniversary Edition

309 pieces | Age 7+
39.99 (USD) | 49.99 (CAD)

Sound the alarm, Echo Base is under attack! Win the Battle of Hoth with Luke and Dak Ralter in their amazing LEGO® Star WarsTM Snowspeeder from Star Wars: The Empire Strikes Back. Speed over the ice and launch the spring-loaded shooters. Then fire the rear stud shooter and harpoon with string. On the ground, help the Rebel Trooper take aim and fire the gun tower stud shooter. Those Imperials must be defeated!

75261 – Clone Scout WalkerTM-20th Anniversary Edition

250 pieces | Age 6+
29.99 (USD) | 39.99 (CAD)

75243 – Slave ITM-20th Anniversary Edition

1007 pieces | Age 10+ 119.99 (USD) | 159.99 (CAD)

Build Boba Fett's personal Slave I starship and travel with him through the LEGO® Star WarsTM galaxy in search of fugitives! Grab the handle and fly him around. Pull the triggers to fire the spring-loaded shooters. Load Han Solo trapped in carbonite into the hold and deliver him to collect your payment. It's another exciting day in the life of a bounty hunter!
Enjoyed this article? Share it!