Magneto Goes All Out with New X-Men Iron Studios Statue 
The X-Men have always seen Magneto as an enemy but what if he was their ally? In the newest run of the Marvel Comics X-Men series, Professor X and Magneto are on the same side for once. This newest state is the same deal as he teams up with the X-Men to take on their ultimate enemy, The Sentinels. The X-Men must fight together to survive and Iron Studios brings them all together with this beautiful piece. Unlike most of these singled out Sentinel pieces, Magneto has interchangeable heads. One is masked, while the other shows his more human side being unmasked. The colors and his powers in effect are a beautiful sight and it adds so much depth. This is a piece that will make any X-Men fan proud and deserve that top spot on the massive Sentinel statue.
The Marvel Comics X-Men Diorama Magneto Statue is priced at $239.99. He is set to ship on out in December 2020 and pre-orders are already live and can be found here. Check out the other X-Men coming soon too like Beast, Wolverine, Gambit, and more.
"The thing none of you will ever understand is that there are no sides."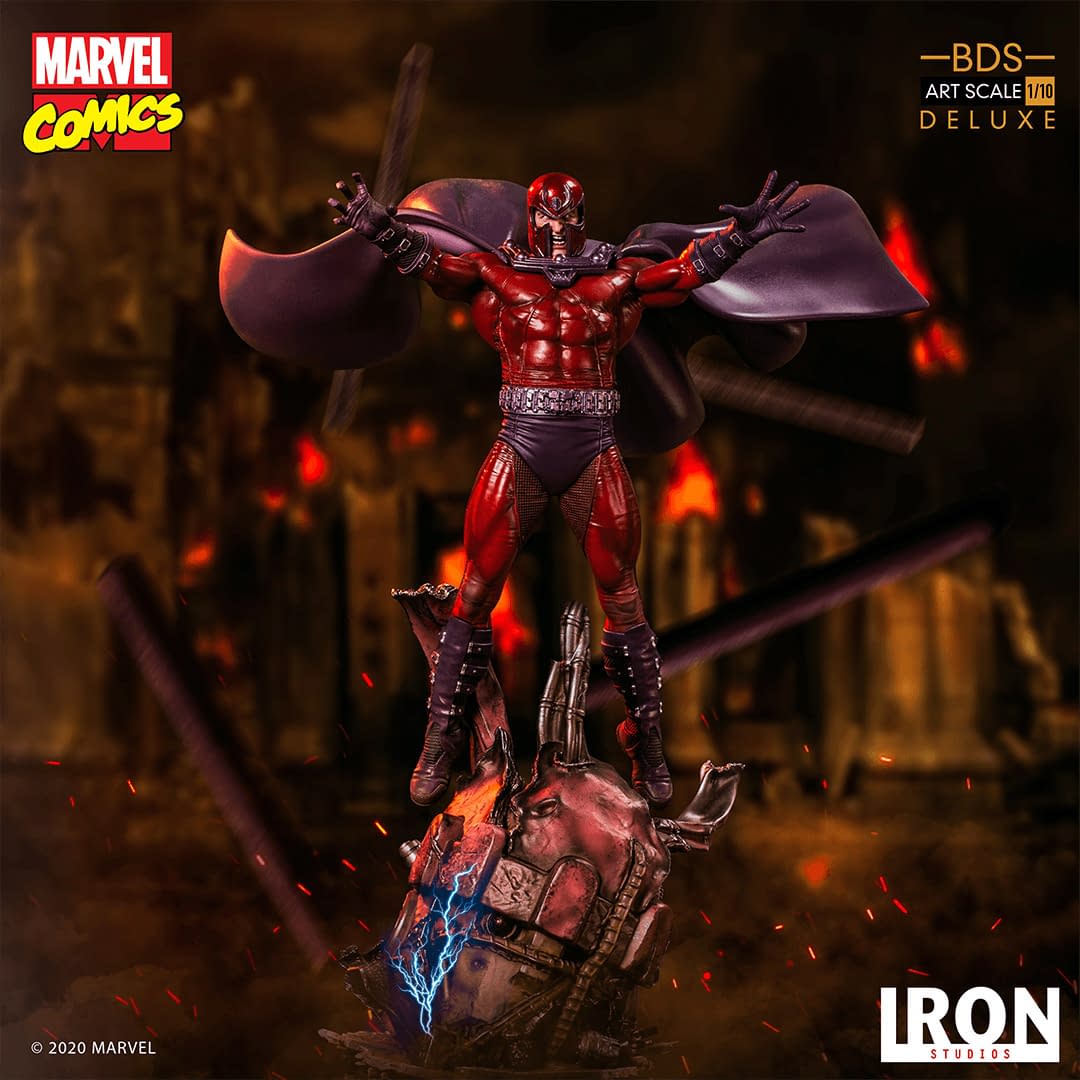 Magneto Deluxe BDS Art Scale 1/10 – Marvel Comics
DESCRIPTION
License: Marvel Comics
Scale: BDS Art Scale 1/10
Features:
– Limited edition
– Made in polystone
– Hand painted
– Includes 2 heads (with and without helmet)
*The X-Men Art Scale figures that are sold separately cannot be attached to this Sentinel. If you want to have the Sentinel Vs X-Men you must order the Full Set, which is also in Pre Order.
Product dimensions: 12.2 in (H) x 9.4 in (W) x 8.6 in (L)
Product Weight: 1.7 lbs
Release schedule: First quarter of 2021
*This item will be shipped from our warehouse in Los Angeles – California