Avengers: Endgame introduced us to the return to the original Avengers film. This makes an easy way for companies to bring back some new collectibles from an iconic time. Hot Toys is bringing back the original Avengers line up with their new Cosbaby figures. All 6 members return with Captain America, Iron Man, Thor, Hulk, Black Widow, and Hawkeye. Iron Man is only one who will feature and extra as he will light up. Each Hot Toys Cosbaby Avenger is back in their classic The Avengers costume and ready for action. All six are packaged together in a window box and will have an included Avengers Tower backdrop.
In all honestly, the included backdrop should be the Stark Tower but I see what they are getting at. This is a nice way for Hot Toys to return to The Avengers without being too outdated. Each figure brings back that classic design that fans will love and will be a sure hit on any desk or in any collection. This will be a bundled item so expect a little higher price. Pre-orders are not live just yet but you will be able to find Hot Toys collectibles here. Avengers!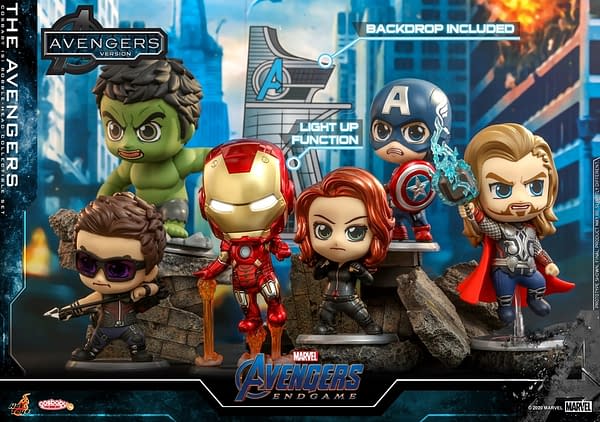 "The remaining Avengers have to travel back in time to collect the Infinity Stones before Thanos get his hand on them! Inspired by the epic Avengers: Endgame, Hot Toys is thrilled to present a new wave of Cosbaby capturing the appearances of our beloved heroes from earlier productions."
"Fans can revisit the key moments with the specially designed Avengers Version Cosbaby featuring super heroes in their iconic costumes. Include Iron Man Mark VII with LED light-up function, Captain America, Thor, Black Widow, Hawkeye, and Hulk Cosbaby (S) Bobble-Head. Each collectible stands approximately 10 – 13cm tall with bobble-head function. The Avengers Cosbaby also comes in set packaging that exclusively includes a Stark Tower backdrop for sophisticated collection."
"Imagine your favorite character becoming a supersized Cosbaby! Standing approximately 23cm in height, Thor (Battling Version) Cosbaby (L) Bobble-Head holding the iconic Stormbreaker and Mjolnir with LED light up function, is going to be a striking display among your shelf. It's now a great chance to bring home the awesome Avengers Cosbaby!"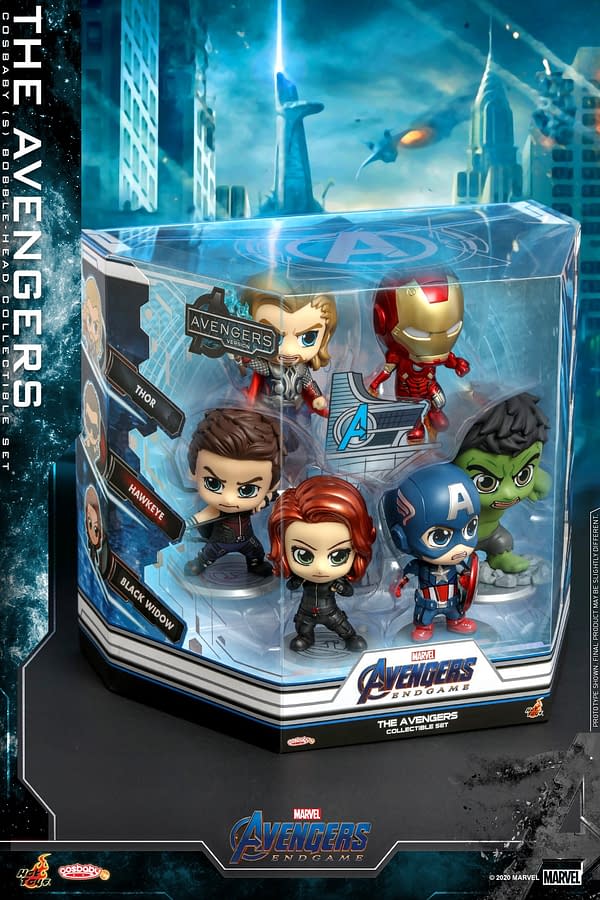 Enjoyed this article? Share it!