Mega Man Charges Up with New Statues from First 4 Figures
Mega Man is locked and loaded with First 4 Figures and their newest set of statues. This time your favorite digital hero is jumping out of harm's way with two special statues. The first one is a high detailed statue that is showing off a dynamic pose based on the Mega Man 11 game cover. The statue gives us a highly detailed view of our blue hero with smoke, explosions, and battle damage on or around him. The Exclusive edition of this statue takes this design up a notch as he gets the LED treatment. His boots, helmet, and base all light up giving fans a collectible that can really stand out.
The Mega Man 11 Statues are set to release in the first quarter of 2021. They are currently priced at $386 for First 4 Figures Early Bird Special and you can find the standard here and pre-orders for the exclusive here. Step your game up and show off your Blue Bomber love!
"I can take it, Doctor. I wanna do this, no matter the cost. Hook me up!"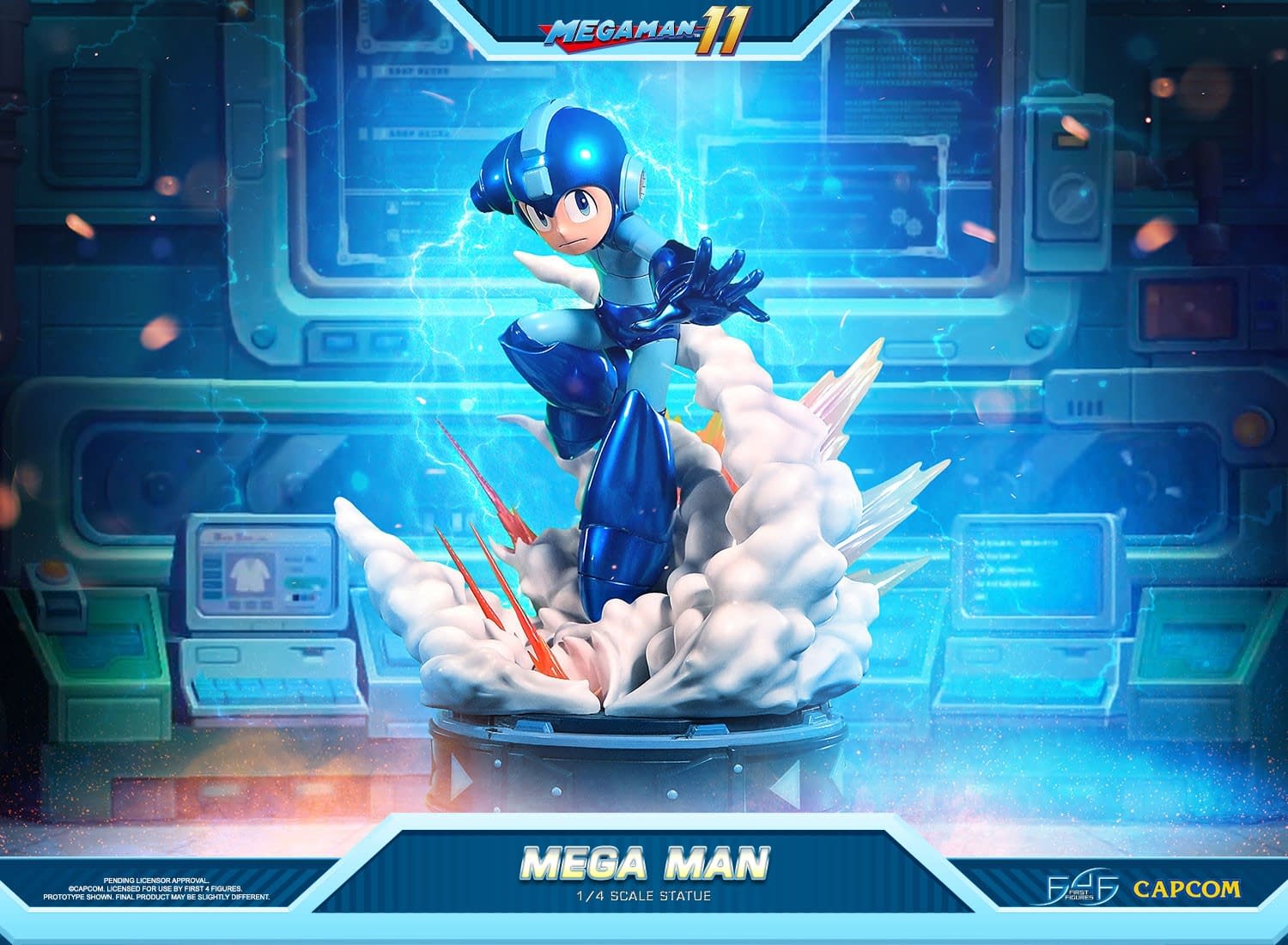 First 4 Figures is proud to introduce their latest ¼ scale resin collectible, Mega Man! This is the first statue to release in the all-new Mega Man 11 lineup.
The highly detailed Mega Man statue is seen striking a dynamic pose resembling the Mega Man 11 game cover. The base is covered with clouds of smoke caused by the explosions, and his armor and the rest of the base also have details of battle damage to show for it. Furthermore, the design around the base takes inspiration from the conveyor belt obstacle in the game. And, with the Exclusive Edition, Mega Man's Helmet, Mega Buster and Boots, the explosion effect, and the base all have LED functions.
Mega Man 11 – Mega Man (STANDARD Edition) comes with the following:
Mega Man RESIN statue
Highly detailed base inspired by Mega Man 11's art style
Battle damage weathering effect to Mega Man's armor and the base
LED functions for the Helmet, Mega Buster, Boots, explosion effect, and base (Exclusive Only)
Authentication Card
Place an order on or before 10th February 2020, 16:00 Hong Kong time to receive a 10% EARLY BIRD DISCOUNT and extra reward points!
Early Bird Price: 386.99 USD + Shipping
Bonus F4F Reward Points
Suggested Retail Price (SRP) of 429.99 USD applies by the end of the Early Bird promotion.
This pre-order period will close on 2nd March 2020.**
This is the first statue from First 4 Figures' all-new Mega Man 11 line. Statue numbers will be assigned randomly. There is no first-come, first-served policy when allocating statue numbers.
*Prototype shown. Final product may be slightly different. Product details may be subject to change without prior notice.
Subject for final approval.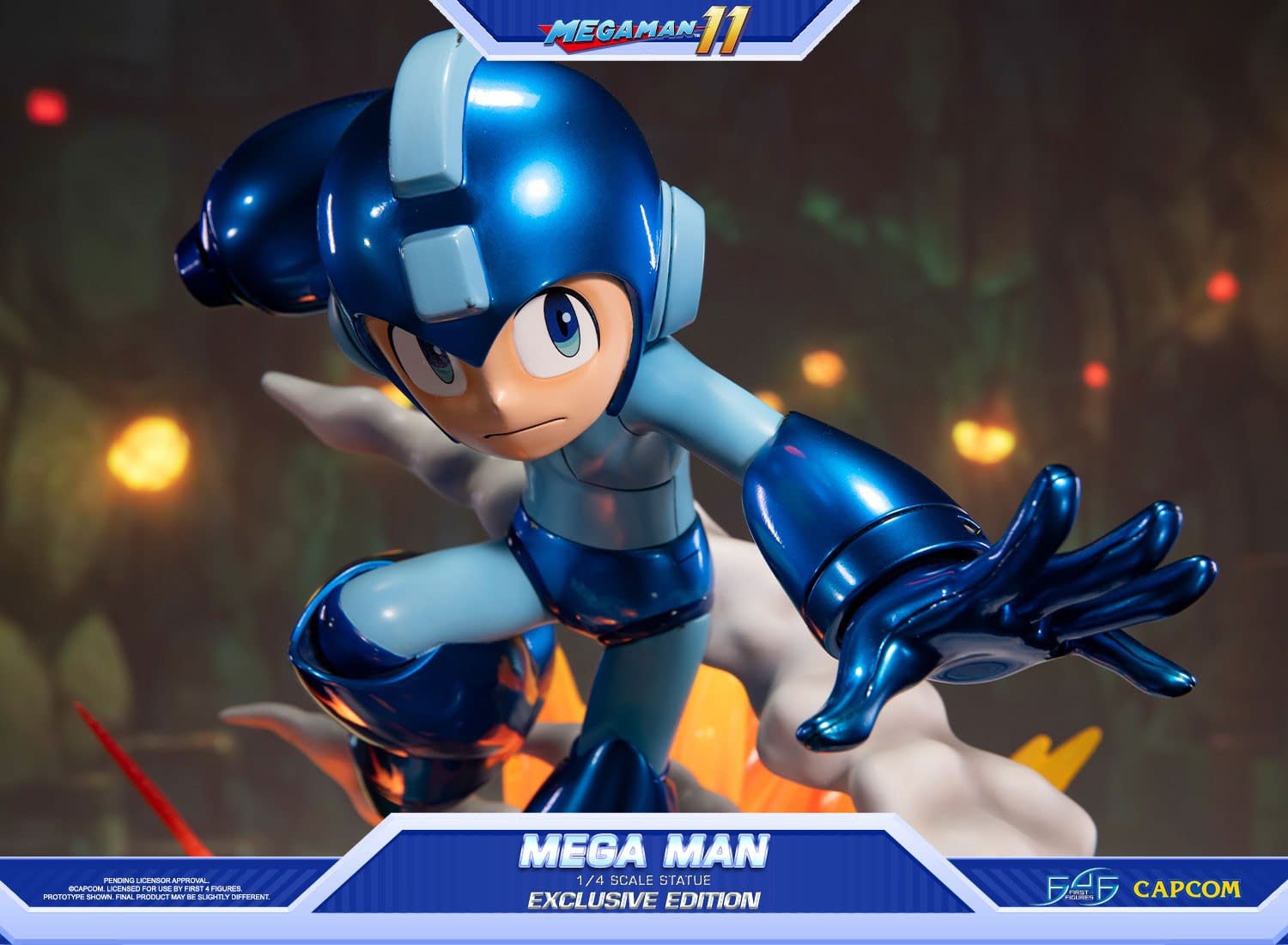 Product Size:
Statue including base:
Height – 16.3 inches (41.5cm)
Width – 11.4 inches (29cm)
Depth – 13.2 inches (33.5cm)
Weight – 6.594 KG
Edition Size: 3000
Estimated Release Date: Q1 2021