"My Hero Academia" Class 1A and Pro-Hero Funko Pops Arrive [Review]
My Hero Academia Season 4 is back in business and better than ever. With no surprise, Funko has released another wave of yet amazing at My Hero Academia collectibles vinyl figures. This review is specially dedicated to all those unsung heroes in My Hero who can finally get their time to shine.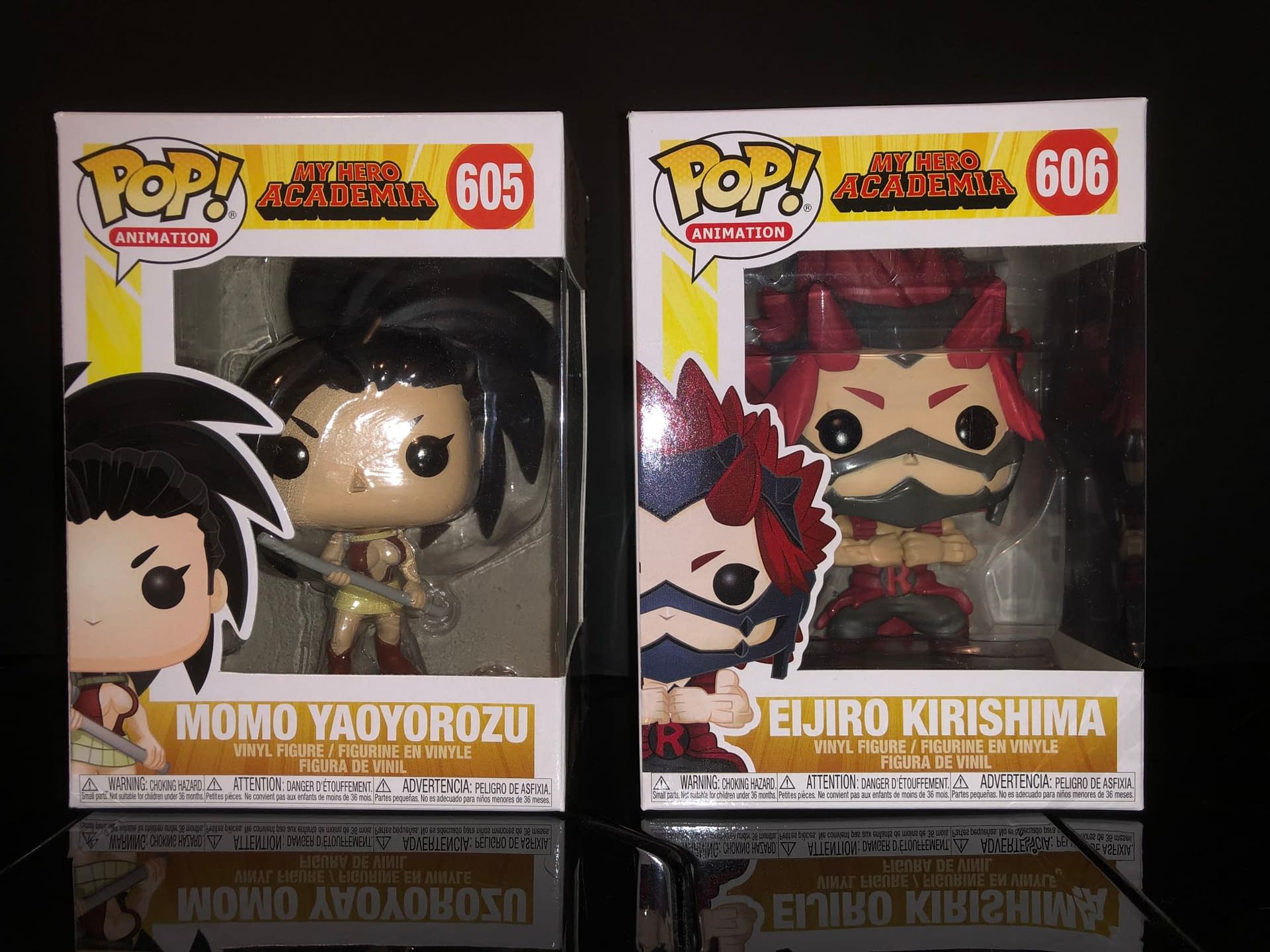 First, we have Creati and Red Riot, both characters from Class 1A or incredibly detailed for them and just being Pop vinyl figures. Splitting them up we're going to look at Red Riot first. I really like the detail that they put into these newer Funko Pop molds and you can see a lot of character put into these little figures. Red Riot is sporting his spiky red hair and he is in his hero battle armor outfit. If you look really close you can even see the detail in his arms as Funko portrayed his quirk perfectly.
As for Creati she's also styling her hero outfit and equipped with a bow staff that she created. One thing that really pops out with her figure is her hair. It was very vibrant and large compared to the rest of the Funko Pop and I really enjoy the vibe of this figure. She is quite "busty "for this little character which does match the character style in the show.
Next up we have the Chalice Collectibles exclusive Mirio Togata and Tokoyami with Dark Shadow. First up are Tokoyami and Dark Shadow who will also be getting a GameStop exclusive a metallic variant bundled with a Pop Tee in the near future. That exclusive is supposed to release in December and you can pre-order them today.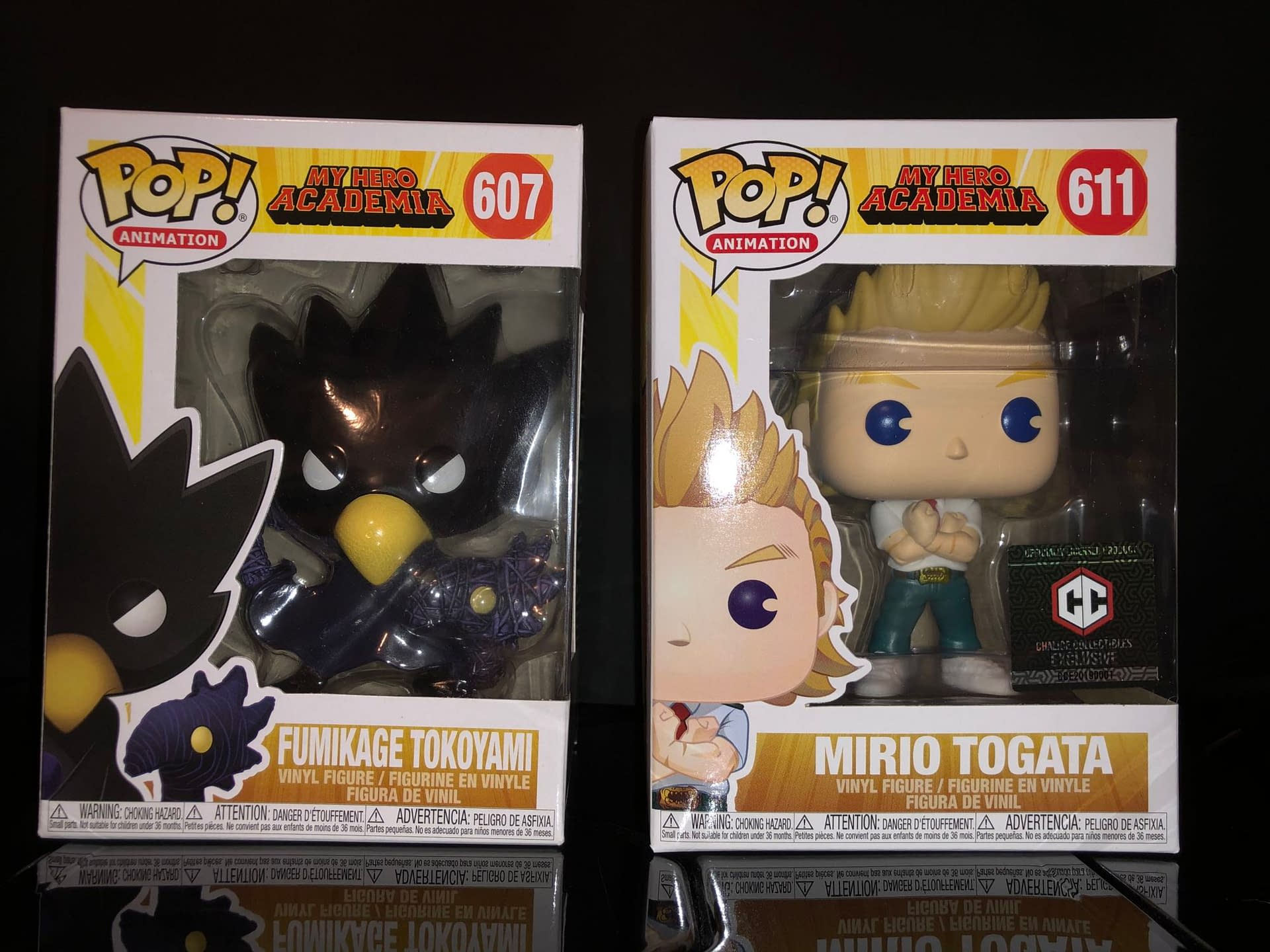 This Tokoyami Funko is highly detailed in does the character justice. With his bird face and the long black coat, they really captured this aspect in their famous Funko format. I really love the detail that they put on Dark Shadow himself as he wraps around the body of Tokoyami. You can even see some sort of dark cutting style detail even on that character and I just love what they did with it. I don't think we'll see much of a change in a metallic version but you can at Funko Pop Tee so you can't really complain.
Mirio Togata is next up with a Chalice Collectibles exclusive. This is the first exclusive with a new anti-fake exclusive sticker. The sticker is impossible to remove without messing up the Pop vinyl window. It is a great first step for making anti-theft and fakes being distributed out there. Now onto the Funko itself, it is quite simple yet loveable, besides the Chalice sticker, the box is pretty simple except and cool little Mirio icon under the box.
Mirio is posed in a heroic pose and isn't in his hero costume. I'm sure we will see that later on but we just get him in his UA outfit and it goes well with this figure. His eyes were what a lot of the people were hoping Funko get right and they nailed it. The blue styled Pacman eyes are what really give this character an A+ and a lot of people should be happy with it.
Finally, for the heroes of My Hero Academia we are getting into the most recent Hot Topic exclusive; Mount Lady. Unlike the rest of these figures, Mount Lady is a 6-inch Pop vinyl. Mount Lady is posed in a photoshoot style position with the traditional anime style peace sign.
I really love the coloring on her Pop vinyl too, it's colorful and easy on the eyes. Mount Lady is an interesting choice to get her on a Funko pop character, she's not really big in the show but I'm glad that they're picking off specific heroes in that world. I'm also glad that they went 6-inch for her as her quirk is growing larger. I can't wait to see what other upcoming characters Funko has in store for us in the world of My Hero Academia.
All of these Funko Pops do justice by all their manga and anime counterparts. The fact that Funko is changing it up and getting some uncommon character is great! I hope we can start getting more students and Pro Heroes from My Hero Academia. You can get your own collection started by getting your Funko Pop vinyl figures here.