New Wolverine Bust Brings the Snikt from Sideshow Collectibles
Wolverine is the best at what he does! Since his first cover appearance in Hulk #181, people have been fascinated with this Canadian badass! Sideshow Collectibles has announced a new 9" Wolverine bust statue that is a beast! It shows off his aggressive face and his extended claws. His costume is a great choice because the blue and yellow really shine right here. The bust itself shows off a clawed up base to give us the little bit of the animal that Logan is. This is a great Wolverine Bust Statue for any Marvel Fan! And it would be perfect in any fans collection or even to show off next to a Giant-Sized X-Men or Hulk #181 comic.
The Wolverine bust is priced at $250 release date is August 2020- Dec 2020. So you have time to save but Payment plans are available here.
Check out Wolverine and all his glory below!
Wolverine Bust by Sideshow Collectibles
"They had their shot… Now it's my turn."
Sideshow presents the Wolverine Bust, clawing his way into your Marvel collectibles.
The Wolverine Bust measures 9" tall as the legendary Canadian mutant flexes his claws in preparation for a fighting frenzy. Logan is hunched forward, torso resting on a simple stone-like pillar base marked with gouges from an Adamantium-infused attack.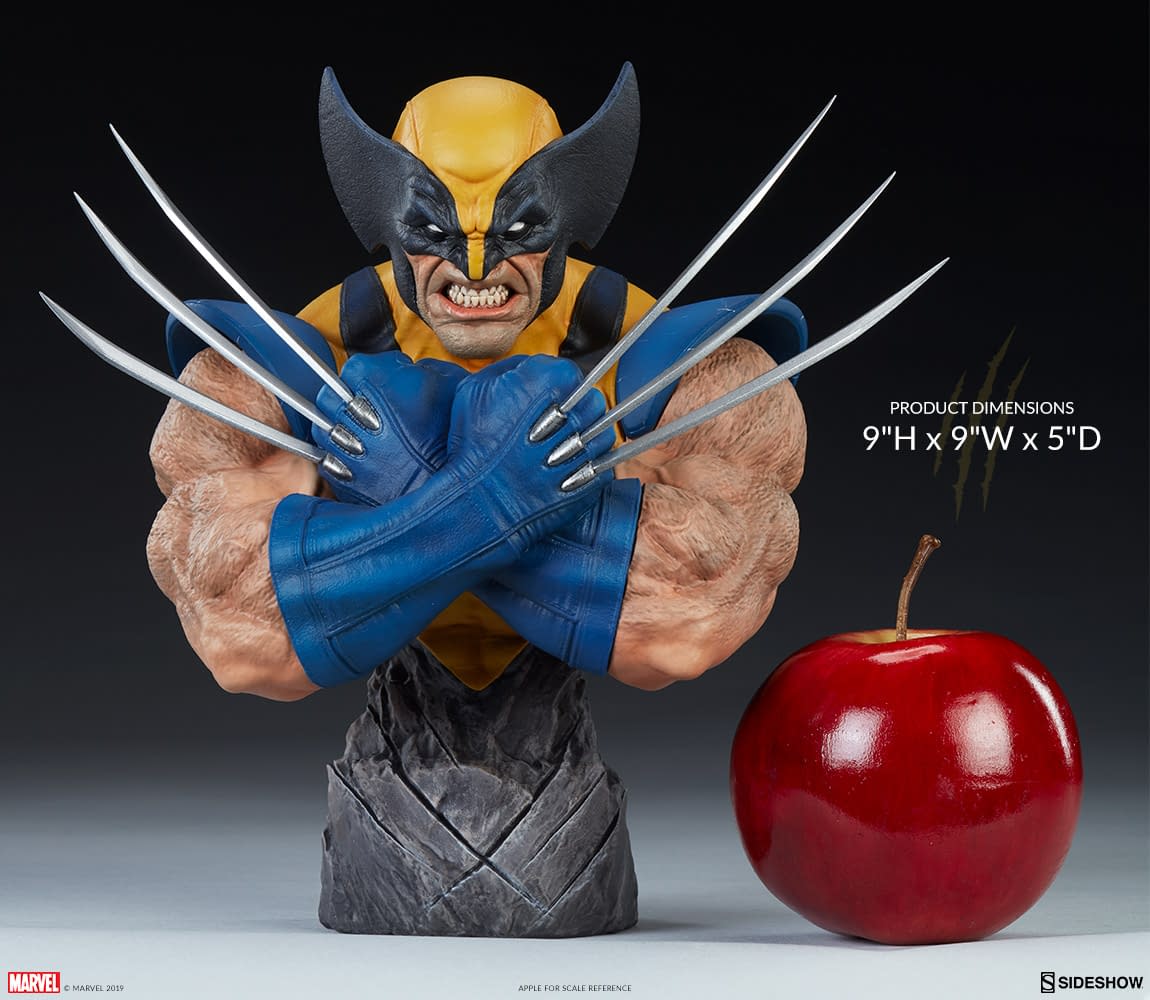 The polyresin Wolverine Bust features a fully-sculpted blue and yellow costume detailed with varying fabric-like textures. His snarling portrait is highly expressive, with intricately sculpted teeth, a strong jawline, and vicious eyes behind his black-finned cowl. His muscular arms include bulging veins and painted hair detail, letting you know that he means business, bub.
He's the bust there is at what he does- Bring home the Wolverine Bust for your X-Men collection today!
Additional Details & Dimensions
– Materials: Polyresin
– Product Size: Height: 9″ (228.6 mm) | Width: 9″ (228.6 mm) | Depth: 5″ (127 mm) | Weight: 6 lbs (2.72 kg)