"Okami" Gets Divine with Her New First 4 Figures Statues
Okami has returned and this time she is bringing all the elements with her. First 4 Figure is not releasing just one but three Ammy Okami statues that are perfect for any fan. The first one is the standard that shows off her as if she was descending from the Celestial Plain. The detailed base shows smoke as if would if she was running. The Exclusive First 4 Figures status is the same as the standard but features a nice LED effect that'll light up your collection. As for the last statue, the definitive version, it really changes up the Okami game by giving her full power. This statue features the basic design, an LED effect, and an added set of interchangeable pieces. With this statue, you get the Divine Retribution Reflector, the Blade of Kusanagi Glaive, and Devout Beads Rosary. They all feature bright LED functions and the Infinity Judge Reflector attachment actually which glows in the dark. This is a collectible that can brighten any collection and make Okami fans proud.
The Okami Amaterasu: Divine Descent Statues are set to release in February 2021. The Standard is priced at $481 and can be found here and the Exclusive is also priced at $481 and can be found here. The amazing Definitive statue will be priced at $616 and you can pre-order yours here. These prices are set for "early bird" special on their site so act fast.
"A dog's gotta do what a dog's gotta do, right?"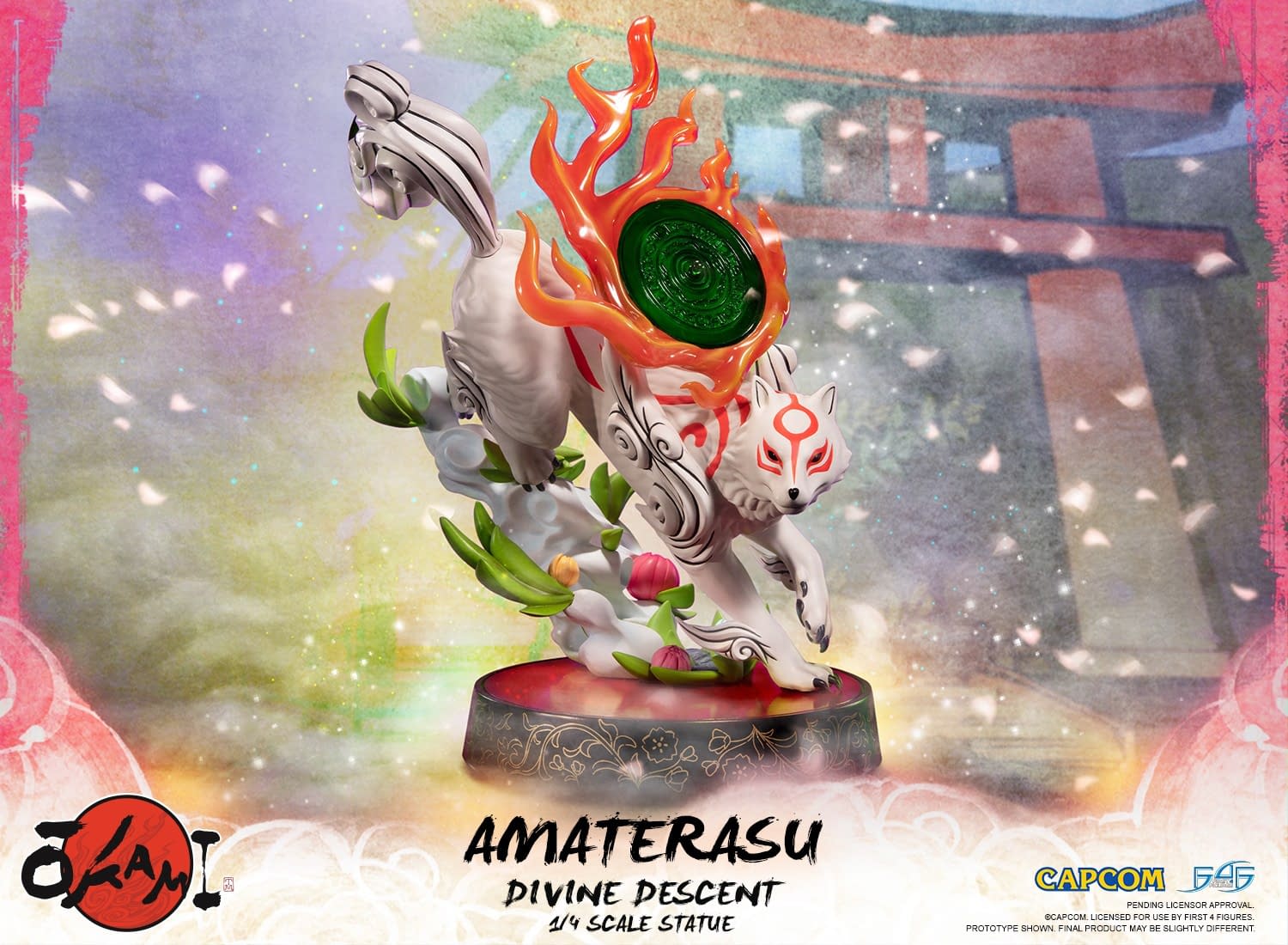 OKAMI – AMATERASU: DIVINE DESCENT Statues from First 4 Figures
First 4 Figures is proud to introduce their latest ¼ scale resin collectible, Amaterasu: Divine Descent statue. This is the resin version of the Amaterasu 9" PVC statue.
The highly detailed Amaterasu statue is seen striking a dynamic pose, as if descending from the Celestial Plain. The base design is inspired by the smoke, foliage, and flower buds that trail behind Ammy the faster she sprints, and on the floor is the symbol of the Sunrise brush technique when performed successfully.
Apart from the 13 Celestial Brush techniques, Amaterasu also has an arsenal of Divine Instruments at her disposal to fend off the evil spread across all of Nippon. There are three types: Reflectors, Rosaries, and Glaives. With the Definitive Edition, you receive the Divine Retribution Reflector, Devout Beads Rosary, and Blade of Kusanagi Glaive, all of which contain bright LED functions, and the Infinity Judge Reflector, which glows in the dark. That's a total of four interchangeable Divine Instruments included in one celestial package!
Don't miss out on this limited-time offer exclusively on First4Figures.com
Okami – Amaterasu: Divine Descent (DEFINITIVE Edition) comes with the following:-
Okami – Amaterasu: Divine Descent RESIN statue

Highly detailed base inspired by the Sunrise brush technique (contains LED functions)

Divine Retribution with two (2) LED functions (Exclusive)

Blade of Kusanagi with one (1) LED function (Definitive)

Devout Beads with two (2) LED functions (Definitive)

Infinity Judge with glow-in-the-dark details (Definitive)

Authentication Card
Place an order on or before 3rd February 2020, 16:00 Hong Kong time to receive a 10% EARLY BIRD DISCOUNT and extra reward points!
Early Bird Price: 616.50 USD + Shipping

Double F4F Reward Points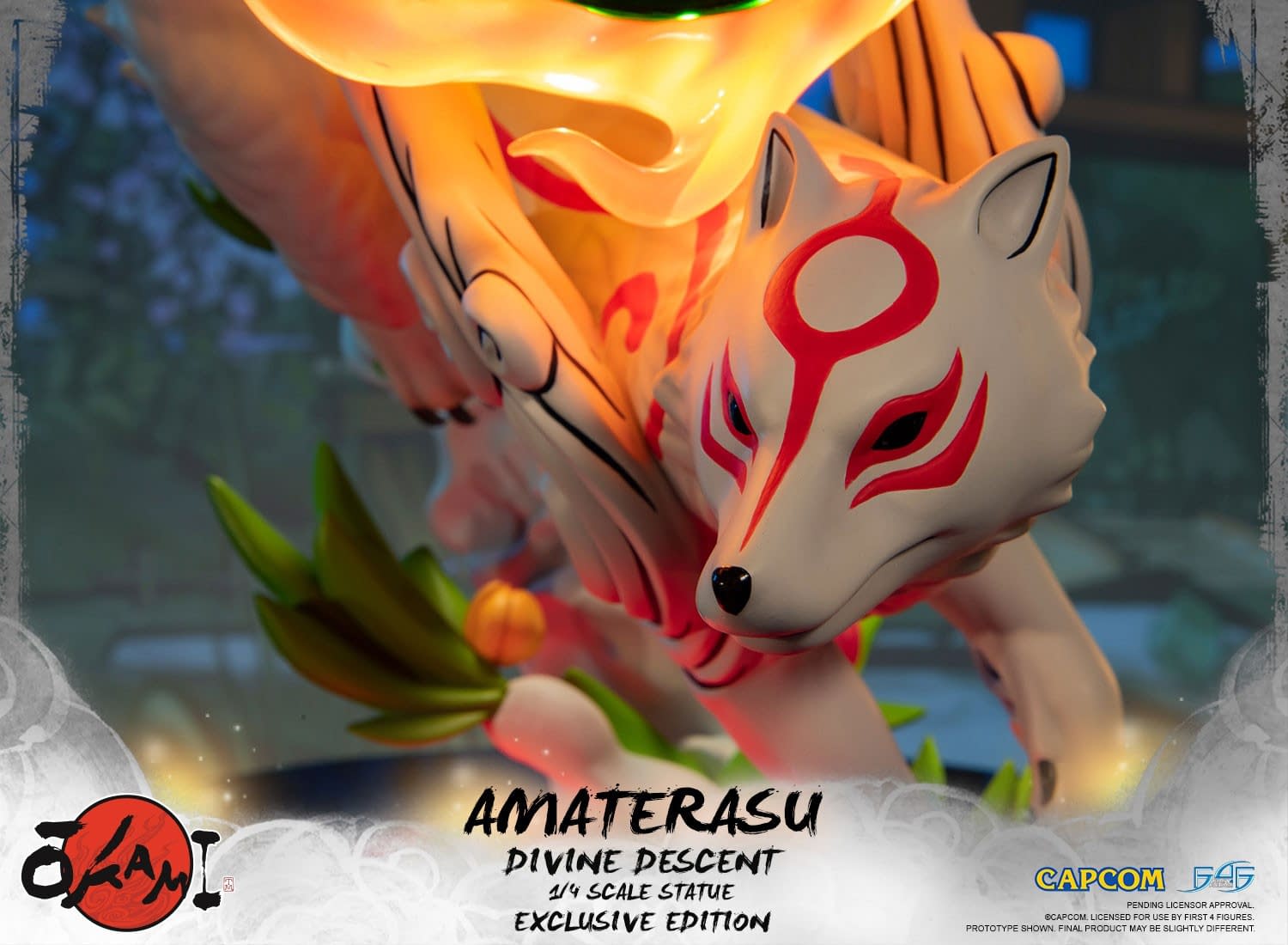 Suggested Retail Price (SRP) of 684.99 USD applies by the end of the Early Bird promotion.
This pre-order period will close on 24th February 2020.**
This is the fourth statue in First 4 Figures' Okami line. If you already authenticated the previous statue in the line (Shiranui), then you are entitled to receive the same number for your Okami – Amaterasu: Divine Descent. Otherwise, statue numbers will be assigned randomly.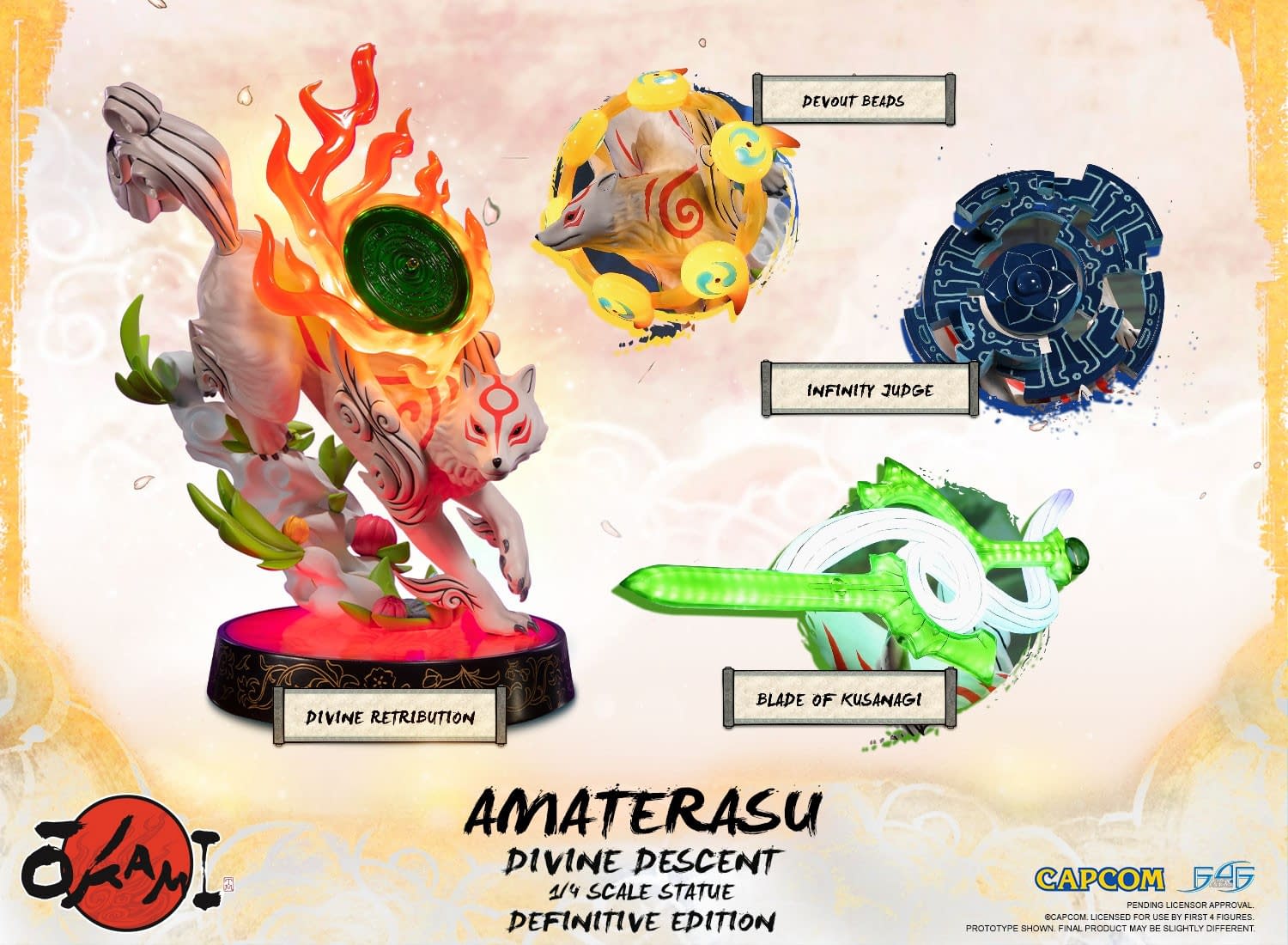 *Prototype shown. Final product may be slightly different. Product details can subject to change without further notice.
Subject for final approval.
Product Size:
Statue including base:
Height – 16 – 17.5 inches (41 – 44 cm)
Width – 14 – 15 inches (36 – 38cm)
Depth – 14 inches (36cm)
Weight – 4.7 – 5.0 KG
Estimated Release Date: Q1 2021