Rick and Morty Get Season 4 Funko Pops Before Shows Premiere
Rick and Morty Season 4 is only days away from premiering. So the hype is finally upon us as we will finally be blessed with Season 4. To help celebrate Funko has announced new products from the upcoming season. Teleporting in first are two new Rick and Morty figures. The figures showcase Rick and Morty in space suits and they will also have metallic a variance that will be exclusive to Walmart. Following up the figures will be the cute and cuddly Rick teddy bear plush. So adorable little fella gets us pumped for season four just because of the shenanigans that will come out of this season. Now on to what you all want to know is the upcoming wave of Season 4 Rick and Morty Funko's. There is five common release Funko Pop's coming in this wave one of which has a chase variant. Coming first is Rick Sanchez in some interesting character designs. We will be getting our Rick as a wasp and then Rick as a teddy bear and Teddy Rick will have a bloodied chase variant. Next, we will be getting a red version of the Meeseeks also known as Kirkland Meeseeks as well as a Death Crystal Morty. There were also be a Walmart exclusive Death Crystal Morty where he is floating too so be on the lookout for the second version of this Funko Pop there. It's hard to dive into these characters as we have not seen the episodes of Season 4 but they do get us excited for all the miscellaneous adventures we are about to get into. Lastly, for the common releases, we will be getting a hologram Rick which leads us into two more exclusives that will all be Hologram Ricks. Each one seems to have a different sign or facial expression. There will be a glow in the dark version that is exclusive to Amazon and we will be getting another serious face Rick hologram exclusive to Hot Topic. These Funko figures give us the gift of the future and time will tell how these characters will be introduced to us in Rick and Morty Season 4.
These Rick and Morty Funko Pop's have seemingly already started to hit retail stores today. Some of the other retailer exclusives will hit at a later date. The Teddy Rick Chase should be a 1:6 ratio so try your chances and add this Chase to your collection. They will all be priced at a normal cost which varies from retailer to retailer between $8.99 to $12.50. If you want to bypass the traffic pre-orders for these are already available and located here.
Rick and Morty Season 4 airs on November 10th on Adult Swim
"Let's go. In and out. Twenty minutes adventure."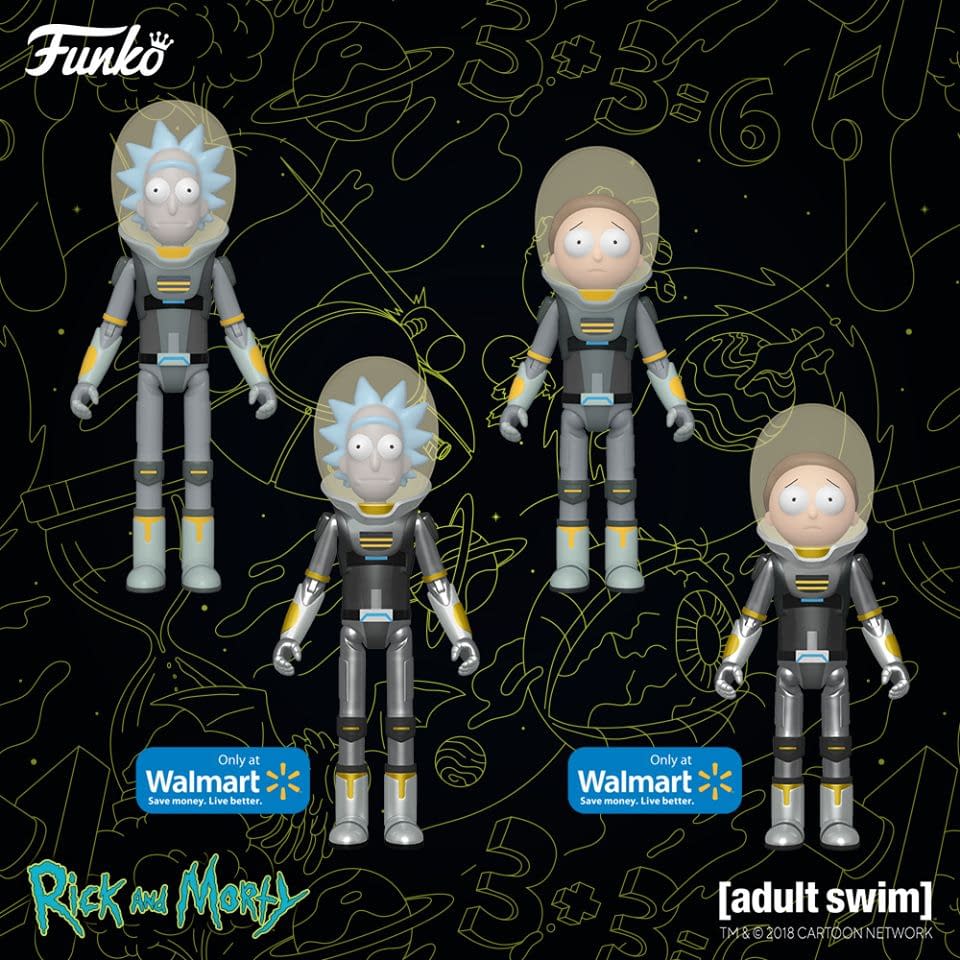 Wubba lubba dub dub! Rick and Morty fans who miss out on this wave of all new characters from the latest season would certainly be in great emotional pain. Alleviate the pain get stellar with all new Space Suit Rick and Space Suit Morty action figures. Metallic versions of Space Suit Rick and Space Suit Morty action figures are also available exclusively at Walmart.
Bring home Pop! Teddy Rick with a Chase, Pop! Death Crystal Morty, Pop! Kirkland Meeseeks, Pop! Hologram Rick Clone and Pop! Wasp Rick.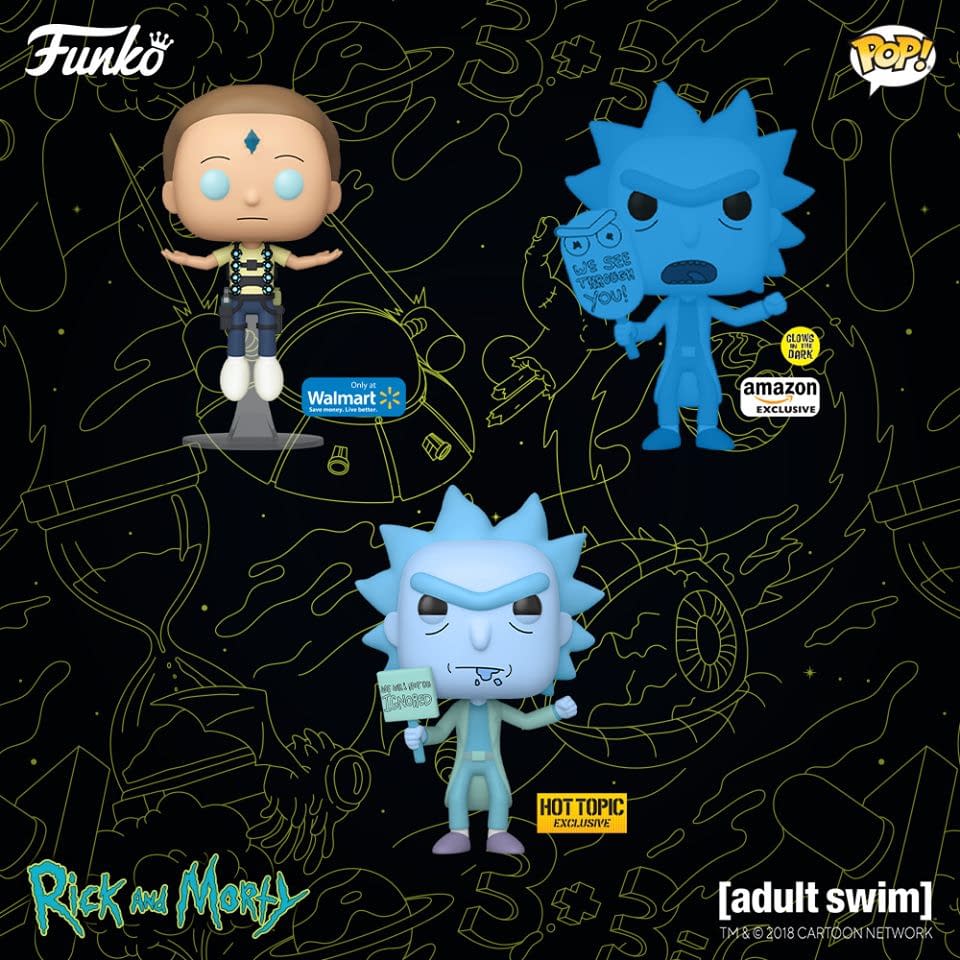 Pop! Hologram Rick is a glow in the dark Amazon exclusive. And Pop! Hologram Rick Protestor is a Hot Topic exclusive. Pop! Floating Death Crystal Morty is available as a Walmart exclusive.