It looks like a nice chunk of 2018 announced Gaming Heads collectibles are back on the market. We have covered some of these collectibles to make sure fans are getting some amazing pieces from iconic series like Fallout and Doom that fans might have missed. This time Sly Cooper is back once again from the classic PlayStation game Sly Cooper and the Thievius Raccoonus. This 750 pieces limited edition statue features the iconic Sly Cooper in all his thieving glory. He comes in at 13.5 inches tall and has interchangeable hands where you can switch him between hold his cane over his shoulder or in front of him. Each statue is hand painted and does with a hand numbered base so you know just what number you got.
Entertainment Earth has pre-orders up right now for this gaming classic statue that will defiantly let you receive some good memories. I love this over the should pose they have given Sly Cooper and would love this piece for myself. The original trilogy of the series I absolutely loved as a kid and a statue like this would easily make my collection happy. The Sly Cooper statue from Gaming Heads is priced at $279.99 and set to release in October 2020. Pre-orders for him are already available and you can find them located here.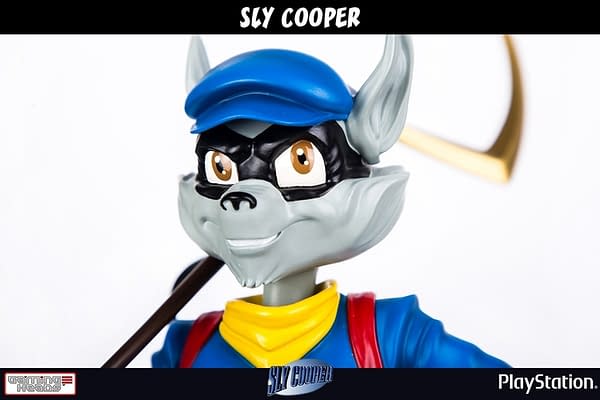 "Gaming Heads is proud to present the Sly Cooper Classic Edition Statue. Sly is a raccoon who is descended from a long line of master thieves and uses his skills, with the help of his long-time friends, to pull off heists from legit criminals. Standing approximately 13 1/2-inches tall, this beautifully designed 1:6 scale piece is carefully cast in polystone resin and hand-painted by artisans to depict Sly Cooper as found in Sly Cooper and the Thievius Raccoonus. The Sly Cooper statue can be posed with either his cane in front of him or over his shoulder. Each statue includes full-colour packaging, an individually hand-numbered base, and an authenticity card. LIMITED TO 750 pieces worldwide."
Enjoyed this article? Share it!