Spider-Man Fights Through Mysterio's Illusions with New Hot Toys Figure
Spider-Man is making headlines with a lot of news stories lately regarding the Sony and Disney squabble. With no Spider-Man set up for Phase 4 of the MCU, I'm positive that an agreement will get made. The newest Avengers Camp Disney attraction is very Spider-Man focused so this seems like more of a press tactic to sway the opposites side to theirs. This doesn't stop the collectible circuit though! Hot Toys has announced another updated version of the Homemade from Spider-Man: Far From Home. This is from the amazing illusion sequence from Mysterio. This is one that will sell out fast, the previous homemade version sells for over $400, so this is a collector's item most definitely. This Spider-Man 1/6th scale figure comes with three interchangeable eyepieces for the masked head so you can give him that perfect Spidey feels. For accessories, we get web shooter effects, from full web swings to web shooter ball shots. This figure does come with a drone that Mysterio uses that can be posed with Spider-Man for several great scenes. Lastly, the base is perfectly sculpted with a combination of smoke, pixilation and the movie logo.
One little teaser here is the pictures showing off a Hot Toys Mysterio that hasn't been announced! That figure will of course be nothing but spectacular. Hot Toys has not releases details on pricing or a release date just yet.
Check out all the illusions below: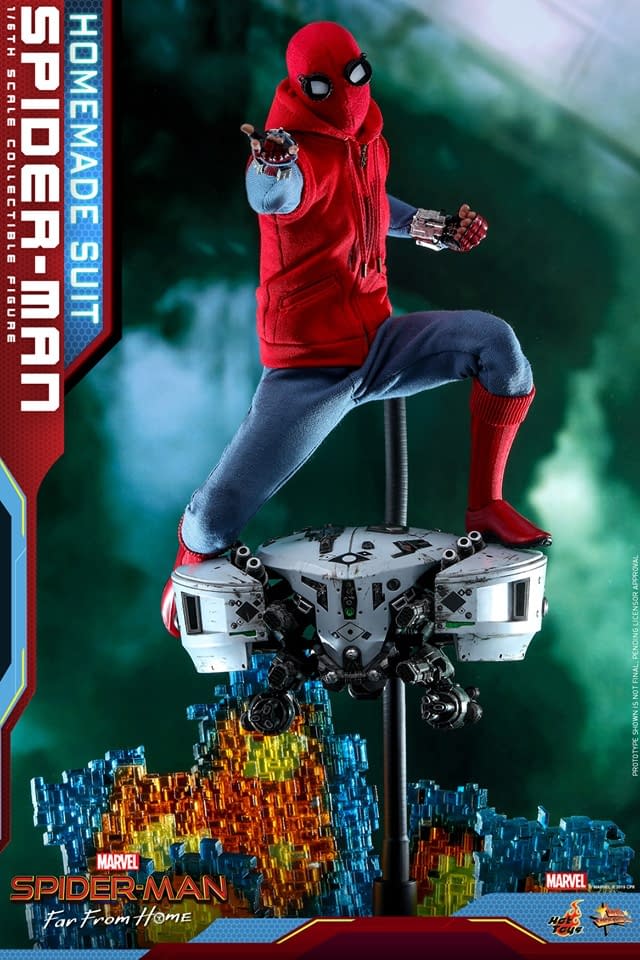 Spider-Man: Far From Home – 1/6th scale Spider-Man (Homemade Suit Version) Collectible Figure
Peter Parker has come back with more action scenes in Spider-Man: Far from Home to blow audiences' minds! With a crazy whirlwind of imagery created by holographic techniques and projector drones, the thrilling battle between Spider-Man and Mysterio has been marked as one of the favorite sequence by audience.
Inspired by the scenes with Spider-Man donning his homemade suit swinging away from Mysterio in the ultimate illusion, Hot Toys is very excited today to present the 1/6th scale Spider-Man (Homemade Suit Version) collectible figure based on Spider-Man's newest adventure.
Made with meticulous craftsmanship, the collectible figure includes Spider-Man's homemade masked head sculpt with 3 sets of interchangeable eyepieces for making a variety of facial expressions, a highly flexible specialized body for posing, and an intricately tailored outfit with web-shooters. A large assortment of accessories including a highly detailed 1/6th scale drone, two styles of shooting effect parts including smoke effect spider webs and regular spider webs, several pixelated effect accessories attachable to figure base, and a specially designed dynamic figure stand with movie logo.
How cool would it be to own this Spider-Man figure featuring our beloved webslinger back in the early stages of his newfound heroism! This will sure to be something that you do not want to miss!