Star Trek Busts Are Here for You to Discover from Chronicle Collectibles
Star Trek: Discovery is ready for more exploratory mode and fans are loving it. Nothing says Star Trek like the ships captain nothing really says captains like a 1/2 scale bust. Chronicle Collectibles has announced Anson Mount's portrayl of Captain Christopher Pike as well as Star Trek: The Next Generation's Patrick Stewart's Captain Jean-Luc Picard will be getting some incredible bronze styled busts. Both busts will stand between 13 inches and 14 and were cast in polyresin. Both statues are set on a theme to bases featuring the iconic Starfleet insignia. These are two busts Star Trek fans should not mess up and will definitely make their collection something special.
The Chronicle Collectibles Star Trek: Discovery and Star Trek: The Next Generation Captain Busts will be priced at $150 each. Payment plans will be available so you don't have to worry and are expected to ship out in the third quarter of 2020. Pre-order links are already live and you can find them located here for Captain Christopher Pike and here for Captain Jean Luc Picard. Don't forget to check out all the other amazing Chronicle Collectibles statues and figures while you're out there boarding these busts.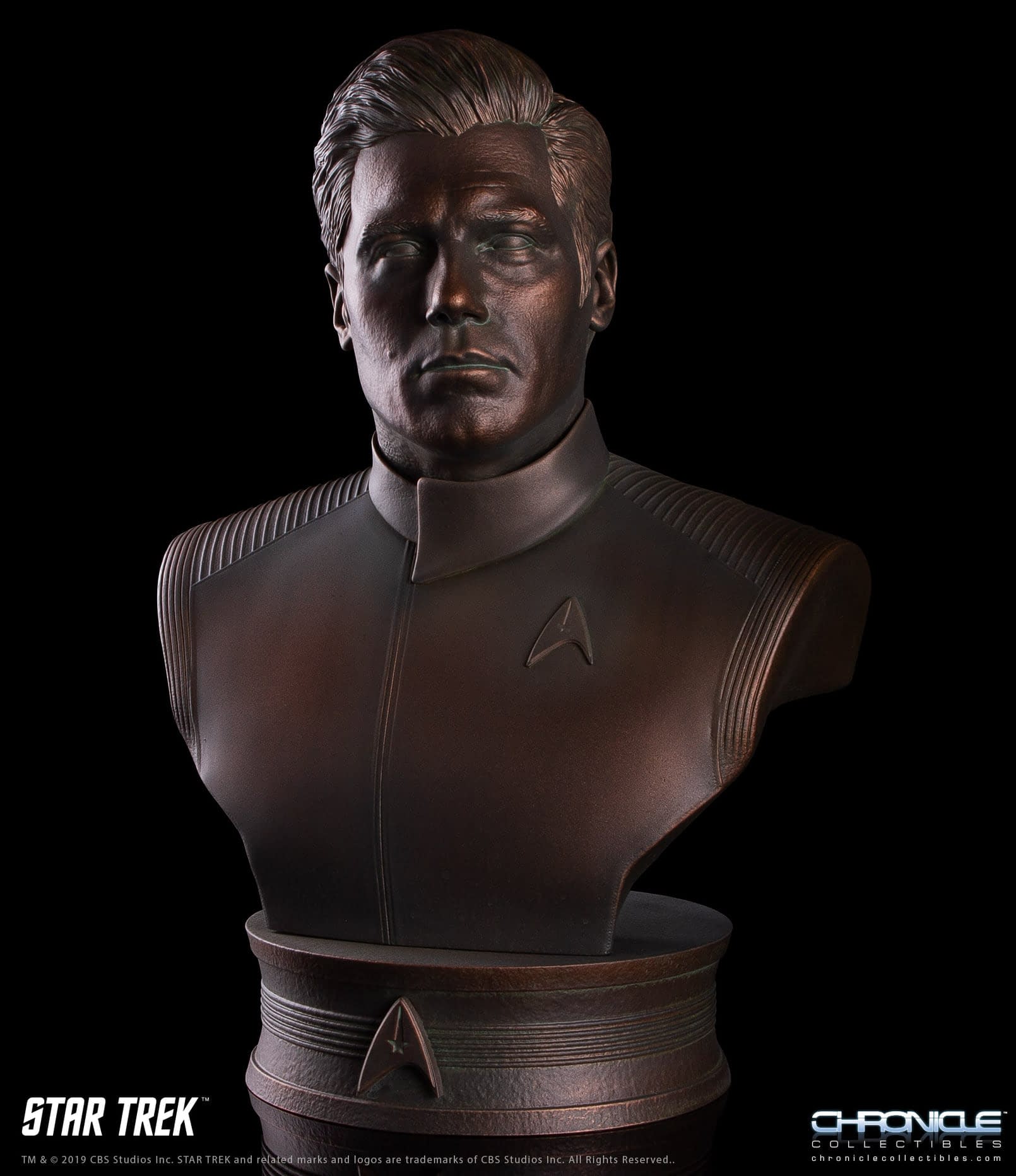 Star Trek Captain Christopher Pike Bust
It was not only his unerring sense of duty that elevated Captain Christopher Pike above and beyond the standards maintained by your everyday Starfleet Officer. It was his profound loyalty. Loyalty not only to The United Federation of Planets, or to the oath he gave to Starfleet. But also, loyalty to his crew, to his friends, and especially to his unswerving moral code: Service, sacrifice, compassion, and love.
During his tenure at Starfleet, Captain Pike distinguished himself in his ability to resolve conflicts. Many of those conflicts were military or diplomatic in nature. But the more notable conflicts he settled were of the sort that pitted duty to command against integrity. In the event of a no-win moral scenario, Captain Pike made it his mission to find a path to accomplish all of the goals presented to him.
Passionate and calculating in equal measure, he combined quick thinking with a damn-the-torpedoes attitude. By employing such a rare
combination of qualities, Captain Christopher Pike set a high standard for all future captains who would be called to sit in the chair on the bridge of the U.S.S. Enterprise.
In honor of the achievements of this illustrious officer, Chronicle Collectibles is pleased to present to Star Trek fans worldwide the Captain Christopher Pike 1:2 Scale Bust. Cast in polyresin and adorned with a paint application replicating the look of antiqued bronze, this monument to Captain Pike stands tall at 14" in overall height. Quantities are limited, so reserve yours today.
– Officially Licensed Star Trek Collectible
– Hand-painted faux bronze finish
– Made from high quality polyresin
– Dimensions: 9.5" wide, 7" deep and 14" tall
– Weight estimated 6 pounds
– Estimated to ship Q3 2020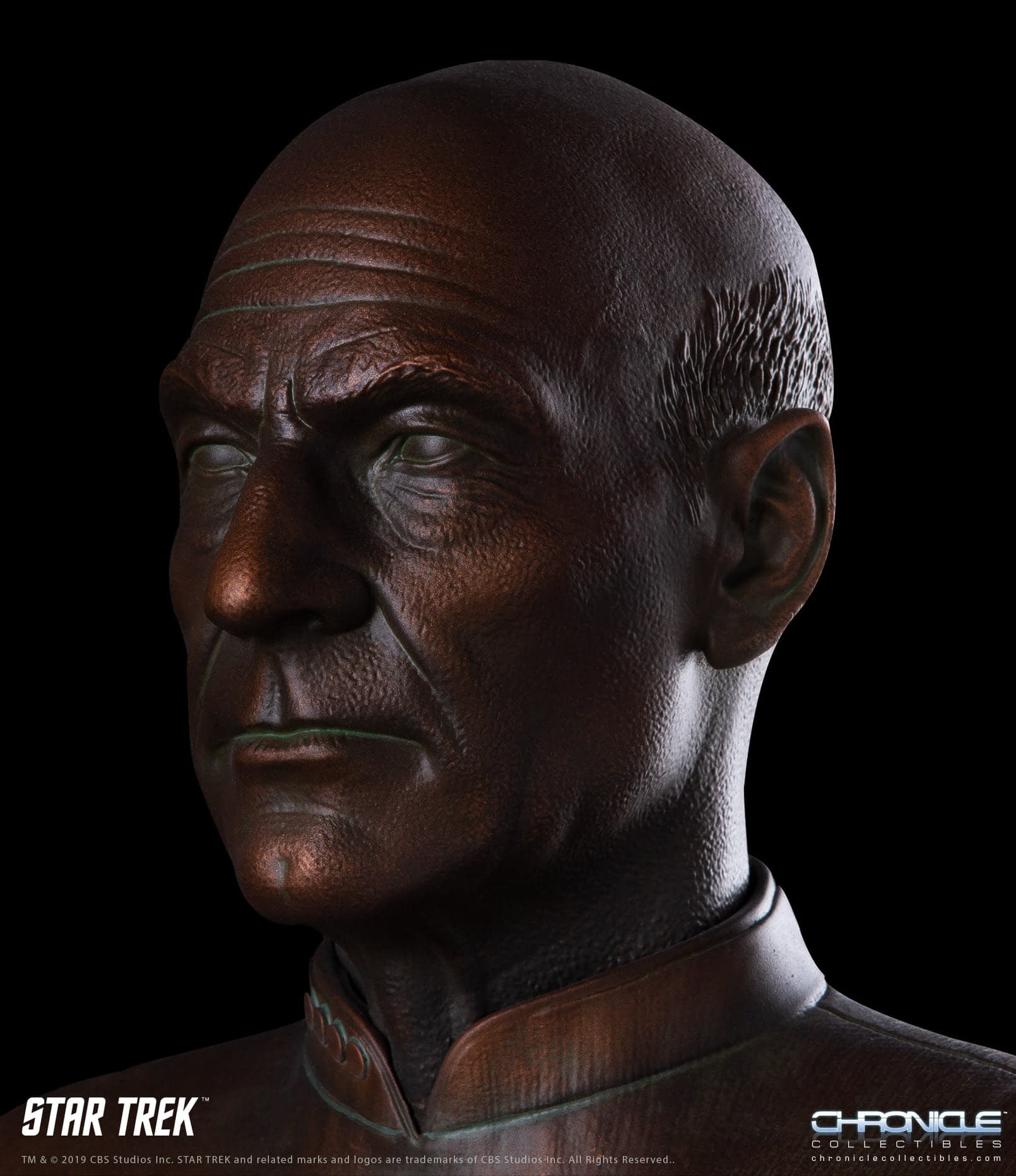 Star Trek Captain Jean-Luc Picard Bust
Captain Jean-Luc Picard is widely considered to have had the heart of an adventurer, the soul of a poet, and the bearing of a gentleman. Additionally, he stands as a paragon of the dedication necessary to excel as a Starfleet officer, and of the tenacity required of a ship's captain. In his tenure with Starfleet, Captain Picard led the crews of three of the Federation's finest ships through trials and conflicts that would have tested the strengths of the greatest of officers. And he frequently did it with a song in his heart.
Picard's preparation to engage with adversity began in his days at Starfleet Academy, where he initially failed the entrance exam. Even after successfully gaining admission, he struggled academically. But true greatness is only ever created with great effort. This is especially true in the case of officers.
Picard's years at the academy would be remembered as a crucible that forged him into a seminal officer who would be renowned throughout the galaxy. Whether outmaneuvering a member of the Q Collective or overcoming assimilation by The Borg, Picard's grit, moral compass, and lifelong dedication to Federation principles proved to be the quintessential elements that made him the conscience of the Federation.
As an homage to that intrepid captain of the Enterprise-D, Chronicle Collectibles is honored to present to Star Trek fans worldwide the Captain Jean-Luc Picard 1:2 Scale Bust. Cast in high-quality poly resin and painted to resemble the pleasant patina of aged bronze, the bust stands at 13" in overall height. Quantities are limited, so reserve yours today.
– Officially licensed Star Trek Collectible
– Hand-painted faux bronze finish
– Made from high quality polyresin
– Dimensions: 9" wide, 7" deep and 13" tall
– Weight estimated 6 pounds
– Estimated to ship Q3 2020