Hasbro surprised fans this week with the long awaited addition to the Star Wars: Rebels figure line. The final member of the team, Zeb, is ready for action and awaiting the Ghost Crew. You can check out all about the upcoming Zeb figure here. On top of his announcement, Hasbro did reveal that fans and collectors will be getting a Star Wars: Rebels re-release if their Black Series figures. This was a big surprise to plenty of fans as some of those figures like Ezra Bridger are valued at $100+ now. However, this is not a normal re-release as all the figures are receiving some updated details and new spiffy packaging. The next Black Series wave will feature updated boxes with art on the side that will connect with other members of that series. You can see all of the upcoming figures and updated packaging located here. This new packaging leads the Star Wars: Rebels Black Series figures into a second wave with Zeb being the start. This has us curious about what Hasbro has planned for us around the corner for the next wave of Star Wars: Rebels figures. We have some ideas of some characters that we would like to see get their own Black Series figure. First, we are going to start simple with character updates for Ezra Bridger and Kanan Jarrus. If you are a fan of the series, then you know these characters go through some changes in the later seasons. These physical changes would be nice to see in action figure form and this would be a good start for Hasbro. Kanan and his mask would be nice to see and making it removable would be great. This would allow for a nice sculpt of Kanan himself and see his more updated look for Star Wars: Rebels. Ezra Bridger would also be another simple start with his green lightsaber and his shorter hair cut. His outfit does slightly change as well but it would be a great way to start the next wave of figures.
We are going into the dark side of the force with our next set of characters we want to see. One of the biggest parts of Star Wars: Rebels was the introduction of the Inquisitors. These lethal hunters are trained to hunt down the Jedi and there were plenty of them to see throughout series. We do have action figures of the Inquisitors but they were part of the 3.75" line and were not very articulated. It would be nice to see live-action depth put into these characters and would give collectors some more red lightsabers for their collection. The Grand Inquisitor would be the first obvious choice for the Star Wars: Rebels Wave 2 Series of figures. With his white tattooed face, yellow eyes, and his double-bladed lightsaber this would be the best way to make sure the Rebels are feared in your collection. Other Inquisitors like the Fifth Brother and Seventh Sister would also be perfect for this wave. We have already seen the Second Sister get made for Star Wars Jedi: Fallen Order Black Series set. A modified body for her with a removable face cover would be a great touch. All of the inquisitors are well know protagonists for the Rebels team so to expand their growing Black Series figure line there would be excellent choices.
The last figure is of course the "must-have" for the next wave (if there ever is one) of Black Series figures. One of the biggest surprises of the Star Wars: Rebels series was the return of the infamous Sith Lord, Darth Maul. Since the cancellation of Star Wars: The Clone Wars Darth Maul's whereabouts were unknown until he was found by Ezra on Malacor. Maul now goes by The Old Master and is up to his usual schemes but the character is an easy choice for Hasbro. Since he was brought back to life we have hardly seen a lot of new mail products let alone solo figure releases. It would be nice to see an updated older version of Darth Maul in figure form. Whether they decide to make his shirtless or in his updates outfit is up to them but we would want both. An added cloth black hood and his lightsaber cane would be a perfect accessory to him. This is one figure I think would be an easy sell out since there are enough Darth Maul fans from Star Wars: Rebels and The Clone Wars. These are all excellent characters to pick from as they all played major parts in the series. The updated versions of Ezra and Kanan would be the best and easiest option. The Inquisitors and Maul really need their time to shine and some 6" The Black Series figures are the right way. You can still lock down the newly announced Zeb and the re-released Star Wars: Rebels figures here.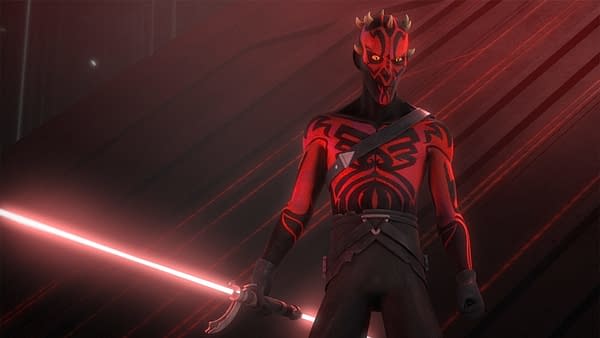 Enjoyed this article? Share it!