Hasbro has already shown off some of the upcoming Star Wars: The Black Series figures. However, they did not mention that the iconic black and red box is being retired and the new packaging is on its way. New images that have been released that feature this new resigned box and updated glam of the newest figures. The packaging redesign looks similar to what they already do with the Marvel Legends line of figures. There will also be color coordination with these figures with their retrospective movies as well as connecting side art on each figure. There will be 7 figured released in this wave covering 4 Star Wars series. Going chronological we get a closer look at the upcoming Star Wars: The Clone Wars Kamino Clone Trooper. The color will seemingly be yellow on this series and you can easily see what could seemingly be a slicker smaller packaging design.
Next up for the 40th anniversary of Star Wars: The Empire Strikes Back as we get a better look at Darth Vader and the repacking of the 6" Vintage Collection Both Luke. This series will feature blue color coordination and this is where you can really see the connection of the side cover art. Each picture will line up perfecting with each figure giving Star Wars fans a beautiful display when they are lined up next to each other. With Metallic Vader on the way, I wonder how that will stack up with these connections boxes? I would imagine it is a simple "carbonized" finish on the box and that would have to replace the current Darth Vader spot. This is the first time we are seeing Luke transferred from the Vintage Collection card back to the Black Series figure and he looks gorgeous. From the removable helmet to the added blue saber this will be a hot item for any collector.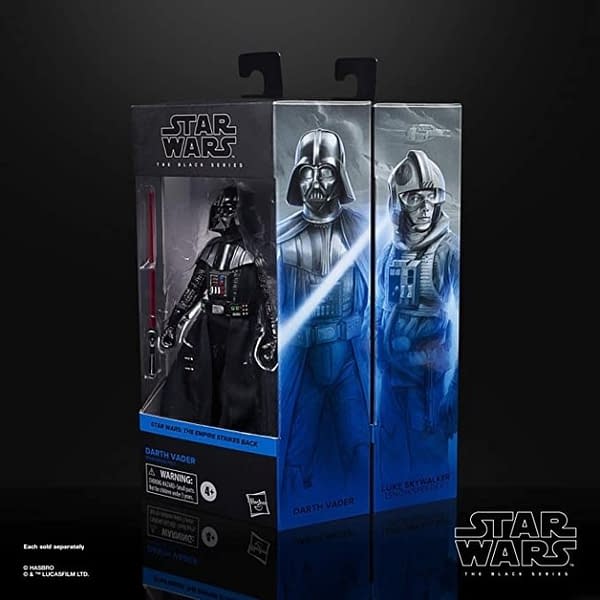 We now move on to look at two upcoming figures from Star Wars: Return of the Jedi. These characters are finally getting some new time to shine as Admiral Ackbar and the Ewok Teebo are here. These figures will be featured with green color coordination and will continue to follow to connecting sides. These new designs could give us hints at who is next as you can see with the use of Admiral Ackbar's arm is in some of Teebo's artwork. Ne thing to also point out is the title under each figure now states what movie they are from which is a nice touch.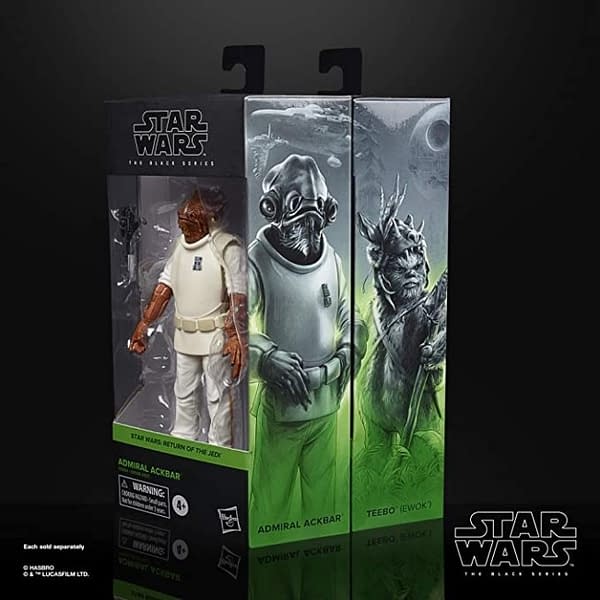 The last two figures are from the live action Star Wars Disney+ series The Mandalorian. There will also be two firsts starting out this set with The Mandalorian wearing his shiny Beskar armor. We will also be getting another Stormtrooper and while it is not a Remnant version it is stated as Imperial. This could be one of the soldiers from Moff Gideon's Post-Empire army. These figures do match up quite nicely and you can see the added art of the troopers box featuring some of the Mando. It is still unclear if this is just a simple remodel of the current black and red boxes or a whole new shape and size. These images can throw you off some with the use of the angles given to us. I am a big fan of this new packing and will bring new live to the series. From the color coordination to the connecting art on the sides, these will be must-have figures for any Star Wars: The Black Series collector. Pre-orders should be going live a little later today and you will be able to find them all located here when they all go live. Are you excited about the new packaging or do you like modern black and red design?