Star Wars: The Black Series Guide for the Holiday Season
The Star Wars hype is real this year with the final movie coming in just under a month. We have gathered a nice holiday guide for some of the best Star Wars: The Black Series collectibles out there. It's all in god is specially dedicated to others Star Wars fans are looking for that perfect gift to share with your scruffy-looking Nerfherder this holiday season. Take a look at all of the Star Wars: The Black Series figures and figure out what best suits your needs whether it's a gift for a friend or a gift for yourself.
First, we are driving into the action figure world with the newest releases of Star Wars: The Black Series. It sure was deafly something different he saw a massive release of Triple Force Friday see curious but with a lot of interesting throat's. The first throw-in place first to market Black Series figures. The introduction of these figures got me back into Star Wars collecting again. The difference between him and the first to market in the comments isn't as simple as it is a white box with the sticker saying the first edition on the front.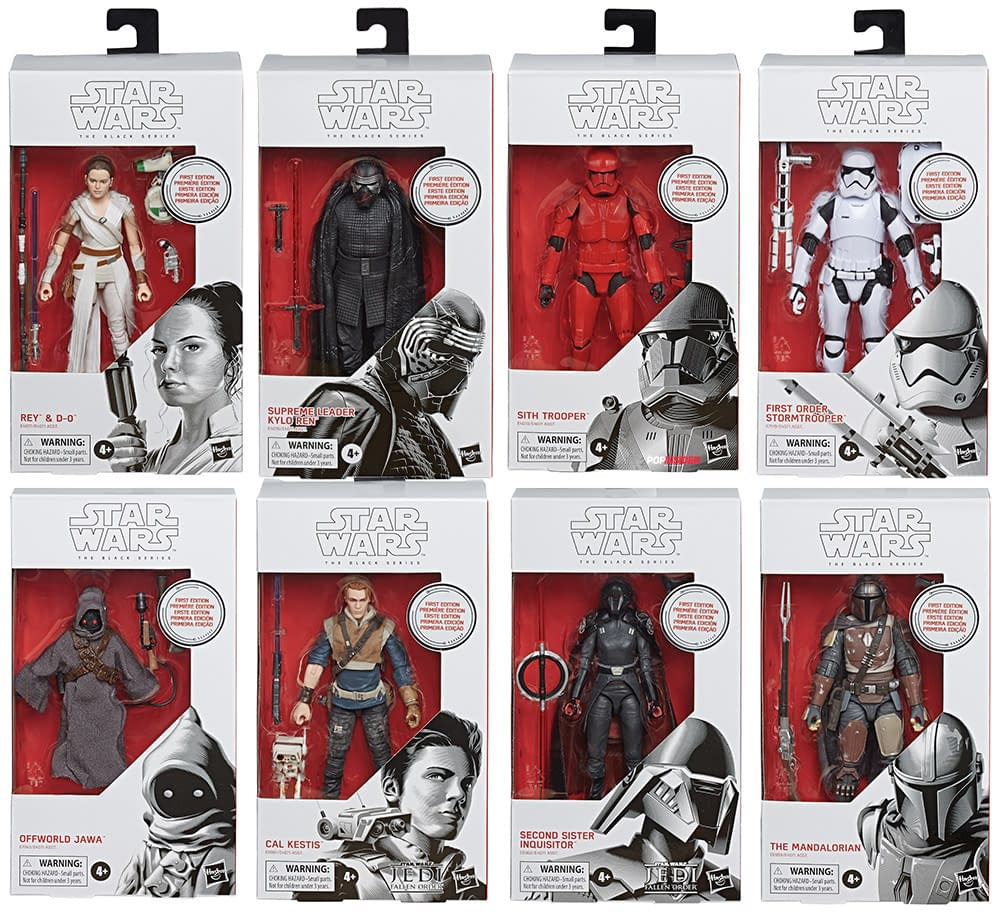 If you're a collector that you know that first edition will always be better than any of the rest in this stays true here. There were eight figures to get released in this wave, we got Star Wars: The Rise of Skywalker figures Kylo Ren, Rey, First Order Stormtrooper and the new Sith Trooper. We got Star Wars: Fallen Order characters Cal Kestis and the Second Sister. We also got Star Wars The Mandalorian figures Including a first edition Mandalorian which is hot right now and an Off World Jawa. These would be perfect gifts for any Star Wars fan out there the first edition is appealing especially to those collectors out there. You might be able to find these on third-party market places or if you're lucky someone hit one month ago on shelves and it has been found. You can order the common versions here and test your luck if any exist.
Next, we're gonna be looking at the new carbonized figures that have recently released with the newest way alongside the first editions. The carbonized is also a new set of figures that are the same as the comments but the difference is a new metallic paint scheme. The boxes are new they are shining here but each one of the carbonized figures is exclusive to specific retailers. They feature new shiny packaging that can easily draw any collector's attention this holiday.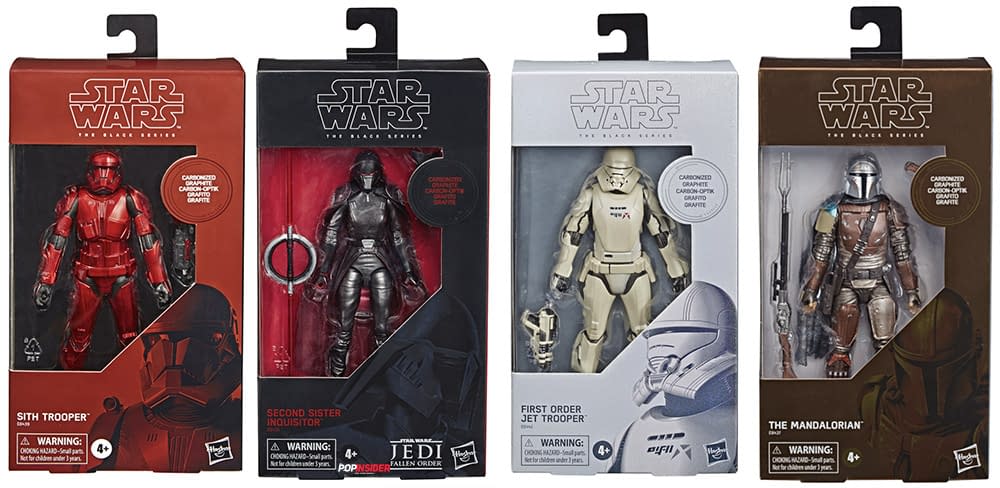 There are four figures out and links will be attached to each one of their names as we go down the list. The first one is the GameStop exclusive metallic Second Sister. Her shiny armor is nice and I hope we can see more of here after the game dies down so we can see an unmasked version. Next up we have the Walmart exclusive Jet Trooper carbonized. This is an interesting trooper design and would be perfect for any trooper collectors out there. The last two are my favorite's with Amazon exclusive Sith Trooper carbonized who comes in extremely and completely shiny red packaging and it just really grabs your attention, same with his armor it is shiny and just ready for action. Finally, we have the Target exclusive carbonized Mandalorian figure. This figure has sold out almost immediately in-store but be prepared for restocks and online sales. These are great special variant figures that any Star Wars fan would love whether it's a gift or on their own and Christmas list.
Star Wars: The Black Series is not only producing action figures but they are producing replicas. Star Wars: The Black Series replicas are one of the greatest things I've ever seen, not only are they super detailed but they're high quality and they don't really break the bank with never really pushing more than $100. Darth Vader's Replica helmet is something I would and absolutely love. It is fully detailed and the neckpiece even comes off of it. It has sounds from the movie and it's just such a high-quality collectible that any fan would love to have it in their collection.
Like father like son, Luke Skywalker has his X-Wing Red Five helmet that was released on triple first Fridays and it is just remarkable. Not only is the inside padding comfortable but it fits like a glove. It also has sounds and you can even play battle scenario sounds as if you were in the battle of the Death Star or Hoth. You're definitely getting your money worth here and what makes any Star Wars fans Christmas or holiday season a treat. You can find a Darth Vader helmet online and located here and Luke Skywalker is X-Wing helmet available here.
These are our picks for the best Star Wars: The Black Series collectibles out there. Most figures usually cost around $20, so you're not really breaking the bank if you decide to go it's more expensive as some of the Black Series replicas then you're looking around $100 but they are easily worth it. Collectors prepare those Christmas lists and start shopping because winter is coming. May the force be with you.