Superman Is Out To Kill Batman In A New Prime 1 Studio Statue 
Superman has been in many iconic roles throughout comics history. One specific role that comes to mind is from Frank Miller's The Dark Knight Returns. This was published by DC Comics from February to June 1986. This story takes place in a darker DC universe where Superman is almost in the president's pocket and Batman has had enough. Prime 1 Studio captures the essence of the comic through their newest Dark Knight Returns Superman 1/3 scale statue. There is a standard version as well as a deluxe version for this statue. Superman stands 25 inches tall and he is placed on a themed base of a crushed tank with his symbol on it. He does include to swap out headpieces as well as multiple interchangeable hands. The hands include clenched fists, open palms, and one hand holding a Kryptonite Arrow, that fans will know is shot from the armless Green Arrow. The deluxe version will have two additional head swaps including a laser eye aggressive face as well as a smirked face. The deluxe will also come with an additional hand swap with Superman holding a crushed Batman's armored mask. A lot of the time you do see deluxe versions of statues that don't come with much great difference but this one really does change up the statue especially with the extra heads as well as the crushed Batman mask. This statue is perfect to own for any Frank Miller fan or fan of Batman: The Dark Knight Returns.
The Batman: The Dark Knight Returns Superman Standard and Deluxe Statues are set to release between October 2020 and February 2021. The standard edition is priced at $969 in pre-orders for it already live in located here. The Deluxe Edition will be priced at $1,099 and their pre-order is already live in located here.
"It doesn't matter. It's their world, and they won't stand for you anymore. If it isn't me, it'll just be someone else."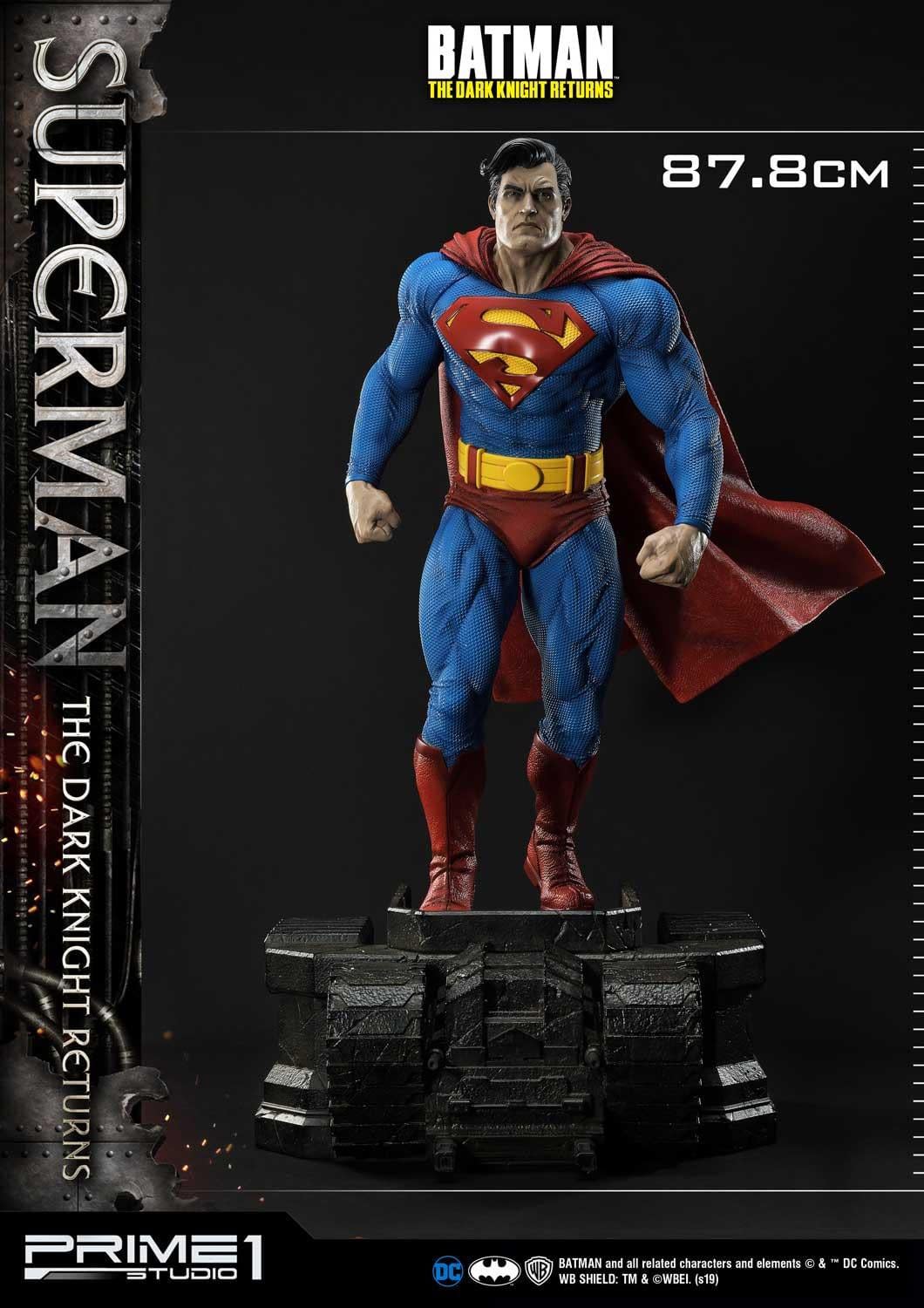 Museum Masterline Batman:The Dark Knight Returns (Comics) Superman Standard and Deluxe Statues
"The rest of us learned to cope. The rest of us recognized the danger–of the endless envy of those not like us. The normal people. The weak. Diana went back to her people. Hal went to the stars. And I have walked the razor's edge for so long… But you, Bruce–you, with your wild obsession. You never learned to let it all go."
Prime 1 Studio is excited to present the Batman: The Dark Knight Returns Comics Superman Statue!
Batman: The Dark Knight Returns is a Batman comic book miniseries written and drawn by Frank Miller and published by DC Comics from February to June 1986.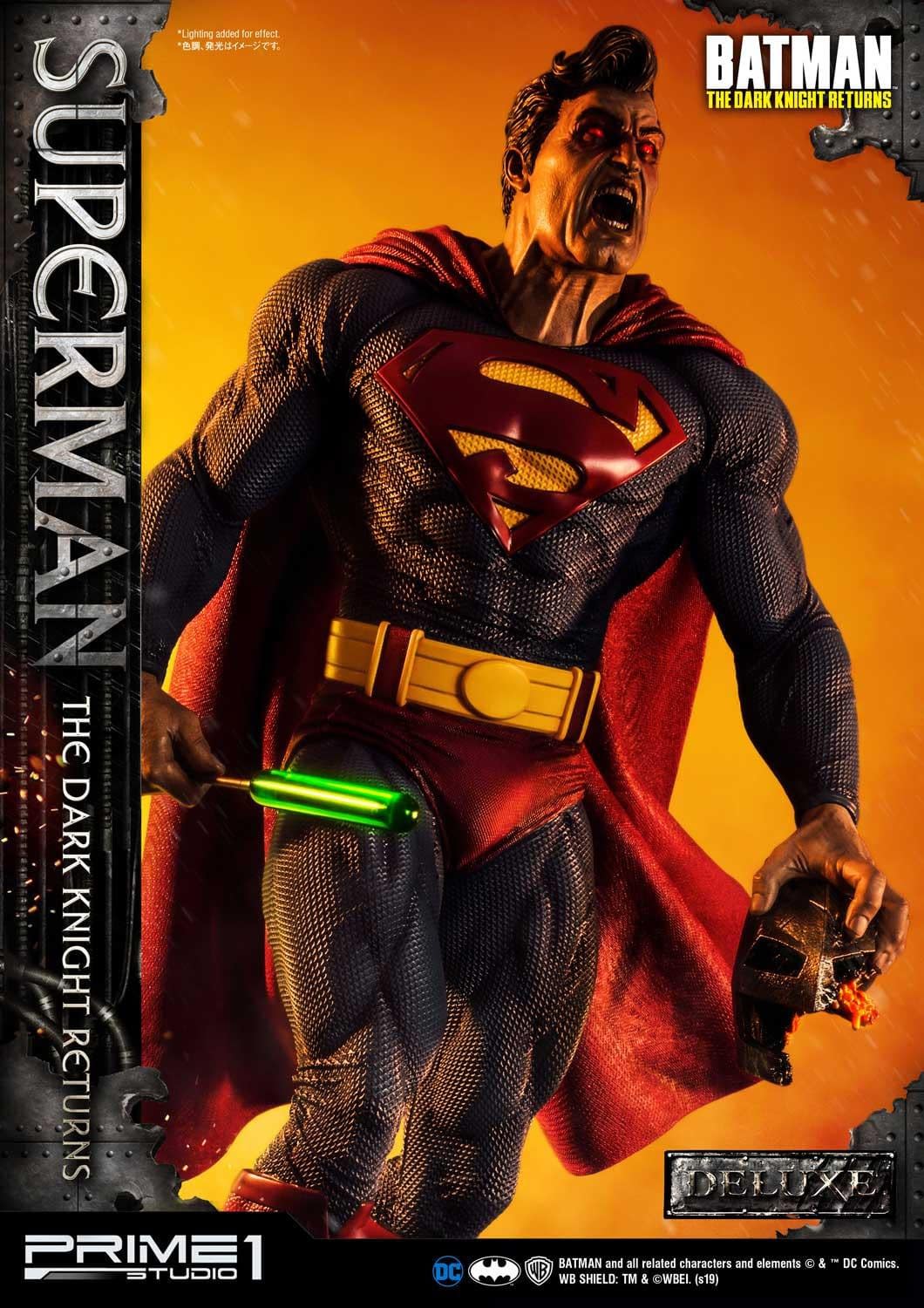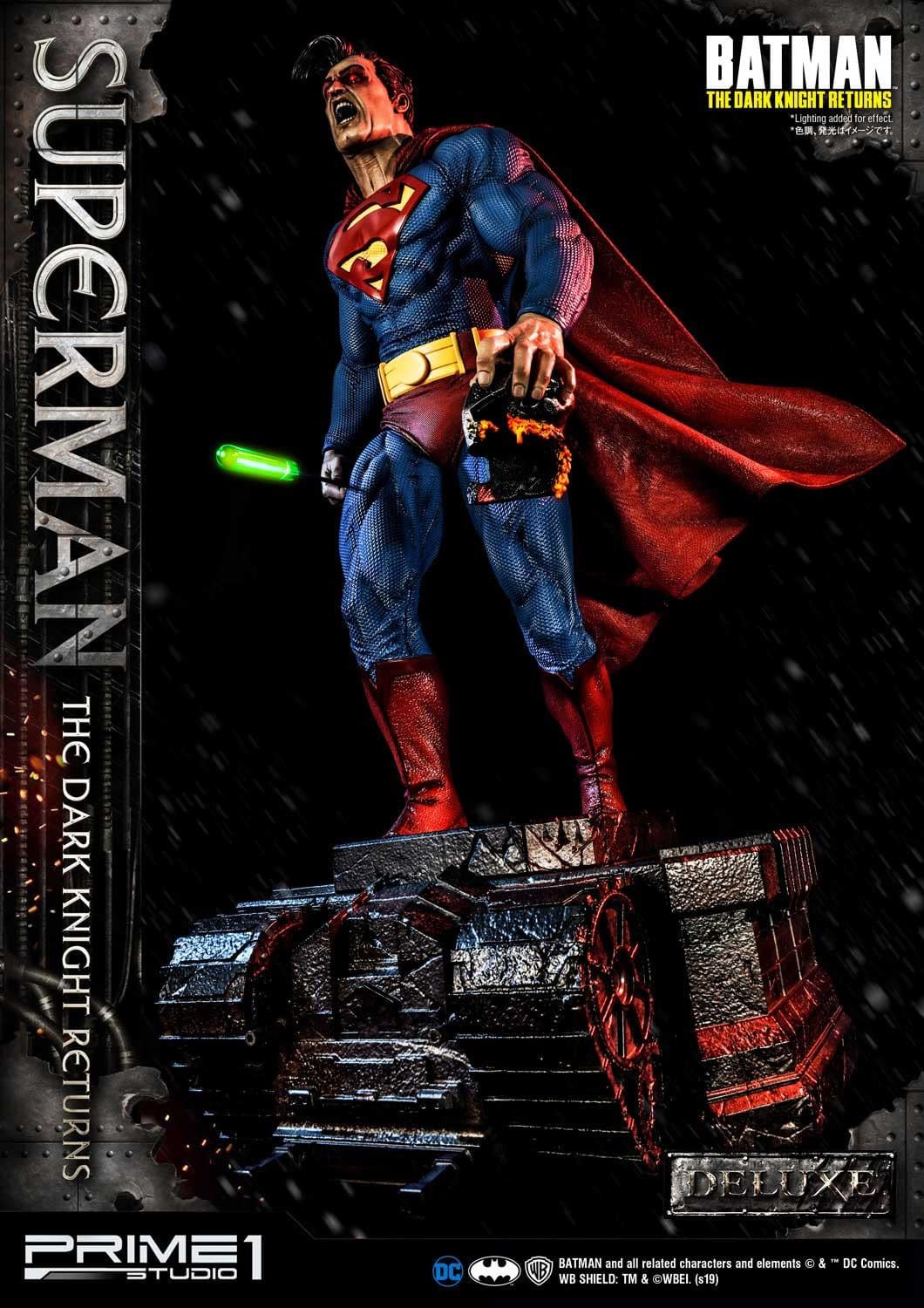 The Superman Statue has a sculpted blue costume with textured elements and red and yellow accents, including the beautifully crafted iconic red cape. Made with a great attention to details Superman's facial expressions tells the history of war and hardship that he needs to confront. It also comes with a Kryptonite Arrow which was fired by Oliver Queen/Green Arrow in the story. The base is inspired by the image of the Bat-Tank that appeared in the story as well.
Don't miss out to add this stunning Superman Statue to your DC collections!
Standard Edition Specifications:
– Statue Size approximately 35 inches tall [H:87.8cm W:57.6cm D:58.9cm]
– One (1) designed base
– Two (2) Regular Portraits (Normal, Clenched Jaw)
– Two (2) Interchangeable Left Hands Set (Open Palm, Clenched Fist)
– Two (2) Interchangeable Right Hands Set (Clenched Fist, Clenched Fist Holding Kryptonite Arrow)
Deluxe Edition Specifications:
– Statue Size approximately 35 inches tall [H:87.8cm W:57.6cm D:58.9cm]
– One (1) designed base
– Three (3) Interchangeable Left Hands Set (Open Palm, Clenched Fist, Holding Batman's Mechsuit Mask)
– Two (2) Interchangeable Right Hands Set (Clenched Fist, Clenched Fist Holding Kryptonite Arrow)
– Four (4) Portraits (Normal, Clenched Jaw, Heat Vision, Grin)