The Dark Knight is defiantly on my top 10 list of the great superhero movies around. This time it's not even the hero's role but the villains. Two-Face and the Joker realm made a remarkable performance with this modern twist enthuse iconic characters. One of my favorite scenes from The Dark Knight is the opening Joker robbery scene as its simple, sweet, and sinister. This time Hot Toys has announced new Cosbaby collectible from this classic superhero film that has some awesome packaging. Each Joker Thug is nicely designed and crafted and carrying their own weapon. The clown masks are simple and sweet and the red and whites really pop. On top of that, the packaging is amazing as its the bus and you can see the masks on each side. This hinted might be my first Cosbaby purchase just to dimply the in the box to show off my ave for The Dark Knight. The main Joker tuft is not included but was already announced and available separately and worth it.
Pre-orders for the Joker's Thugs Cosbaby figure from Hot Toys are not up just yet as it is a Japan exclusive and if it come available for online purchase you can find them here when they go live. Don't forget to check out some of the other Batman Cosbaby figures coming soon from Hot Toys.
 "No, no no no. I kill the bus driver."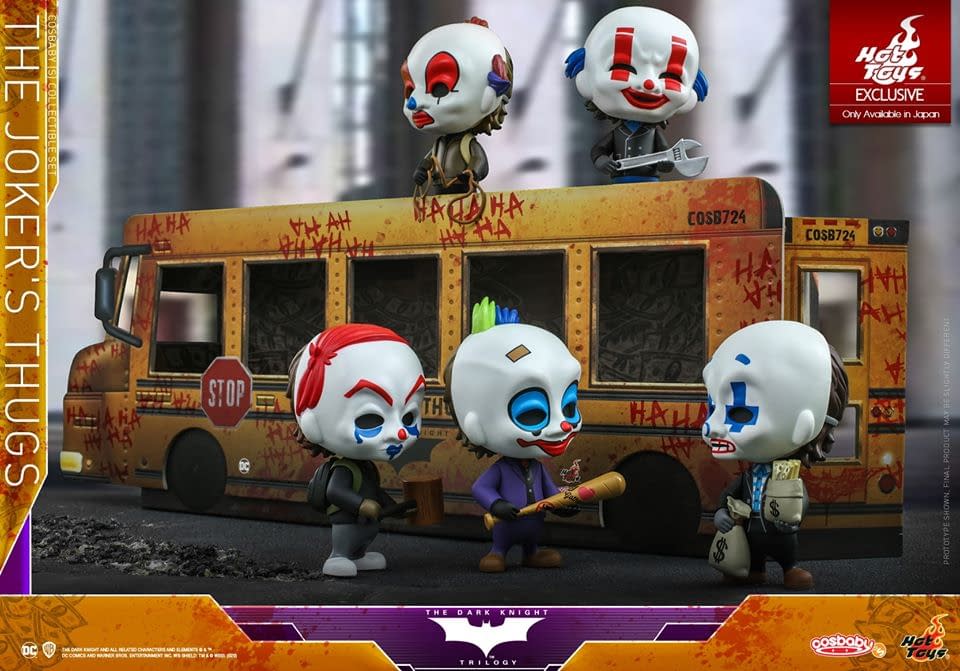 The Dark Knight – Joker's Thugs Cosbaby (S) Collectible Set
The Joker who portrayed himself as an agent of chaos, turns Gotham City into turbulence and in tranquility. Inspired by The Dark Knight movie, Hot Toys is thrilled to present the latest Joker's Thugs Cosbaby (S) Collectible Set that recreates the masked thugs as they appeared during the memorable bank heist with The Joker. Each Cosbaby figure measures approximately 11 – 12.5 cm tall including figure base. The collectible set is firstly available in Japan and in selected markets.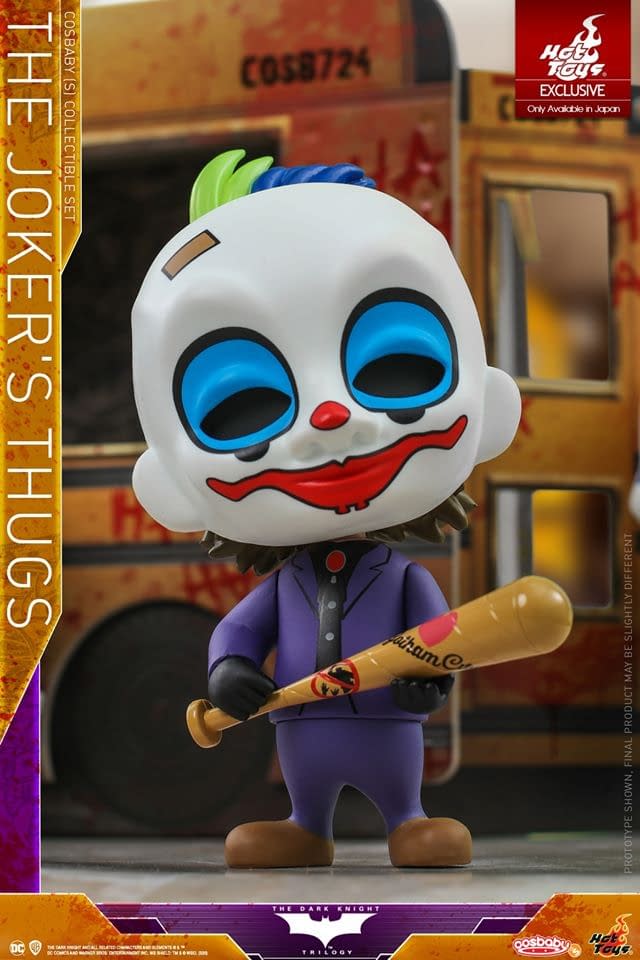 Depicts the frightening fiend as bank robbers, Joker's Thugs are a gang of criminal served under the Joker. The freakiest collectible set includes five thugs with each wearing different clown masks and outfits as seen from movie, holding weapon accessories such as base bat, rope, mallet, spanner and money bags to recreate the opening scene.
Begin The Joker's reign of terror by collecting this special set!
Enjoyed this article? Share it!