The Fantastic Four Have Finally Arrived from Funko [Review]
Fantastic Four Funko Pop figures have finally arrived after many years. As a big Fantastic Four fan, I am super excited to see my favorite Marvel comics family come to life. Funko has already released a Doctor Doom and The Thing figure in the past but licenses must have been lost since. Now this time those characters and new ones are getting new updated versions and I can't wait to get up close and personal with them. In this review, we're gonna be looking at the main Fantastic Four family with Mr. Fantastic, Invisible Girl, Human Torch, and The Thing. So let's not wait for any longer to jump right into this review.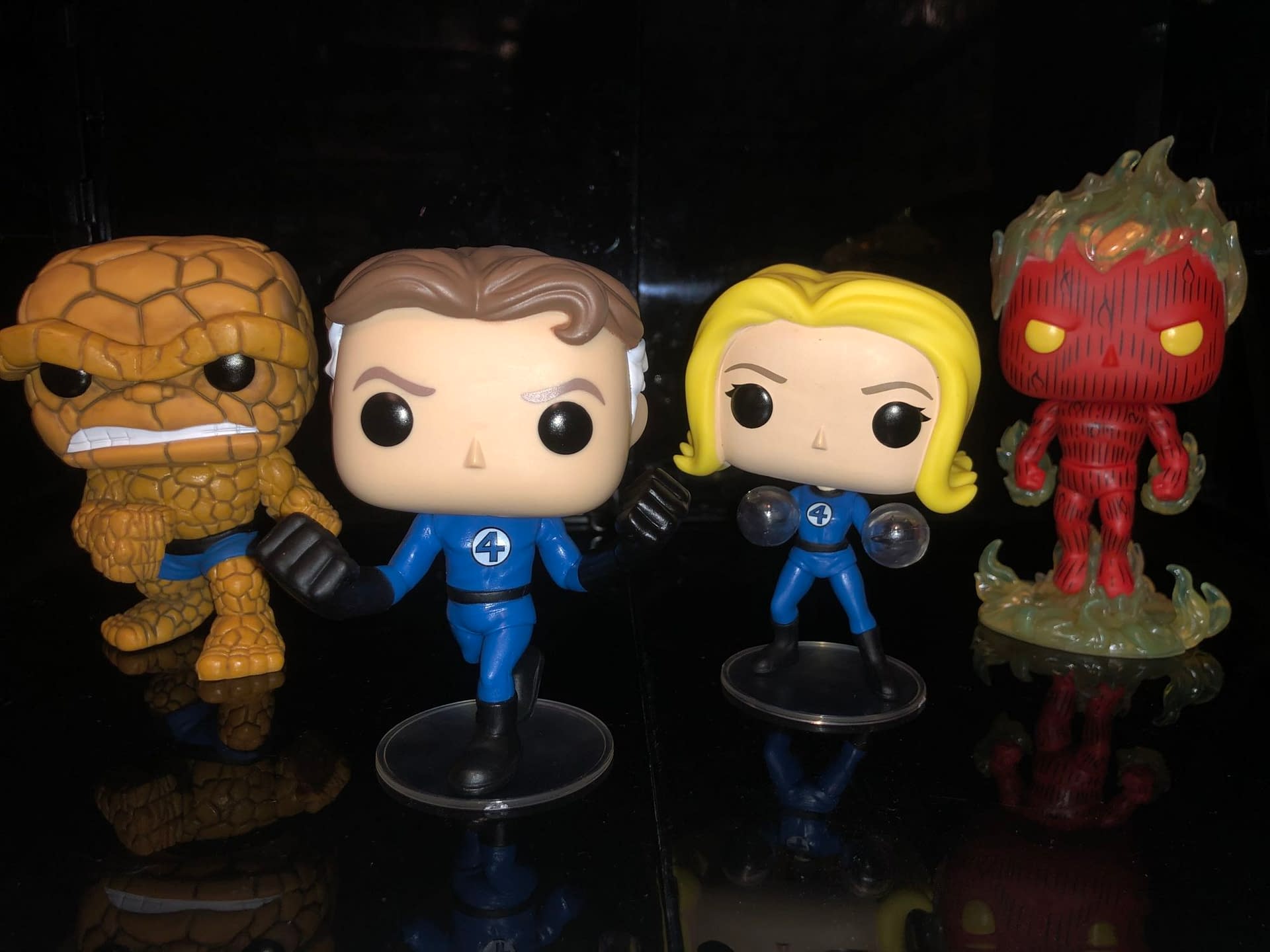 There are 14 Funko Pop Fantastic Four figures that have been released. Three are retailer exclusives and one is a specialty series that can be found at local comic shops. We do have two of the retailer exclusives in our possession, as well as all of the common releases. We have split our Fantastic Four review into FOUR parts, the first one is The Family, the second is Cosmic Beings, third is Earth in the last one we have is Exclusives. This way you can look at the figures you want with that being lost with all of the releases in this wave.
This is the first review of our Fantastic Four Funko Pop coverage and we are taking a look at The Family. Our first Funko we are looking at is none other than Mr. Fantastic. For this wave of figures, the packaging is pretty simple and they're quite notable an iconic for Funko Pops. One cool little feature is that they did add the Fantastic Four simple as a backdrop inside the packaging. It's a cool little tribute to the iconic Marvel family.
The figure itself features Reed Richard's a.k.a. Mr. Fantastic with his fists out and in large from his stretchy powers. He does come with a display stand so you don't have to worry about him being too top-heavy and fall over. Their outfit is pretty basic with just the color of blue and black. But it's a simplicity that I love and is it the first time we are getting off Mr. Fantastic Funko is a must have for Marvel fans.
Next, we have Invisible Girl in all her glory. Her box is the same as the rest, nothing special about it. Her figure is pretty cool and I'm definitely getting the same mold as The Incredibles Violet figure. Invisible Girl's hands are covered in a clear orb showing off her invisible style cosmic powers. Besides that not much else is going on, she is a pretty simple character design but like I said for Mr. Fantastic it's a simplicity of these characters that I love the most. This is also the first time we are seeing Susan Storm a.k.a Invisible Girl get her own Funko Pop.
We are now staying in the same family as Johnny Storm a.k.a. Human Torch lights up the night with his first ever Funko Pop appearance. I'm definitely seeing a lot of the same elements from the Marvel 80th Anniversary Human Torch Pop. That is not the same Human Torch but with licenses getting acquired it's no surprise they share the same qualities. His box is the same as the rest nothing really special about it but the design on the side with the Fantastic Four logo on it is pretty awesome.
The Human Torch's Pop vinyl is pretty amazing and I love the dynamic feel that they gave to it. The red and yellow colors on it definitely POP here and it is a nice figure all around. I would love to see a light up version of this figure come to us in the future. This is definitely more than just a simple design with the flames around his head, hands, and his feet this character. It is a great design for the character and is defiantly a must have for any Fantastic Four fan.
Finally, it's clobberin' time as we take a look at the newly remastered The Thing Funko Pop vinyl. This is one of my favorite characters in Marvel and I was super excited to be able to get my hands on his newest figure. Nothing is really special about his box I do wish that we saw his catchphrase, "It's Clobberin' Time" somewhere on one of the box flaps.
The detail that they put into The Thing is very incredible. With all the different rocks separated by color and different shapes. He is placed in a fighting stance with his blue shorts on and they really stand out with his orange body. I love the look of this character and I think the things fans will be pretty impressed if they can manage to get their hands on one.
The Fantastic Four Funko Pops are currently in stores and you can still find them online in a located here. I would suggest GameStops would be one of your best bets to find them but a lot of stores were only getting in one per store. However, they could have restocked since then. To save you the time you can buy them all here. With such a massive release I hope we can see more Fantastic Four characters come in the future like their children and maybe some Future Foundation costumes. Who knows what will be on the horizon next for our favorite Fantastic Four heroes and villains from Funko.