The Purge has had some amazing movies over the years, some good and some bad. The characters that come out of these movies have been very unique as we get to see get people their dark side out. I was surprised to see The Purge come out with collectibles this year through Funko. Five Funko Pops have already been announced earlier this year a lot of them coming from The Purge: Election Year. One figure, in particular, was very eye-catching to me and I just had to have it. Here is is the review for the badass Lady Liberty Funko Pop.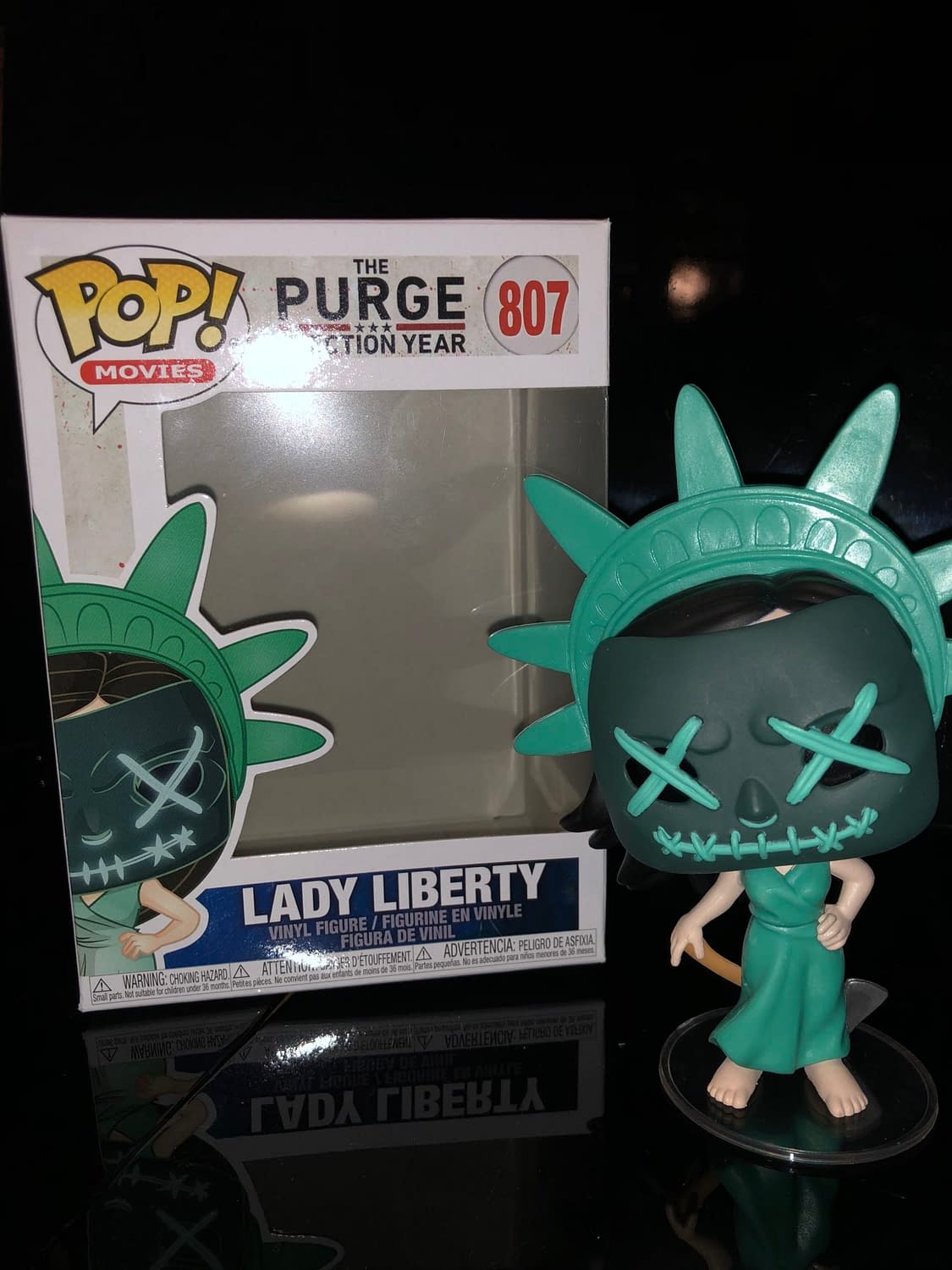 The Purge Lady Liberty Funko Pop vinyl figure is honestly one of the coolest designs to come out this year. For me, I really think it's not only the design but the colors that they decided to use to bring this character to life. The packaging is quite simple and but the side of the packaging is decorated with red, white, and blue with a variety of weapons going down it. The back of the box shows the other characters released in this wave that are in stores now.
The Lady Liberty figure showcases a female in the iconic and patriotic lady liberty outfit. This time with a more The Purge styled horror twist. It does feature one of the iconic Purge masks with the eyes crossed out and stitched mouth. She is holding an axe behind her back giving you unease of when she will strike. I do wish this character was glow-in-the-dark as the mask itself would look amazing being lite up at night. The design of this character is probably what intrigues me the most and I really love all the little details in it. From her headpiece to her gown it's so much to look at and is a worthy piece for any Purge collectors collection.
Whether you're a fan of Funko or a fan of The Purge series this is a great vinyl figure for your collection. From the colors to the detail and everything about its design is a worthy attribute for making any collectors collection stand out. You can still find her online is located here and you can also find the other The Purge Funko Pop Vinyl Figure collectibles online and located here.
Enjoyed this article? Share it!