"The Wizard of Oz" Ruby Slipper Replica Are Here from Ikon Design Studio
Just when you almost forget about the classic film The Wizard of Oz, it returns with a new replica collectible. Ikon Design Studio is trying to help your way back way with Dorothy's Replica Slippers. This 1939 film never gets old and there is no better way to remember it than with this amazing replica. They were faithfully recreated from the stolen pair of shows recovered by the FBI from the Smithsonian. The Wizard of OZ Ruby Slippers are sized at 5C and the inside has "#6 Judy Garland" in them. Each pair will also come with a specialized serial numbered plague to show off how unique each pair is. There is not limited edition number just yet but each pair of Dorothy's Ruby Slippers are priced at $310. They are expected to ship out between September and December 2020 and pre-orders are live and located here.
We are off to see the Wizard!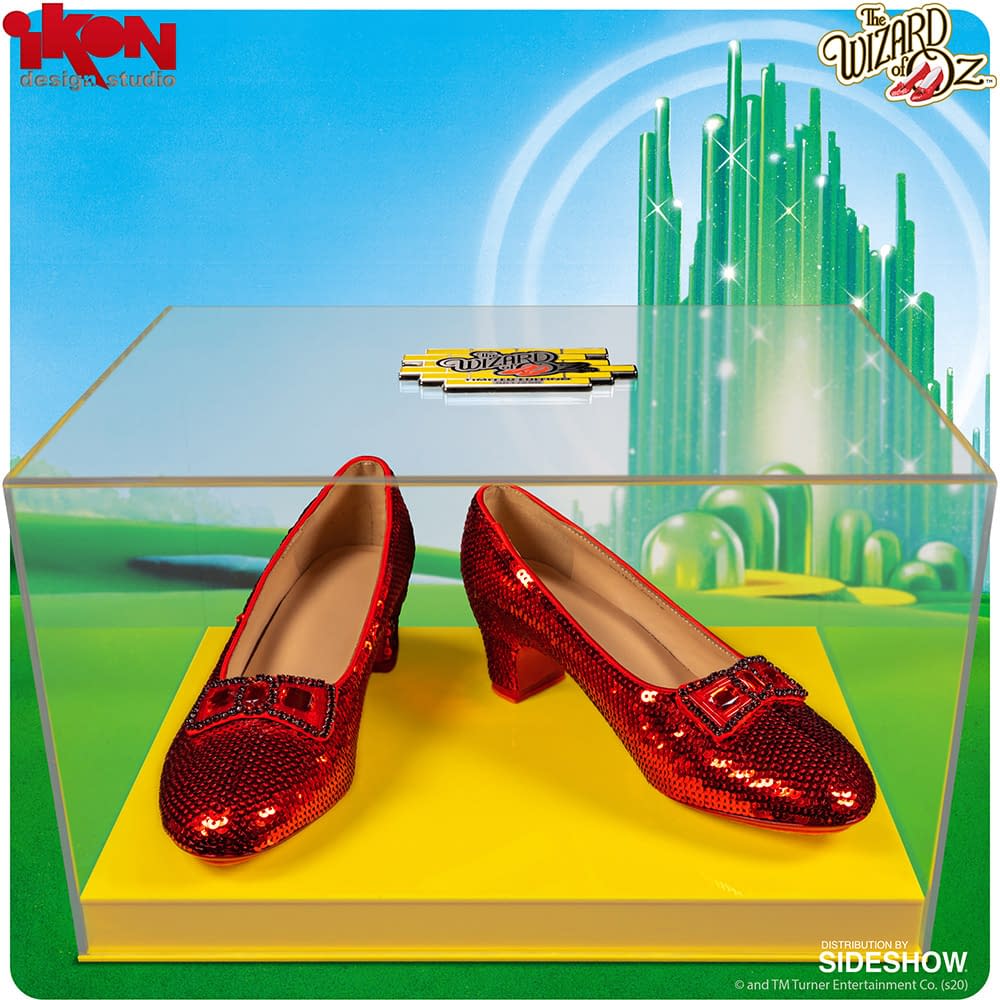 Dorothy's Ruby Slippers (Yellow Brick Road Edition) Replica by Ikon Design Studio
ABOUT THIS REPLICA
Ikon Design Studio is proud to announce this dazzling replica set of Dorothy's Ruby Slippers from the 1939 film 'The Wizard of Oz'. Presented in stunning detail, this set comes complete with a 'yellow-brick-road' inspired acrylic display case and a unique serial-numbered plaque.
Using the original stolen pair of Ruby Slippers that was recently recovered by the FBI and the pair on display at the Smithsonian Institution in Washington as a basis, Ikon Design Studio have taken great care to reproduce the item. The shoes are sized at 5C, and on the inside a "#6 Judy Garland" inscription can be found. The soles of the shoes are capped in an orange felt to mimic that seen on the original pair, thought to have been added to deaden the noise the shoes made on the brick road during filming.
Presented in a striking shoebox that has taken inspiration from the blue and white checker mesh pattern on Dorothy's dress, you will not want to miss out on the opportunity to own a pair of these Ruby Red's. Get your pair today before the Wicked Witch gets her hands on them!