Thor Is Still Worthy in Upcoming New Hot Toys Figure
Thor could have stopped Thanos in Avengers: Infinity War but chose not to out of pride and arrogance. After the shocking events of the snap, Thor took it quite personally. Switching out weights for beer, Thor has taken a new personality and is ready for the cheese whiz. Hot Toys let us relive Thor in action yet again with their newest 1/6th scale collectible figure. This is probably the most realistic and detailed Dude Thor figure you will see out there. Completely modeled after the actor Chris Hemsworth this figure is no joke. He comes with three sets of interchangeable hands as well as lightning effects for his suit, and both weapons. It does seem that both Mjolnir and Stormbreaker will be LED compatible as well as Thor's body armor. This really takes any Thor figure to new shocking heights and his eyes are even tailored to new luminous effects. The Hot Toys team really put a lot of time and effort into this figure to make it as movie accurate as possible and put out something the fans will really love to own. This will be a perfect collectible for any Thor fan, Marvel fan, or Avengers: Endgame buff.
The Avengers: Endgame Thor 1/6th Scale Figure from Hot Toys does not have a release date just yet. Hot Toys have not given a price for this bad boy just yet either but be on the lookout from us and hot toys when it is amazing Thor figure goes live.
"Let's kill him properly this time."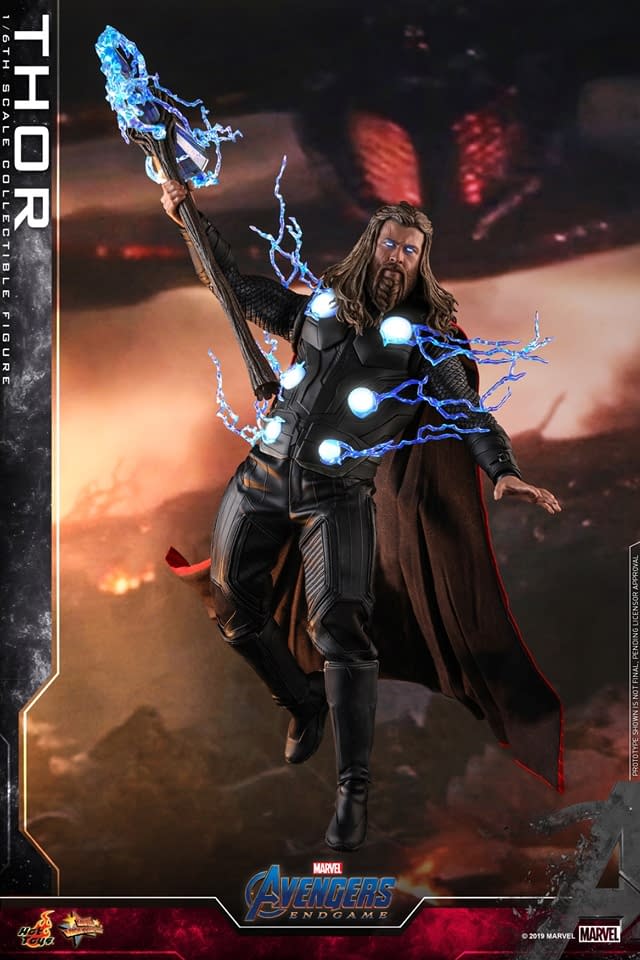 Avengers: Endgame – 1/6th scale Thor Collectible Figure
"I'm still worthy!"
Five years after the shocking events of Avengers: Infinity War, God of Thunder's priorities shift towards playing video games with his best pals while attempting to drink every bottle of beer in the city! His unexpected descent into depression has turned him to an alcoholic, thus giving him a massive physical transformation.
Our signature Marvel super hero's appearance has changed but his heroism remains. Thor is still and always be worthy to wield the mighty hammer, even if he might not necessarily always feel that he is. Inspired by Avengers: Endgame, Hot Toys is excited to introduce the hugely-anticipated 1/6th scale Thor collectible figure long-awaited by fans since its debut in Hot Toys summer exhibitions.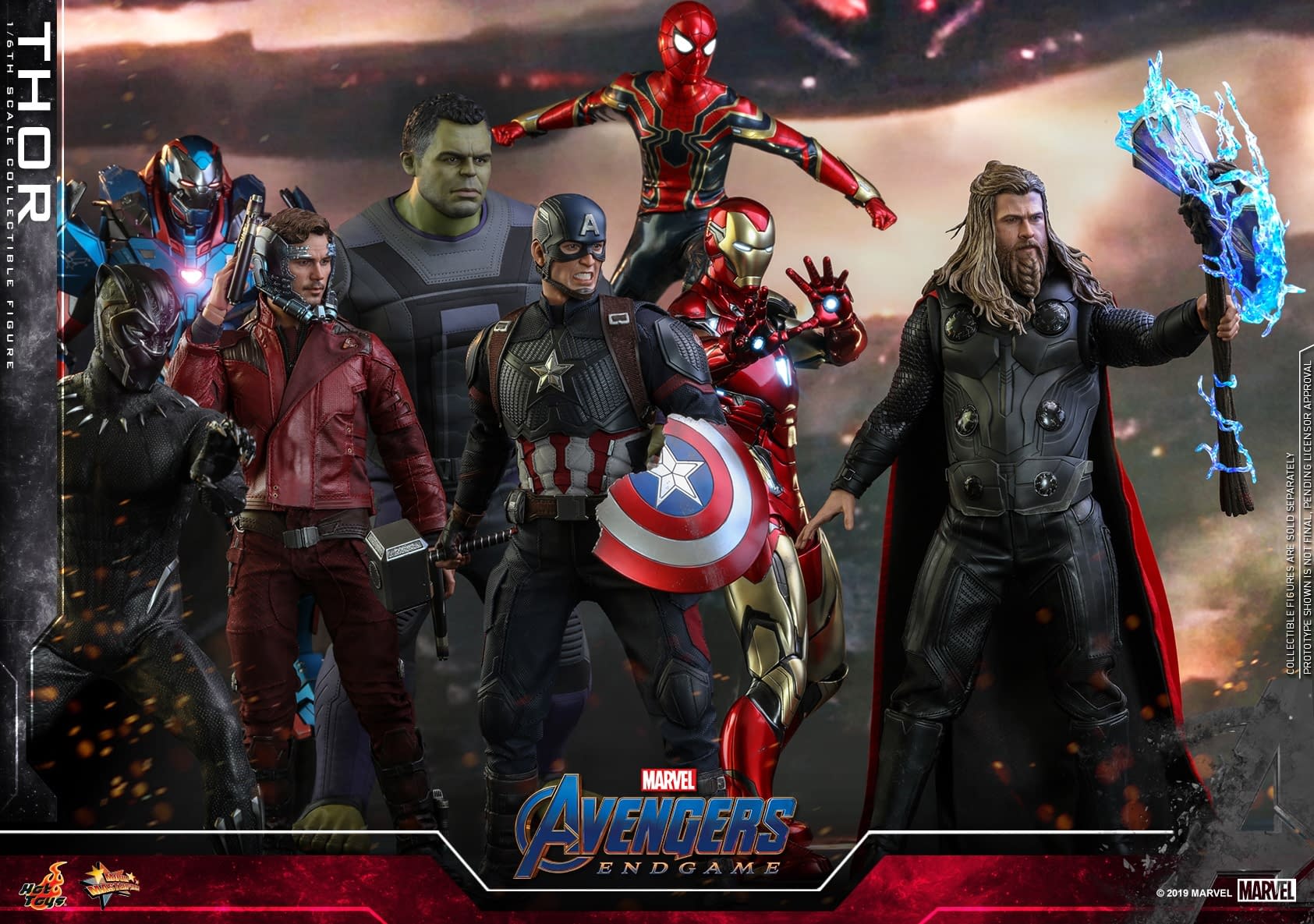 Masterfully crafted based on the appearance of Chris Hemsworth's appearance in the movie with wonderful likeness. Features a newly developed head sculpt with a pair of different colored eyes and specially applied luminous reflective effect that accentuates Thor using his thunder power, a newly developed specialized body that depicts his body with physical changes, expertly tailored body armor with LED light up function and matching lightning effect accessories, signature red-colored cape and body armor, accurate-scaled recreation of LED light up Stormbreaker with impressive details from handle to head, LED light up Mjolnir, several pieces of lightning effect accessories crafted with specially applied luminous reflective effect, and a dynamic figure stand with movie logo.
This new Thor collectible figure will be an extraordinary addition for any Marvel fans!