Transformers 35th Anniversary Is Here Thanks to Hasbro [Unboxing]
Hasbro was kind enough to send us a mysterious Transformers box for free. Just let us take the time to thank them and dive into a review. Right off the bat, the packaging is awesome! Just the box it came in shows of Tansformers greats Optimus and Megatron with the iconic catchphrase "More than meets the eye right now". Inside that there is another beautifully detailed Transformers box to celebrate Transformers 35th anniversary. The box is split up between auto bots and deceptive cons with fantastic are on each side showcasing some of the greats.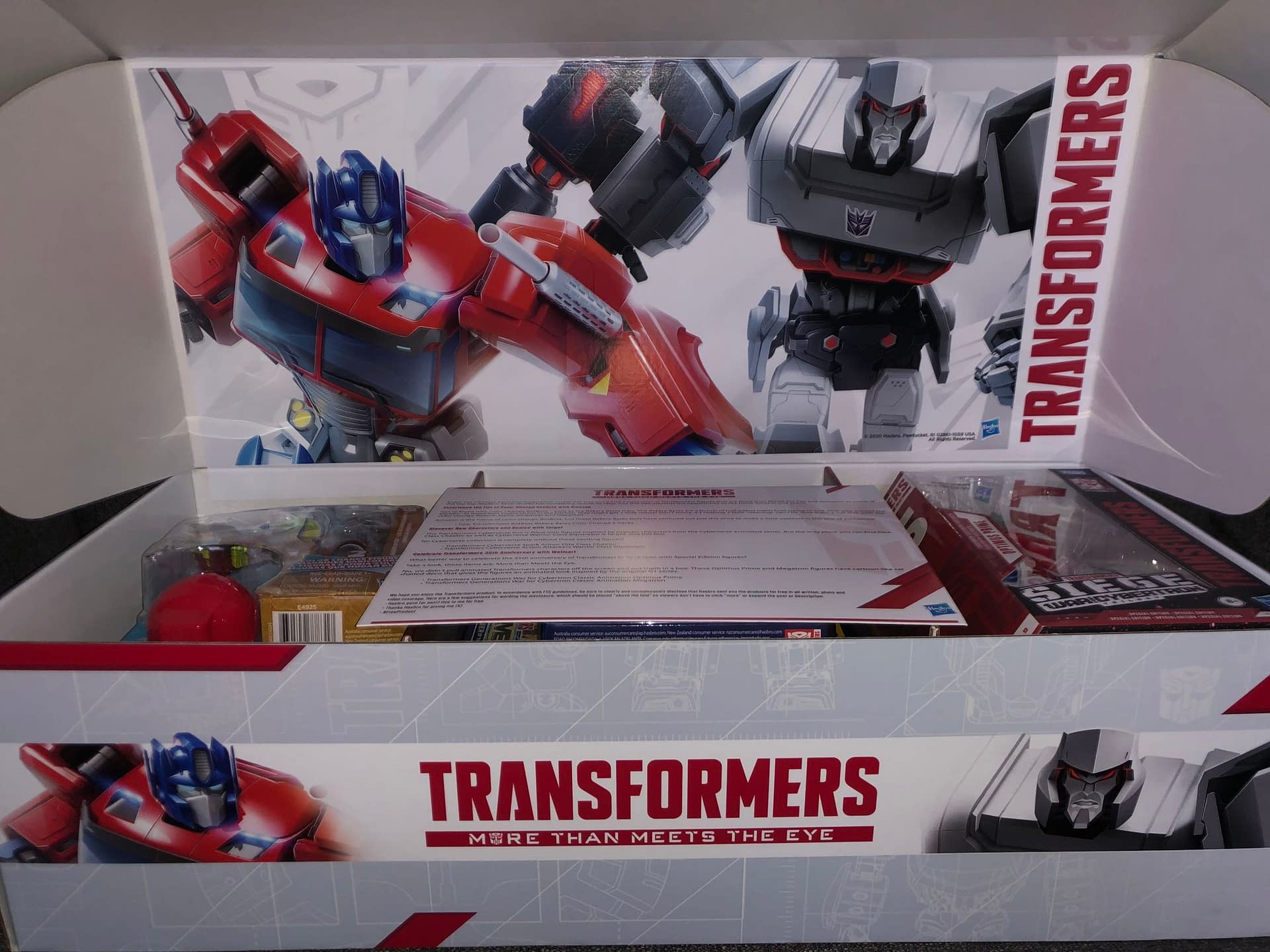 Now we dive deeper inside the box only to be greeted with three separate categories of new Transformers exclusive products. All of these are retailer exclusive's and I am excited to see what we got. First up is the color-changing BotBots from Amazon. There are two Transformers BotBot Bakery Bytes Color Changing 5-pack. Being a MOC "Mint on Card" collector I usually leave things in the package but with the BotBots you have to take a closer look.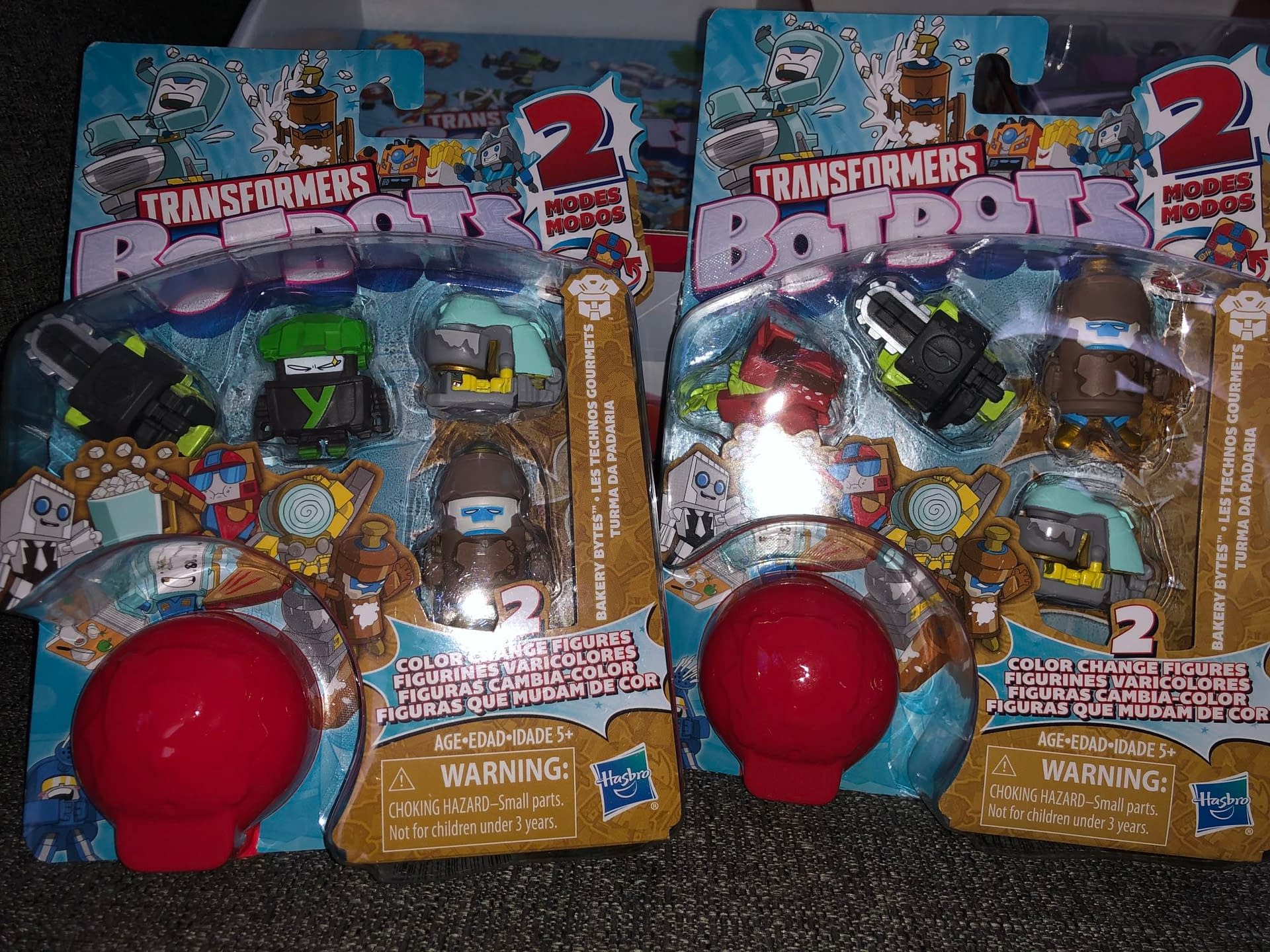 The five BotBots we got were Batter Splatter, Flat Flour Face, McMuzzsaw and Bum Sprout. The mixer and the rolling pin are the color changes of the group. You could notice the color-changing aspects with "spill spots" on their bodies. With a quick rub on the spot, you will be greeted with the color change. Both of the colors are white and it quite a bit of rubbing too get it to change. I think it would be interesting if we could see fledged color-changing BotBots in the future.
As for our mystery character (that comes in all 5-packs) we gotin our set was Cavi T who is an adorable cup of sugar. He is one of the 13 new BotBots to the series. The BotBots characters are always adorable and worth every penny! Thank you again, Hasbro for giving me a chance to take a look at these adorable little Transformers and can't wait for other upcoming waves including the Golden Games coming to us in the future!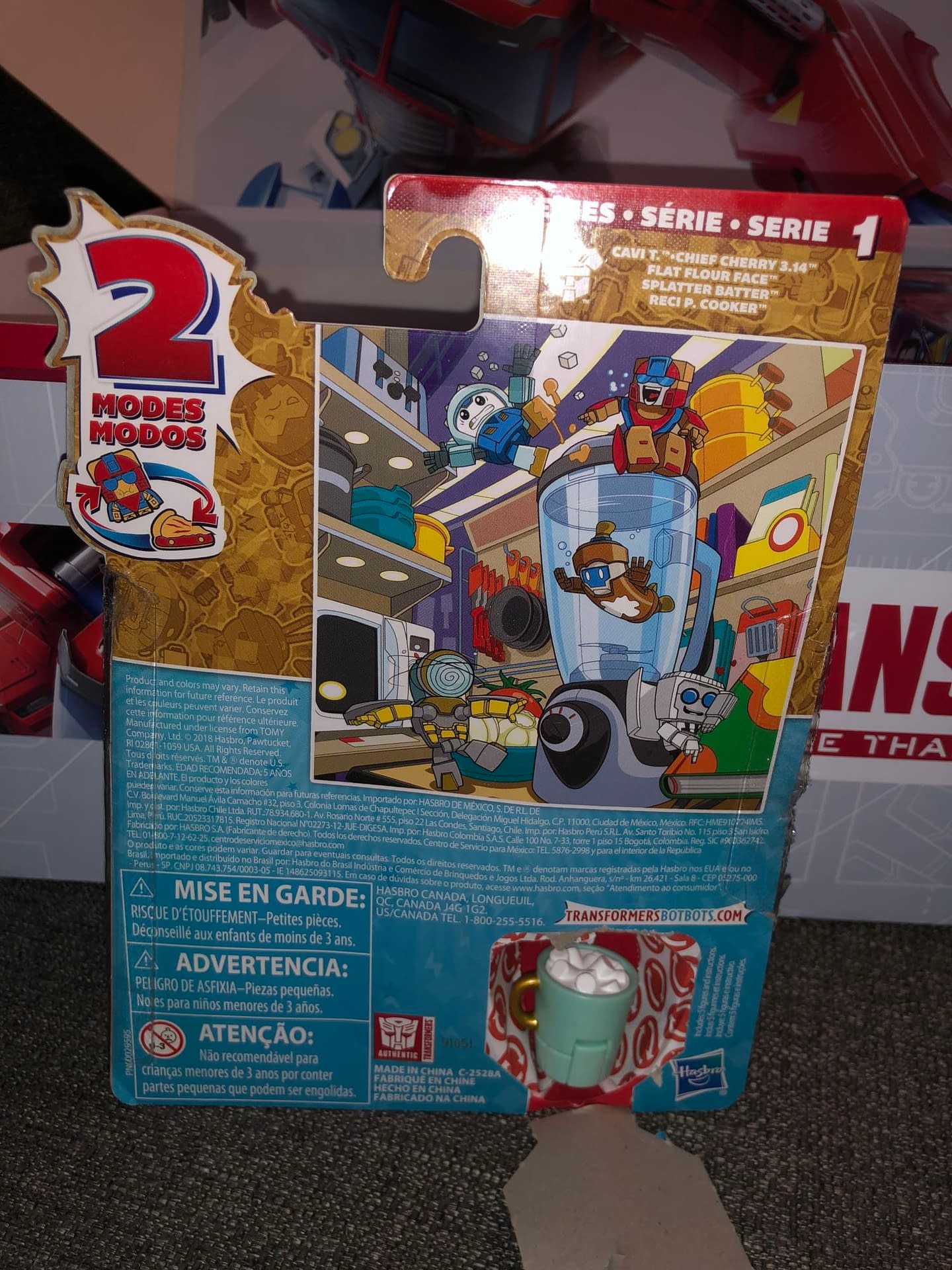 Now we are diving into the Transformers Cyberverse line that is inspired by the popular characters from the Cyberverse Animated Series. Target is the only place you can find the Elite Class Cheetor and the Cyberverse Warrior Class Slipstream. Slipstream is a female Decepticon and her color scheme is pretty amazing. The light purple, dark purple, and teal colors go well with her. She does transform into our jet in just seven steps and even has a sonic swirl power mode.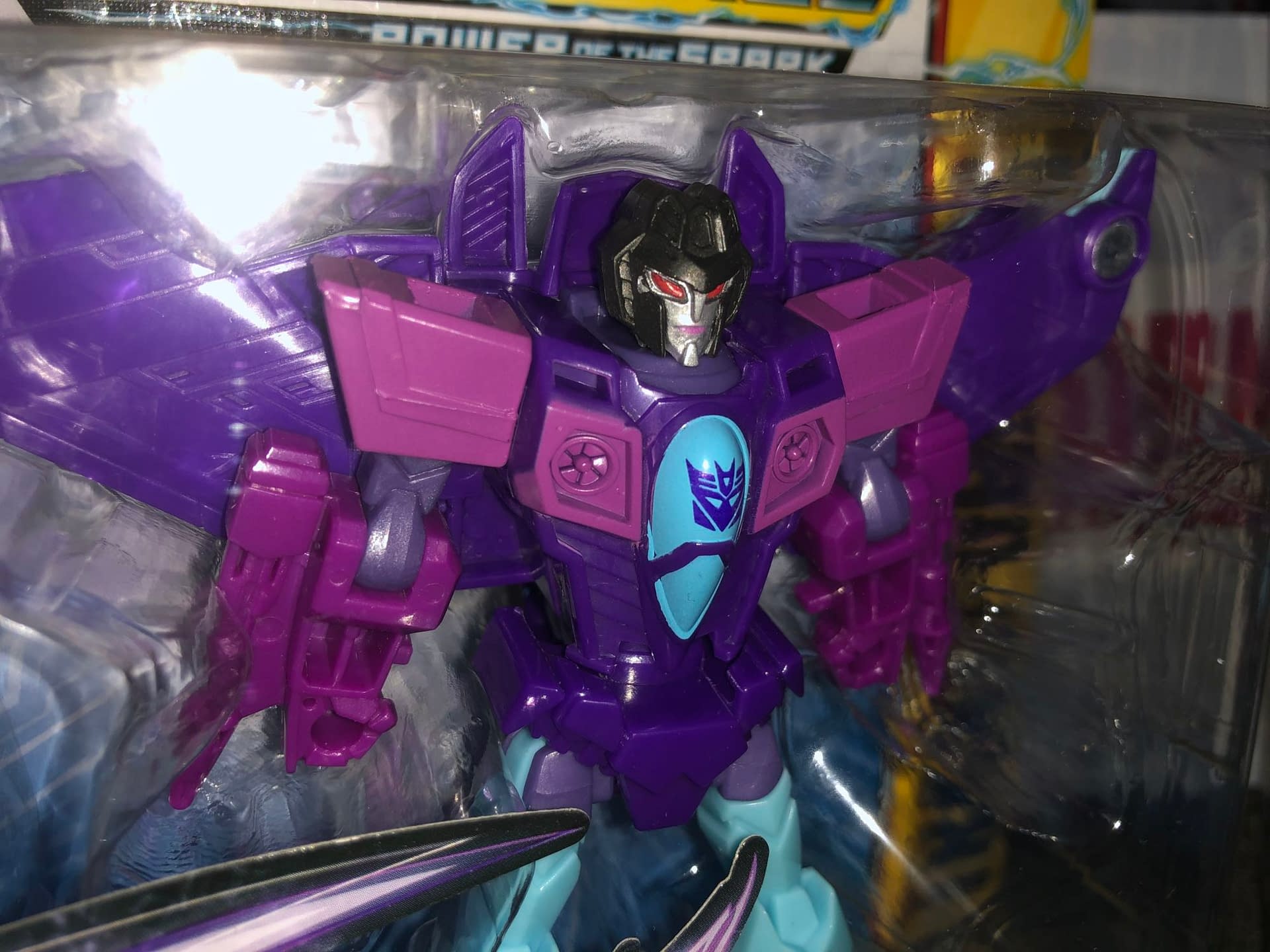 The Cheetor Target exclusive figure was one I've been looking forward to. The pack comes with both Cheetor and Sea Fury Autobots. and just 11 steps you can combine both auto bots to make a devastating robot. Both Cheetor and Sea Fury are both beautifully crafted and would make any Transformers sets amazing.
Finally in the Transformers box that Hasbro sent us for free includes Transformers 35th Anniversary figures exclusive to Walmart. We got Transformers Generations War for Cybertron Classic Animation Exclusive figures. These Transformers characters look like they were taken off-screen and put in a box but Hasbro just added these cartoon-like cels shaded deco that gives the figures an animated look that is from their original G1 series. First, we are getting Autobot's leader Optimus Prime. The packaging box is remarkably detailed with art style work on the side. Being a MOC "Mint on Card" collector I couldn't take myself to open this figure as he looks perfectly displayed inside this artistic box.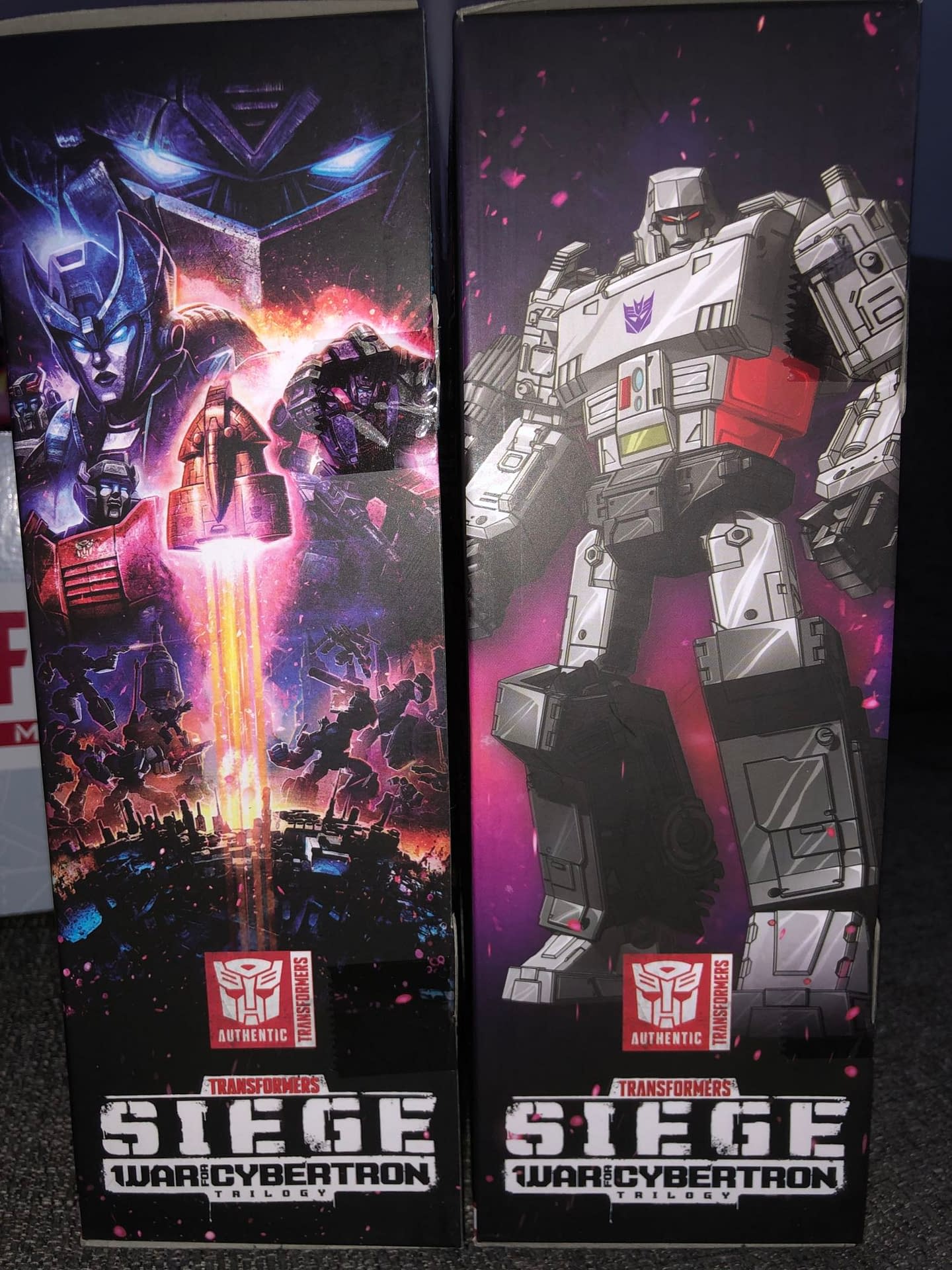 However, in just 27 steps you can transform Optimus Prime into his iconic semi-truck vehicle mode. He does come with a Power Axe and Blaster. The retro style decals on this figure bring us back to simpler times and I'm absolutely in love with this figure. Lastly from the Transformers 35th Anniversary Walmart exclusive line, we are getting the Decepticon leader Megatron. He also has character artwork on the side showing how badass Megatron just is and it that goes well with his packaging. Megatron can transform into his tank mode in just 17 steps. He does come with a blaster he's ready to take on any Autobot that gets in his way. The old retro style deco on him shines here and it just makes me want to get the rest of them.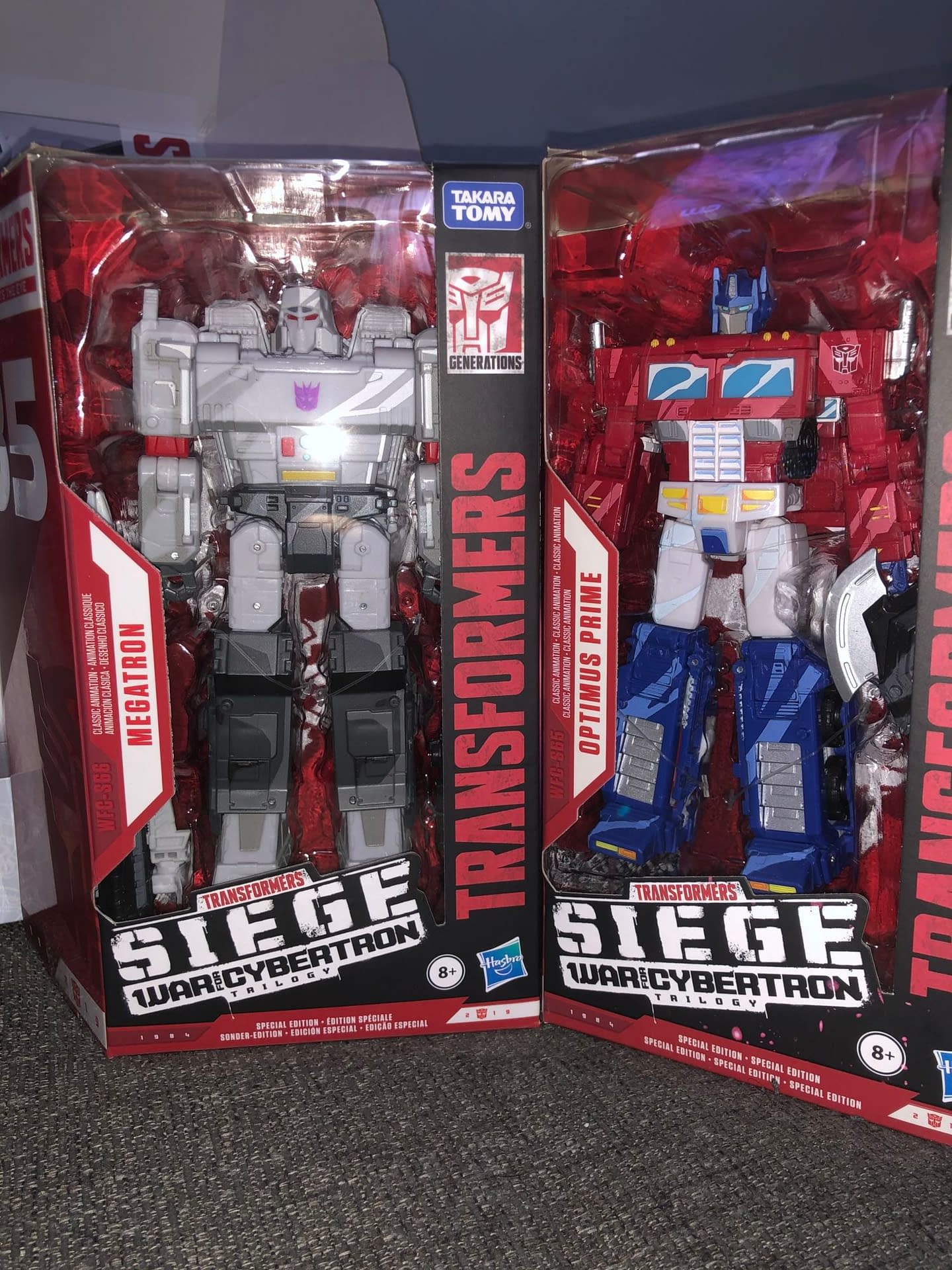 Thanks, Hasbro for allowing me to take a look at some of these amazing retailer exclusive products. You can find the Bakery Bytes Transformer BotBots Color Changing 5- packs exclusive to Amazon which are located here. You could find the upcoming Transformers Cyberverse Spark Armor Elite Class Cheetor and Warrior Slipstream exclusive to Target located here. You can find the Transformers 35th Anniversary Transformers Generations War for Cybertron Classic Animation Optimus Prime and Megatron Exclusivly at Walmart or located here.