Unboxing the Funko Smuggler's Bounty Revenge of the Sith Star Wars Box
Star Wars fans, we had a good run with these Smuggler's Bounty boxes. The bi-monthly subscription boxes were a treat to get in the mail. Some were better than others, but they always put a smile on my face every time I opened one. With the Funko subscription boxes coming to an end and transitioning into retailer exclusives, it was a sad time opening this last one.
We don't know yet where we will be able to find boxes going forward, but hopefully it's a retailer who actually gets things out and prominently displayed (please, for the love of the Emperor, not Walmart). With that being said, let's look at the last subscription box.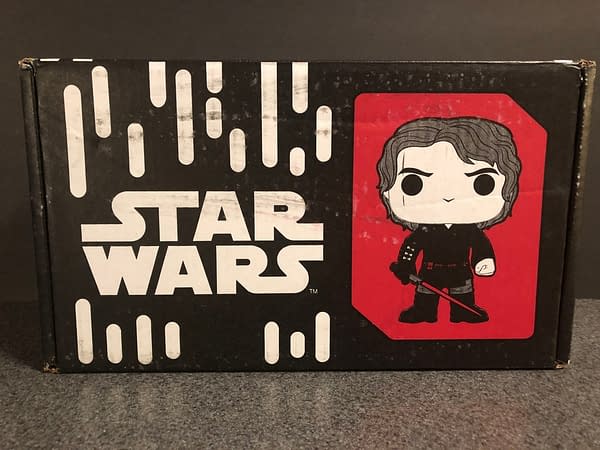 This box's theme was Revenge of the Sith, and I could not be more excited. Criminally underrated, it is the best of the prequels, and I could not wait to see what they came up with for this last box. The cold eyes of Anakin Skywalker greet you when you pick up the box.
Yay, we got a patch and a pin! I have missed getting these in the boxes from Star Wars and Marvel, they really lost something when they didn't have these. The Anakin patch is sweet; I really like the look having half Ani, half Vader. Ditto with the Mace Windu pin; always looking so untrusting. The Commander Cody Order 66 luggage tag is a cool throw-in as well — very sturdy and should hold up for a long time.
The Palpatine Mystery Mini is the highlight of the box for me. That is not to say the Pop set is a disappointment, but we will get to that in a second. From the lightning at his fingertips to the perfectly sculpted robes, this mini is a home run. I was hoping for some Palpatine love in this Star Wars box, and I am not sad about the direction they took.
Finally, the final Smuggler's Bounty Star Wars Pop is a Movie Moment for the ages. The epic duel on Mustafar between Obi-Wan and a fallen Anakin is recreated in Pop form. My only real complaint here is that Anakin has the higher ground! Other than that, both Pops look fantastic. I love Ani's Sith eyes — this may be the angriest Pop we will ever get. The platform base sitting on lava looks awesome and really captures the mood of that fateful duel. This is a great addition to any Star Wars collection, even if you don't collect Funko.
We do not yet know when we will find out where Smuggler's Bounty will continue, but we will let you know when they announce it. Until then, information on all Funko boxes can be found right here.