Wonder Woman 1984 is getting closer and closer every day since its delay from June 5th, to August 12th, and now October. This delay has only continued to build up even more hype to see Princess Diana on the big screen again. While the delay was unexpected it just might work in your favor with SweeTARTS sweetest collectible. SweeTARTS and Wonder Woman 1984 has partnered up to brings fans and collectors the Golden Ropes Holder. The newest SweetTARTS Ropes flavor, Golden Ropes, is packed with tropical flavor and pays homage to the iconic Lasso of Truth. SweeTARTS has teamed up with the Wonder Woman costume design Lindy Hemming to brings fans one step closer to becoming Wonder Woman herself. This collectible Golden Ropes Holder will allow fans to wear this delicious treat right on their hip and will be the perfect WW84 premiere apparel.
Completely inspired by Wonder Woman's costume, this vegan leather is packed with craftsmanship. The bag can function as both a belt bag and a cross-body satchel. It will feature Princess Diana's iconic W at the center with her Lasso of Truth hanging below. Of course, you will be able to store your delicious Golden Ropes inside too. This is one collectible that SweeTARTS, Wonder Woman, and DC Comics fans will not want to miss and you even have the chance to win one! Starting July 13th, fans will be able to win this truly unique SweeTARTS Wonder Woman 84 Golden Ropes Holder collectible. All collectors will have to do is go to SweeTARTSCandy Instagram Page and "lasso" (tag) a friend with the circle star emoji 💫 I know I will. Make your Wonder Woman 1984 movie experience a real treat with SweeTARTS.
Wonder Woman 84 hits theaters October 2, 2020 and you can find the Golden Ropes SweetTARTS Ropes in store now!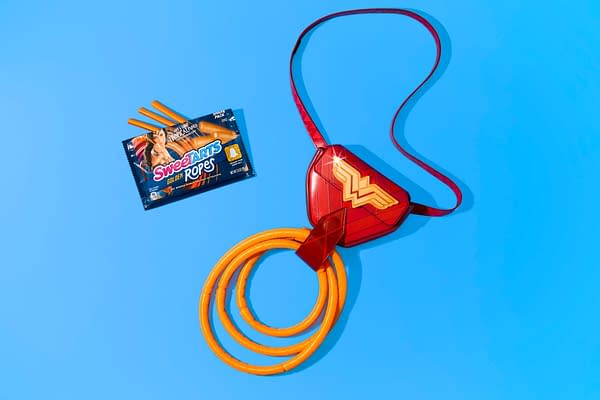 Things Get Sweeter with WW84 and SweeTARTS
"SweeTARTS®, the iconic candy brand that features colliding flavors, textures, and forms, has joined forces with the new WW84 film to launch an exclusive collectors' item – the "Golden Ropes Holder." SweeTARTS' limited-edition Golden Ropes, a tropical-flavored licorice rope packed with a signature tart-flavored center, pays homage to Wonder Woman's iconic Lasso of Truth. Much like the superheroine herself, toggling between Diana Prince and her alter-ego, Wonder Woman, the new SweeTARTS Golden Ropes encourages snackers of the sweet and tart treat to always "Be Both." "
"This partnership is a great fit because SweeTARTS stands for being more than one thing: sweet and tart, long and short, soft and chewy. Wonder Woman embodies that same idea of duality with her strength and wisdom, power and justice, and courage and truth," said Ashley Incarnato, senior brand manager for SweeTARTS. "Our 'Golden Ropes Holder' is more than just one thing, too! It is a candy dispenser and a collectible for Wonder Woman fans. The 'Golden Ropes Holder' is the perfect vessel to hold your Golden Ropes while watching the all new WW84 movie."
SweeTARTS created the "Golden Ropes Holder" in partnership with the film's award-winning costume designer, Lindy Hemming, to help fans showcase their passion for WW and unleash their own inner superheroes. Fans can load their SweeTARTS Golden Ropes into the detachable candy dispenser, enabling them to wear their new favorite candy right at their hip, just like how Wonder Woman carries her golden Lasso of Truth. Inspired by the heroine's costume in Wonder Woman 1984, the "Golden Ropes Holder" is crafted from vegan leather and designed in the signature 'W' pattern seen on many of Wonder Woman's outfits. And it can function as a belt bag or cross-body satchel. Starting Monday, July 13th, fans have the chance to win this special collector's item when they go to the @SweeTARTSCandy Instagram page and "lasso" (tag) a friend with the circle star emoji