Yoda is here to bring balance to the force with a pricey new statue from Sideshow Collectibles. Baby Yoda is easily one of the biggest things floating around in pop culture lately but we can't forget the roots. Sideshow is bringing out the cash with this 31" tall bronze Yoda statue. He is sculpted after his appearance from The Empire Strikes Back and they capture him perfectly. The statue is obviously made of bronze but they were able to capture all the detail and even a green complexion on him too. This is a must-have statue for any Star Wars fan if their wallet is deep enough.
The Yoda Bronze Statue from Sideshow Collectibles is priced at $8,500 and is expected to ship out July – August 2020. Pre-orders are already live and can be found located here. Payment plans are available but still put you back about $1000 each month. So get those Christmas bonuses and tax refunds ready to lock down yours for your expensive tasted collection.
Yoda. You seek Yoda.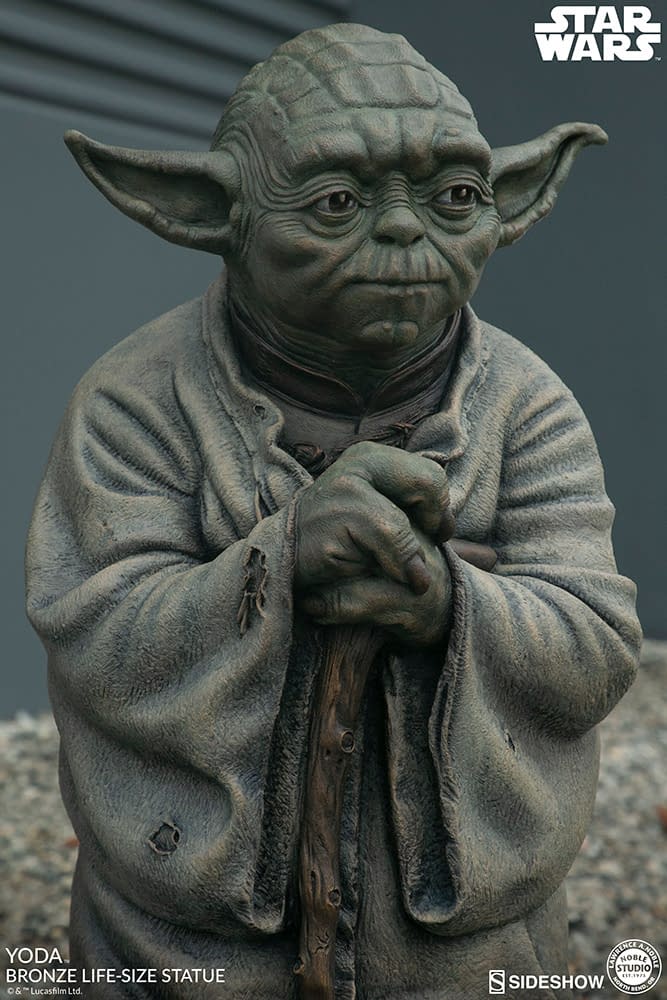 Yoda Bronze Bronze Statue by Sideshow Collectibles
ABOUT THIS BRONZE STATUE
"Luminous beings are we…"
Sideshow and Noble Studio present the Yoda Bronze Life-Size Statue, designed by distinguished sculptor Lawrence Noble.
Enigmatic and wise, Master Yoda has inspired countless generations of Star Wars fans, including sparking the artistic journey of sculptor Lawrence Noble himself. First moved to sculpt after witnessing Yoda's cinematic debut in Episode V: The Empire Strikes Back, Noble became the visionary artist behind the iconic Yoda Fountain that welcomes visitors to the Lucasfilm campus, a monument that has since attained legendary status among Star Wars fans. Now, the Yoda Bronze Life-Size Statue by Noble Studio brings the legacy of the beloved original sculpture to fans in a new, unique, high-end collectible format.
"Myth and legend…when I started working on Yoda and I was trying to bring that to fruition, I had my love, I had that sense of myth and legend, and I had that sense of destiny I had felt when I first saw the movie," Noble explained of his undertaking to honor the Star Wars icon.
Do not judge him by his size- the Yoda Bronze Life-Size Statue captures the larger-than-life presence of a beloved Jedi Master as envisioned by Lawrence Noble; mysterious, heroic, and wise. This unique Star Wars collectible measures 31" tall, sculpted with immense detail and varying lifelike textures to bring the diminutive Dagobah resident to life, from the wrinkles of his aged portrait to the tatters of his well-worn Jedi robes. The unique coloration of the Yoda Bronze Life-Size Statue adds additional dimension to this collectible, contrasting his signature green complexion with the earthen elements of his cane, his robes, and the base. Embracing all the mysteries of the Force in one iconic composition, this is the definitive Yoda statue for Star Wars fans.
Do, or do not. There is no try. Bring a piece of Star Wars legacy to your collection with the Yoda Bronze Life-Size Statue today.
Enjoyed this article? Share it!