33 Thoughts About 33 Comics Today – Harley Quinn, Saga, Nova, Worlds End, Futures End, Rasputin, Savage Dragon, Southern Bastards, Black Science, Deadpool & Captain America, Wolverine & The X-Men, Adventure Time x2, Uber, Thought Bubble 2014, Crossed, God Is Dead, War Stories, Sinestro, Thunderbolts, Inhuman, Guardians Of The Galaxy, Axis Revolutions, Carnage, Deathlok, Wonder Woman, Shadow, Phantom, Pathfinder, Transformers, Little Nemo, Doodle Jump, Bob's Burgers We have so many great comic books out today. Little Nemo #2 demonstrates the treats in store. Such as Savage Dragon #199, where every page in this comic is a double page splash, going from Hell to Earth in time for a certain Savage Dragon #200 next month…. but how much bigger can they go than this? Well Thought Bubble Anthology 2014 has one idea, folding out into a double-sized comic book on newsprint, especially for those who miss Wednesday Comics. Black Science also has double page spreads too… just wit slightly less action than Savage Dragon.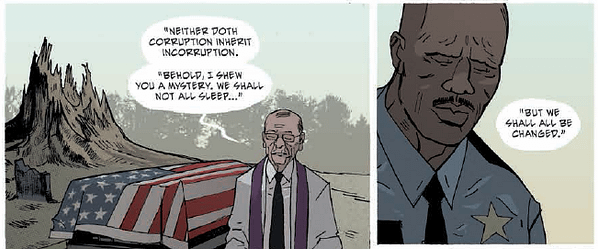 Southern Bastards teaches us the lessons of what happens at night when you have triplets. Even Nova gets "awkward" moments for Hallowe'en. He and Ms Marvel are really duking it out for the title of New Pater PArkr of the Marvel universe… While Superman sidekick Jimmy Olsen seems to be getting a bit of a promotion in Earth 2: Worlds End. And Mister Miracle going for Scottish vernacular for some reason. Saga #24 brings us a new sidekick. And a new person to be a sidekick too. Note the poison replacing brandy around the neck of the alien St Bernard… The comic of the week – especially if The Brand turns out to be related to mock-revolutionary Russell Brand. Wolverine & The X-Men gives us one of those scenes that may be pored over for a considerable amount of time- proximity of two lead X-ladies, the rain, the longing eye contact…
Harley Quinn just gets it over with. Guardians Of The Galaxy #20 handily has both Thanos and debate over who can pick up Thor's hammer out today. Almost as if those videos released yesterday were synchronous…. There was a moment when reading today's Axis Revolutions #1 when I didn't know who the writers were, And then realised that this had to be Si Spurrier. And I was right, first time I've identified his authorial voice from something I didn't realise he'd written.
I do hope they've given him the Doctor Strange comic. And movie. While in Axis: Carnage, Carnage teaches us all the correct procedure to hit a woman.
Rasputin's father doesn't seem to need any.
War Stories gives us war in its most explosive fashion as well as the very human moments behind every fireball in the sky. Which are very pretty in the death that they signal. Fireworks are about destruction as much as they are life.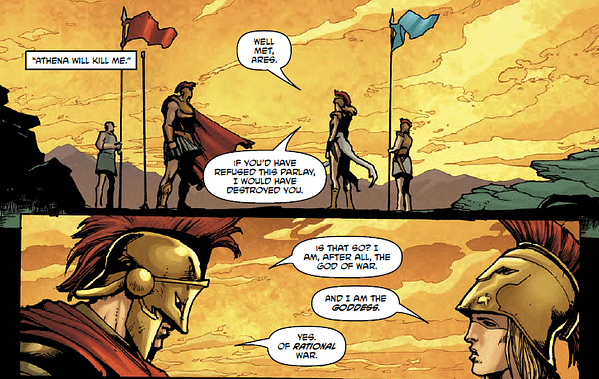 God Is Dead lets the deities of war duke it out over competing visions. While Wonder Woman does the same, as this heavy-on-the-deity version comes to an en to be replaced by the Finches next month. With the end of Azzarello and Chiang's stellar run on Wonder Woman, we get the character, sans armbands, giving us her mission statement. Damn, I'll miss them on this. Hey, you don't suppose Deathlok picked them up do you? Here's the new Deathlok-in-a-box system. Would make one hell of a Loot Crate. And the launch of Justin Jordan's Dark Gods gives us more Lovecraftian deities exhibiting amongst our weak, fleshy, technology reliant forms. No wonder they don't see the dangers, just annoyances… they should have read Original Sin to see how a word can take down a god. Because , in the Phantom, it's just what others think of you that counts. Uber revisits an observed flaw in Robert Morales and Kyle Baker's series Truth, asking if a nineteen forties America would have actually experimented on a black population if there was any chance of them getting superpowers? This issue of Crossed is very keen to show how disgusting, exploitative and evil humanity can be without any Crossed-style infection, which has always been the point. Here it's rather ladled on… with the action of the Crossed almost seeming more honest and primal, without conscience. And asks what do those with consciences do to get over them? Inhuman gives us a brand new Inhuman ability, that you know that most people would use for pornographic purposes. And, yes, there will be plenty of eyes on this comic boo after yesterday's Inhumans movie announcement… Okay, someone needs to give the Sinestro Corps some basic lessons in anatomy. Mind, you they are aliens, maybe that's how they do it on other planets. Must suck to be an alien milkman. You know that's what's going to happen to The Thing once the Fantastic Four comic goes away, just as Thunderbolts is going away today… Captain America asks the question everyone asks in Death of Wolverine: Deadpool & Captain America, the book that even Tom Breevort must have blinked at when it was ptched. Adventure Time: Banana Guard seem to be rather inspired by the success of the recent Death Of Wolverine. But where's the chromium cover? Come on guys, get it right! Adventure Time #33 looks at the existential angst behind familiar phrases and cliches. On that point, will PETA please look at the suffering caused to spontaneously generated canines and felines whenever the weather turns inclement? The Shadow: Midnight Moscow – I guess we can take "tool" in both meanings here, yes? A little bit mean to the fellow dying from a gut shot. Pathfinder: City Of Secrets emphasises that a crook always returns to the scene of the crime. Transformers: More Than Meets The Eye #34 is rather careless with their leaders and their doctors. Maybe some of them could transform into a fucking SatNav. Dont these robots even have GPS? Doodle Jump #4 delights in space vomit. As do we all. Bobs Burgers #3 just takes rhyming far too far.
Comics courtesy of Orbital Comics, London. Planning a Hallowe'en party…
To coincide with this month's spine-tingling PCH : Pre-Code Horror Exhibition, we're hosting a very special Halloween Party, featuring a mega-jam signing session with numerous artists from the show, including Alison Sampson, Gary Spencer Millidge, Jason Atomic, Jessica Martin, Mark Stafford, Owen Michael Johnson, Ryan Jenkyns, and more.

The exhibition continues until Thursday November 13, but if you want to meet some of the artists and get their worked signed then be here from 6pm, Friday October 31. Save the date and keep your eyes peeled for further details!