Decorum #1 by Jonathan Hickman, Mike Huddleston, Rus Wooton, and Sasha E Head, reviewed here by Hannibal Tabu, came out in May, Decorum #2 came out in June, and I have some thoughts on the far-future science fiction series thus far.
1. I bought the first issue on the name value alone. The combination of two strong talents who proved themselves on other Image works (The Black Monday Murders, Butcher Baker: The Righteous Maker, East Of West, Middlewest) an appealing prospect. At worst, if Decorum is only the sum of their parts, it should still be pretty strong. After all, Jonathan Hickman is one of U.S. comics' best writers, and Mike Huddleston's done great work forever.
2. Decorum features quite a bit of the world-building via charts that Hickman's done since 2006, and if you're a fan of that, there's a lot of it in Decorum what it adds up to, who knows because we're only one-quarter of the way into an eight-issue series. There's also the Hickman alien languages whose meaning we're supposed to pick up along the way.
3. The series characterization is spot on, treating us to a variety of genuinely pleasing interactions, like the well-mannered assassin and the vulgar crime boss. One could've been worried that Hickman would've just recycled archetypes from East Of West here, but at least in these first two issues, he didn't.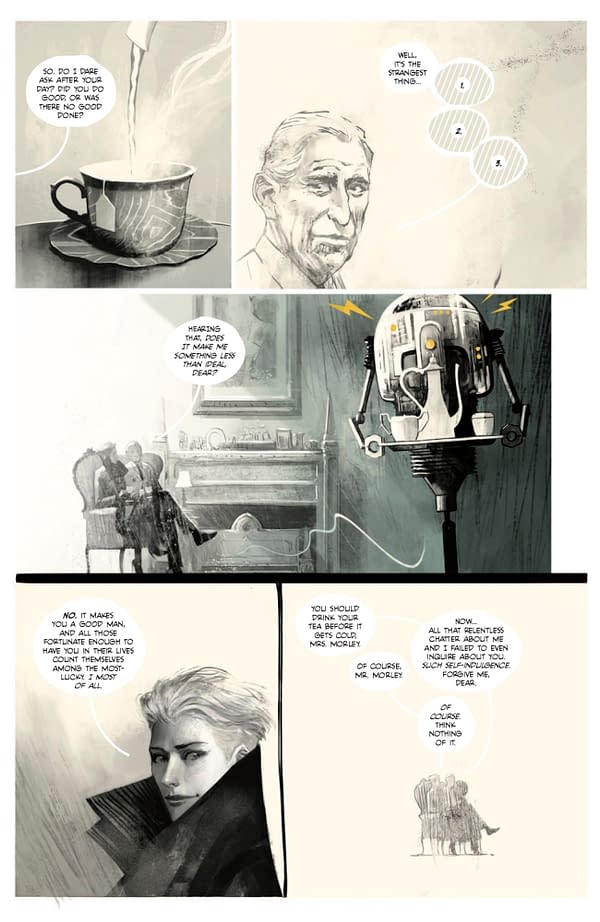 4. In the second issue, Huddleston does what looks like ink wash (see above for my favorite page) for a couple of pages, and it looks fantastic. He can go from style to style what looks like effortlessly, but in reality, it isn't. It's that versatility that helps the series. He goes from lush sci-fi color to exaggerated comics black and white to ink wash, and it all works.
5. My favorite moment from the first issue must be the Hickman infographic of a noodle bowl. Decorum isn't the first to do this, but there's also slickly produced ads for in-universe items that help tell the story. That noodle bowl infographic is the series' most welcome surprise, though.
Enjoyed this article? Share it!