Six For Suicide Squad #20
Alasdair Stuart writes for Bleeding Cool
I was always rather fond of Suicide Squad. The combination of moral ambiguity, superpowers and deniable espionage is a heady one and when the book's at its best it reads like very little else on the market. Issue 20, out this week, sees a new writer take over; Ales Kot, best known for the excellent Wild Children graphic novella and Change miniseries. He has exactly the right combination of nasty intellect and detail oriented plotting to make the book fly and based on this first issue of his run, that's exactly what he's starting to do. Here are six of the things I liked;
1.Trapped in Bat Country
Hunter S. Thompson as a supervillain is something I could definitely get behind. As it stands, this is a nice opening sequence, establishing Waller, who she's talking to and the people on site if not quite on staff. Also note the gradual increase in panel size as the camera zooms in. Very nicely done.
2.King Shark's Reading List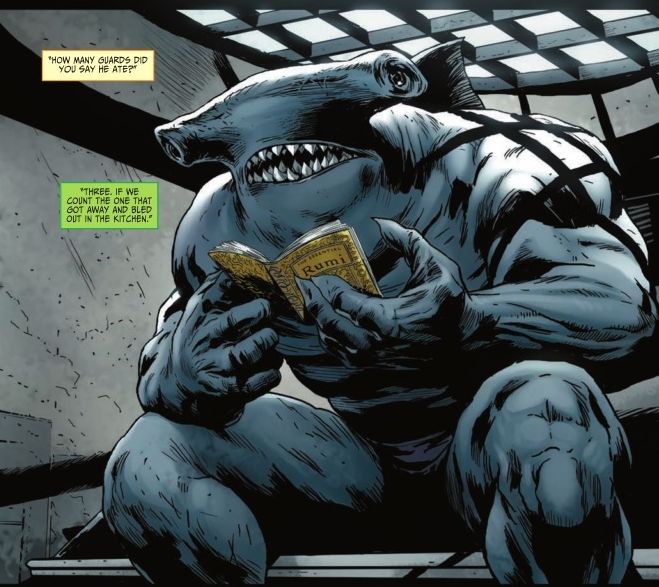 Kot, artist Patrick Zircher and colorist Jason Keith do fascinating things with King Shark in this issue. He's looked large and threatening before, and there's plenty of that here but, he also looks grotesque. King Shark's frame is as much a prison for him as it is a tool for others to use and his desperate need to escape it, coupled with his inability to, has the potential to be massively poignant. No wonder the poor guy's reading Rumi.
3.Meanwhile, the Unknown Soldier Establishes His Authority It's a simple gag, but an effective one that also neatly echoes 'One punch!' just in a very very unpleasant way. And there's way more than one punch.
And the Unknown Soldier is using a baton.
Regardless it's a fluid, balletic piece of savagery that neatly establishes the food chain in the Squad at the same time as showing the Soldier subscribes to the 'If you can't break it with your hand, use a tool. If you can break it with your hand, sometimes, use a tool anyway it'll be more effective' school of thought. Also a nice call back to one of the better visual gags in Wanted.
4.Calm Harley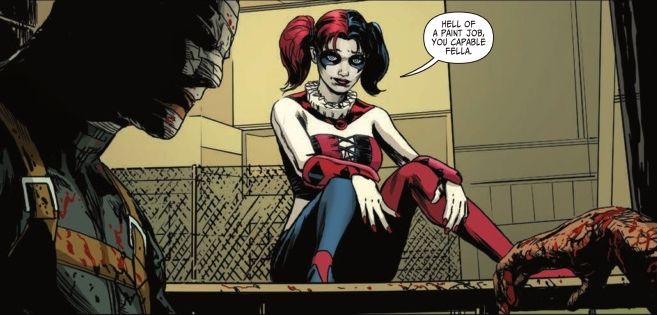 This is what brings the scene into land though. Harley's taken a hit so far this series, especially in the costume department. That's improving whereas her attitude, calm, a little sad and sardonic is both a marked improvement and the most sinister thing done with the character in years. I especially like the changes in posture here, the soldier tense and still ready for a fight, Harley completely relaxed and Voltaic's blood-soaked hand bottom right, trying to work out what's still attached to it.
5.'Look at her break.'

Except that doesn't look like breaking to me. That looks like a horrifically mentally ill young woman starting to realize that the world she'd built for herself hasn't just been taken away, it's being used as a chew toy to try and placate her. She's not blank-faced, she's certainly not sad, but look at the detail work Zircher does here once again; she's angry, her emotions connecting to Deadshot's and King Shark's to bring the issue into land on the side of Waller, but with those three especially all too aware of where they are in the scheme of things. They won't be there long either, judging by Harley's eyes.
6.No Good Death

Or at least none you get to keep. The Clockwork Orange reference of course springs to mind, but the emat of this scene comes from what Waller is telling Deadshot. They can bring him back whenever they want. The good death that he signed up for will be forever out of his reach. And again we're looking at eyes and where Harley's are calm and glacial, these utterly rage. By the end of the issue Deadshot looks to have a new target although judging by how Waller's acting, that may have been the intention all along. The story's called Discipline and Punish after all, and that's exactly what Waller's doing.
We don't get the answer to why here, but what we do get are character beats with each squad member, some wonderfully tight, nasty dialogue and a killer reveal on who Waller's talking to. This looks set to be a major run for the title, and Kot couldn't have made a better first step into work-for-hire. Absolutely worth your time.
Suicide Squad issue 20 is available now, published by DC Comics, priced $2.99. It's written by Ales Kot, features art by Patrick Zircher, colors by Jason Keith, letters by Jared K. Fletcher and a cover by Jason Pearson. It reads a little like the Man from U.N.C.L.E. in hell and it's really very good
Have you voted in the Bleeding Cool Fan Awards? Only a few days left…