A Few Marvel Ch-Ch-Ch-Changes, From Fantastic Four To Ender's Game
A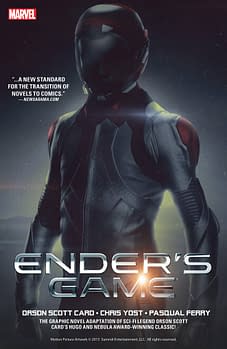 few Marvel Comics changes….
Christopher Sebela, co-author of issues of Captain Marvel with Kelly Sue DeConnick, will also co-author Fantastic Four #11 with Matt Fraction.
They've now decided that Astonishing X-Men #66 will be drawn by Amilcar Pinna, instead of the ubiquitous TBA.
And Marvel's Ender's Game collection is getting a new movie cover (right).
Which will make it easier to market… and to boycott.