Advance Sales of Batman #89 for $45 and Hell Arisen #3 For $28
Okay, so. The next two weeks are going to be insane in comic book stores. That's when Batman #89 goes on sale featuring the first appearance of the Joker's new girlfriend, Punchline, followed by Year Of The Villain: Hell Arisen #3 the week after, This was first mentioned in Batman writer James Tynion IV's newsletter. But he was very vague. Announcement only came after retailers had made their Final Order Cut-Off numbers, Some retailers tried to get additional copies anyway, and the print run for the comic rapidly sold out, leading DC Comics to send both issues to second printings before the first printings arrived in stores, a great rarity for DC Comics. And now advance sales are jumping up in price on eBay – and people are paying them. One seller sold 3 copies of Batman #89 in advance for $45 each.

This, remember, is a $3.99 comic that hasn't got to comic stores yet. Copies have been flying off eBay – the cheapest I can find right now for the main cover is $20 – let's see how long that lasts after I link to it. While for Year of The Villain: Hell Arisen #3, one seller has sold 16 copies in advance for $22 each.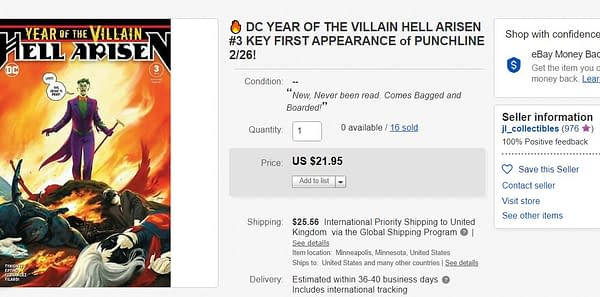 While another sold 5 copies for $28 each.

The lowest I can find copies available right now is $20 – but there do seem to be more advance copies of this around. For now. Good luck on Wednesday…
BATMAN #89
(W) James Tynion IV (A) Guillem March (CA) Tony S. Daniel
Batman must stop Deathstroke from killing the mayor of Gotham City! But to do so he has to figure out who ordered the hit in the first place. If his four main suspects aren't 'fessing up to the crime, then is there someone even more sinister lurking in the shadows waiting to deliver the coup de grâce? Whoever it is, one victim will fall under their attack!In Shops: Feb 19, 2020
SRP: $3.99

YEAR OF THE VILLAIN HELL ARISEN #3 (OF 4)
(W) James TynionIV (A) Javi Fernandez (A/CA) Steve Epting
Apex Lex Luthor's first run-in with the Infected didn't go as planned, and the Batman Who Laughs' influence is continuing to spread. Now Lex must find out who in the world can think like the Batman Who Laughs-and there are only two folks who come to mind. The first is Batman, who probably has his own ideas for Lex; the other is The Joker, who also likely has his own ideas, but who just maybe wants to see this twisted doppelgänger sent back to the Dark Multiverse he came from. It's a gamble Lex has to take, because the Infected are gearing up for round two!In Shops: Feb 26, 2020
SRP: $4.99