Afterlife With Archie And Sabrina Return In May 2016 Solicitations
The long awaited return of Archie's horror titles happen this May as we get a look at the full solicitations for Archie Comics. These includes Afterlife With Archie #9 and Sabrina #5.
AFTERLIFE WITH ARCHIE #9
BETTY: RIP Pt. 4, "The Trouble with Reggie." The Horror began in Riverdale when Reggie Mantle struck and killed Jughead's beloved pooch Hot Dog. Since then, Reggie has been living with this secret knowledge—and terrible guilt. With no one to talk to about it, Reggie has started to crack under the strain. He is seeing visions of his dead friends—or are they literal ghosts? When an act of kindness prompts a confession from him, Reggie must decide for himself, once and for all—is there any good within him? Or is Reggie, as we've always suspected, beyond redemption? For TEEN+ Readers.
Script: Roberto Aguirre-Sacasa
Art: Francesco Francavilla, Jack Morelli
Afterlife with Archie #9 CVR A Reg: Francesco Francavilla
Afterlife with Archie #9 CVR B Variant: Dave Devries SABRINA #5
Sabrina has to face the Witches Council for an accusation of conspiring with a mortal against the Church of Night. It will take a series of unnatural tests to prove her innocence, but none of it will bring her beloved Harvey back. She'll have to take matters into her own hands to find Harvey's missing soul. Recruiting two other young witches (from a neighboring coven), Sabrina holds a séance, but as ever, Madame Satan is pulling the strings behind the scenes, and what Sabrina taps into is much more dangerous—and diabolical. And will send our beloved teen witch on an epic quest. For TEEN+ readers.
Script: Roberto Aguirre-Sacasa
Art: Robert Hack, Jack Morelli
Sabrina #5 CVR A Reg: Robert Hack
Sabrina #5 CVR B Variant: Robert Hack ARCHIE COMICS DOUBLE DIGEST #269
When Archie and Jughead start up their own dog-washing business, will they find themselves drowning in cash? Or will their heads be just above water after a ruff day? Find out in "Happiness is a Clean Puppy!" the fun, all-new lead story to this comics double digest!
Script: Fernando Ruiz
Art: Fernando Ruiz
Cover: Fernando Ruiz, Bob Smith, Rosario "Tito" Peña ARCHIE GIANT COMICS BLAST (TR)
Everyone loves Archie Comics! Now you've got EVEN MORE to love with this GIANT paperback comics collection! This fun-packed, laugh-a-minute volume collects 480 pages of the wild humor and teenage tomfoolery that have made Archie comic stories popular for 75 years! It's sure to be a BLAST!
Script: Various
Art: Various
Cover: Fernando Ruiz B&V FRIENDS COMICS DOUBLE DIGEST #248
The time has come for Ethel to have her moment in the spotlight—when she performs at a comedy club! Betty, Veronica and all of their friends have done all they could to support their friend Ethel—but will they still be laughing when they find out the target of her jokes? Find out in "Make 'Em Laugh," this hilarious BRAND NEW lead story to this comics digest!
Script: Alex Simmons
Art: Dan Parent, Bob Smith
Cover: Bill Galvan, Jim Amash, Rosario "Tito" Peña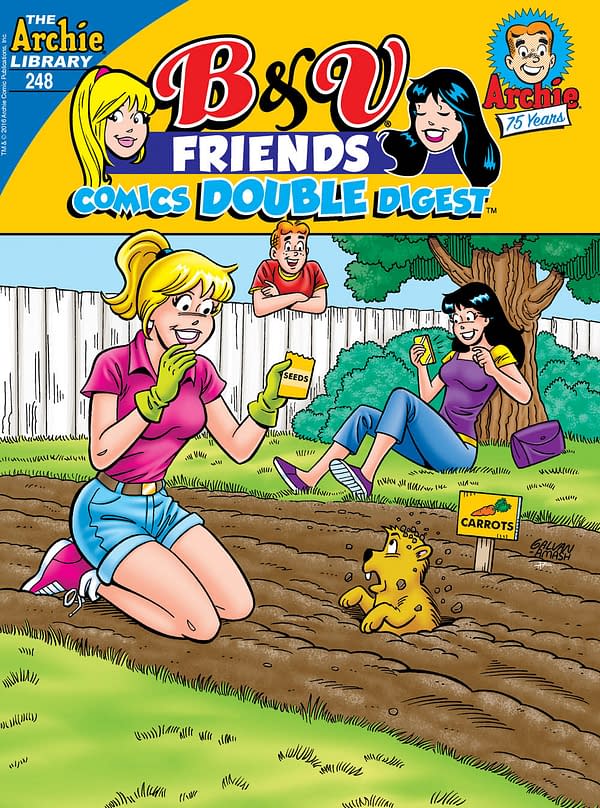 JUGHEAD AND ARCHIE JUMBO COMICS DIGEST #21
Archie's got a big date for Veronica and he's running late! If only he could find his pants… and his socks… and his car—ok, maybe Archie needs to get organized before he can even start thinking about dating! See if Jughead can help Archie make it to Ronnie's on time, or if he'll be kicked to the curb in "Medium Well" the hilarious new lead story to this JUMBO comics digest!
Script: Alex Simmons
Art: Dan Parent, Bob Smith
Cover: Fernando Ruiz, Bob Smith, Rosario "Tito" Peña SONIC THE HEDGEHOG #284
SONIC and friends get into some BIG TROUBLE in "Panic in the Sky" Part One: Sonic's Freedom Fighters are finally ready to restore the planet! Unless, of course, someone does even more damage! Cue: the evil Dr. Eggman (of course)! He has a plan of his own and strikes first! The mad doctor launches a multi-pronged assault that will leave you speechless-everything has been building up to this moment! The final chapter to the Shattered World Saga begins here! Featuring the first of four EPIC connecting covers by mega-talent Dan Schoening and an "Evil Win" variant by the wonderful Lamar Wells!
Script: Ian Flynn
Art: Diana Skelly, Terry Austin, John Workman & Gabriel Cassata
Sonic the Hedgehog #284 CVR A Reg: Dan Schoening & Luis Antonio Delgado
Sonic the Hedgehog #284 CVR B Variant: Lamar Wells, Rick Bryant & Matt Herms SONIC UNIVERSE #87
Knock knock, it's KNUCKLES in "Shattered" Part One: A brand new adventure starring Knuckles and Amy Rose begins here! It's a race against time to find the final Master Emerald shards before Sonic restores the shattered world! The final installment of Knuckles's search, filled with dangers and mysteries, starts with this issue! Featuring cover art by the terrific Tracy Yardley plus an "& Knuckles" variant by CG artist supreme Rafa Knight!
Script: Ian Flynn
Art: Adam Bryce Thomas, Jim Amash, Jack Morelli & Matt Herms
Sonic Universe #87 CVR A Reg: Tracy Yardley & Matt Herms
Sonic Universe #87 CVR B Variant: Rafa Knight WORLD OF ARCHIE SUMMER ANNUAL #59
When Betty leads the gang on a wilderness hike, will they have a fun, friendly excursion and appreciate the nature around them? Or will they find themselves facing danger and beaten down BY nature? Find out in "Summer Hike-Jinks," the hilarious, all-new lead story to this summer annual, featuring even more pages of fun in the sun!
Script: Tania Del Rio
Art: Dan Parent
Cover: Dan Parent, Rich Koslowski, Rosario "Tito" Peña