Amazing Spider-Man #794 Goes to Third Printing
Spinning out of the ComicsPRO presentations in Portland comes the sly bit of news that Amazing Spider-Man #794 is going to a third printing.
The original issue sold out fast and went to a second printing using the cliffhanger page from that issue as the new cover, Norman Osborne receiving the Carnage symbiote, as everyone suddenly realised what the Red Goblin teasers meant. Every issue since has smashed through multiple printings as prices have soared on the aftermarket in the run up to Amazing Spider-Man #800, out in May.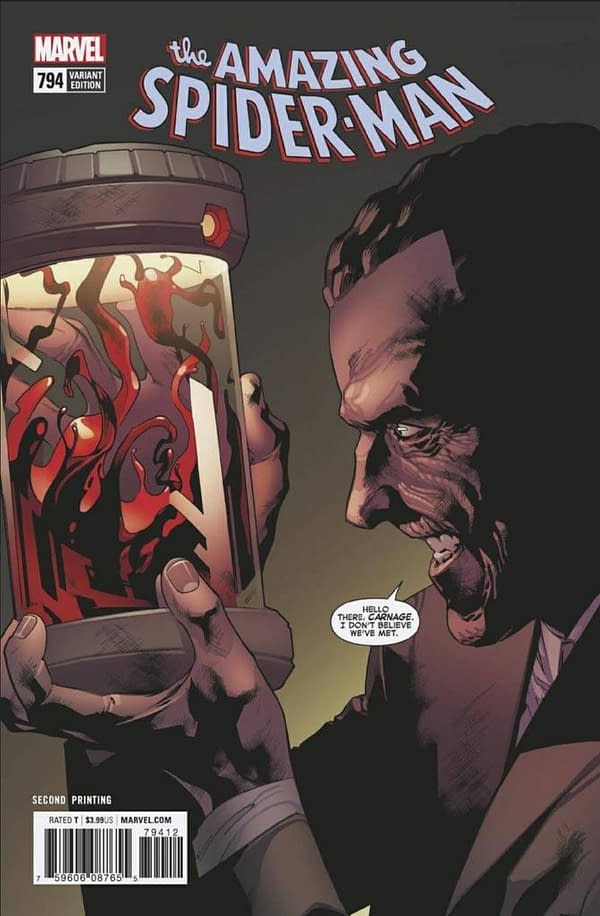 I'm not sure yet what they'll use for the third printing. But currently the first printing of Amazing Spider-Man #794 sells for up to $15, the second print for up to $14.
Also going to second print is Avengers #682, a week ahead of the release of the first print, and Marvel Two-in-One #3, which had the temerity to be published last week before selling out.
AMAZING SPIDER-MAN #794 LEG WW
(W) Dan Slott, Christos N. Gage (A) Stuart Immonen, Wade Von Grawbadger (CA) Alex Ross
THREAT LEVEL RED Part 1
• NEARLY ONE YEAR AGO Spider-Man hurled the dangerous madman called Zodiac a full year into the future.
• IN THIS ISSUE Spidey catches up to him, and Zodiac's had a whole year to prepare for their rematch!
Rated T
SRP: $3.99
AVENGERS #682 LEG
(W) Mark Waid, Al Ewing, Jim Zub (A) Sean Izaakse (CA) Mark Brooks
NO SURRENDER Part 8
One Avenger will gamble everything to save thousands – and the odds aren't in his favor! The Challenger reveals his ace in the hole, and Jarvis awakens from a mysterious coma long enough to cry four chilling words: "It's all a lie!"
Rated T+
SRP: $3.99
MARVEL TWO-IN-ONE #3 LEG WW
(W) Chip Zdarsky (A) Valerio Schiti (CA) Jim Cheung
THE FATE OF THE FOUR Part 3
• Flame off! Johnny Storm is losing his powers, but why?
• And who is the mysterious woman who says she can help?
• Plus: The MAD THINKER and DOOM square off over REED RICHARDS as "THE FATE OF THE FOUR" continues!
Rated T
SRP: $3.99