Animosity #13 Review: The War of Farmers and Bees
[rwp-review-recap id="0"]
Willem and his farmers have killed the bee colony's queen. Jesse is still trying to keep the piece, but it may be too late for that. The colony is ready to go to war, and Willem is all too happy to provide it.
In the chaos of the ensuing battle, Jesse is separated from Sandor, but she runs into Kyle. However, even he has his own agenda unbeknownst to Jesse.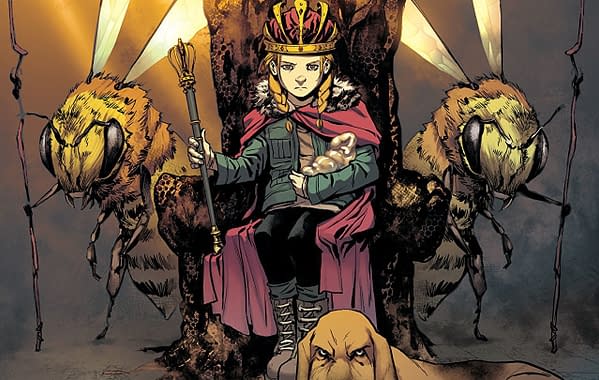 Animosity #13 brings the climactic battle which is has been brewing between the bee colony and Willem's farmers. It's an explosive and tragic crescendo that Jesse was actively trying to stop, but she is forced to confront the harsh reality that even her good intentions aren't enough to stop two enraged armies ready to kill one another. It's a sobering and sad moment for our young hero.
On top of this, there is something brewing between Kyle and Sandor which threatens to destroy how Jesse perceives them both. This provides additional personal tension and stakes to an already engaging issue.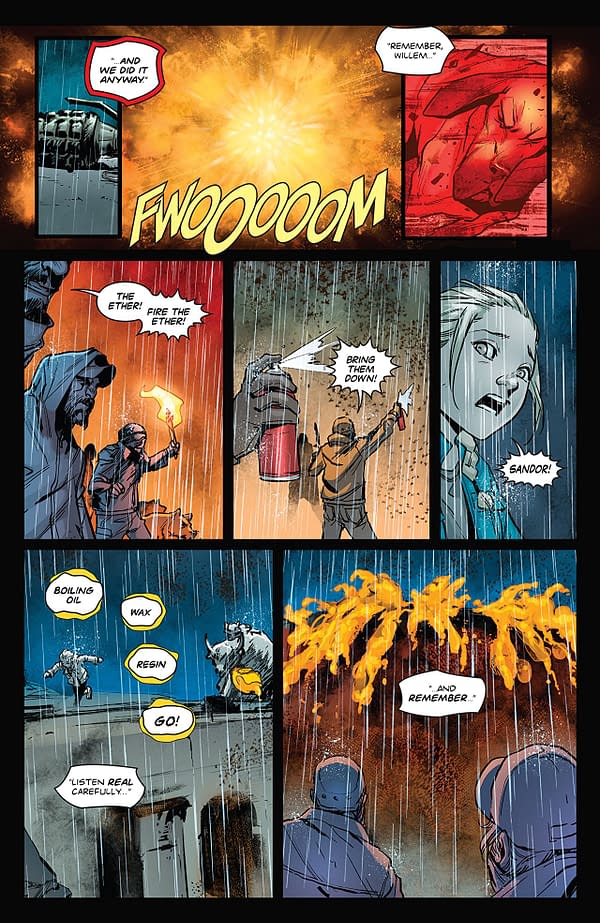 Rafael de la Torre's artwork succeeds in capturing the tragedy of the battle between the bees and the farm. What could have otherwise been violently fun imagery is tempered with looks of horror as the bees show the depth of their cruelty when provoked. By contrast, the farmers are shown burning the bees by the swarms, an image which is also packed with its own weight and tragedy.
Rob Schwager's colorwork leans on the darker side in this issue to match the dower tone. When there is color, it is only the gold of resin, orange of flames, or Jesse's blonde hair. Beyond that, the atmosphere is oppressive and fitting for an issue such as this.
Animosity #13 is another landmark issue in the series with Marguerite Bennett showing a skill at balancing the complex issues which Jesse and her friends face and the mixed emotions they illicit. This issue provides a fantastic read, and I recommend it. Check it out.
[rwp-review-ratings id="0"]
[rwp-review-form id="0"]