Former Captain Britain Brian Braddock & Meggan Expecting Another Baby?
Brian Braddock, the former Captain Britain of the Marvel Universe, and heir to the Otherworld throne and mystical mutant shape-shifting empath Meggan Puceanu have been a couple since the early Jamie Delano and Alan Davis Captain Britain days and through their appearances in Excalibur and X-Men over forty years. Some might say the next step is a little overdue. However, suggestions in recent issues haven't been followed up yet. Because during the recent Hellfire Gala X-Men crossover event, there were definite suggestions that Meggan was pregnant with Brian Braddock's child again, and that Nightcrawler had worked it out. From Excalibur #21, we see the suggestion first with Brian Braddock and Meggan, with Nightcrawler watching on from the wings.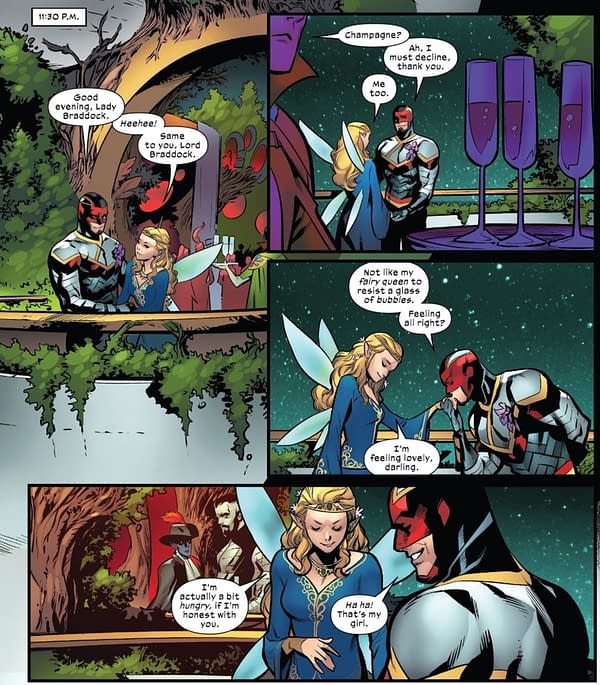 Meggan declining a glass of alcohol, feeling suddenly hungry, stroking her stomach, everything aside from being unexpectedly sick. And then with Nightcrawler indicating he knows…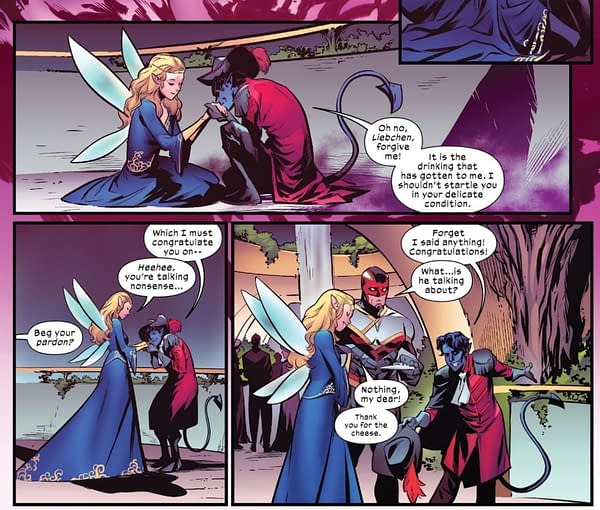 Congratulations on a delicate condition, but one that Meggan is keeping from her husband. And then from Way Of X #3 underlining it, and Nightcrawler throwing up instead.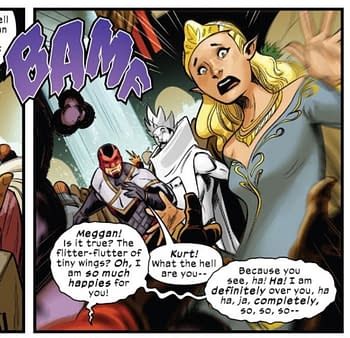 Meggan has been known to grow wings under certain circumstances. But there was no mention of this in Excalibur #22 or Way Of X #4. Maybe they are saving the big announcement for a later issue, or will they keep the teasing?
Brian Braddock, brother of Jamie and Betsy, part of a longstanding noble line, was approached by Merlin and his daughter Roma and given a choice that turned him into Captain Britain, a member of a much larger, inter-dimensional corps of mystical protectors, as his father was before him. Meggan is a British Romani, thought to be a wolf girl as a child, but in reality a shape-shifting mutant with faerie heritage. Seeking refuge with the Braddocks, she became Brian's lover and eventually his wife, and part of the superhero team Excalibur. And now heading for 2.4 children?